Bruceb Cloud Backup provides secure online backups to Amazon S3's global server network. One of its most useful features is the ability to restore previous versions of files when they are inadvertently edited or deleted and there's a need to roll back the clock. Here are some tips about restoring individual files from the online backup.
When you run the Bruceb Cloud Backup program, the opening screen presents a summary of your backup jobs and storage space used by the backed up data.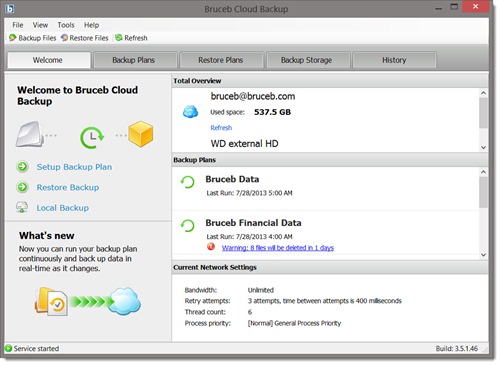 The Restore Files button at the top will start a wizard to restore a file or a folder. You can restore the latest version of the file (the likely choice for a file that has been deleted), or a version from a specific date.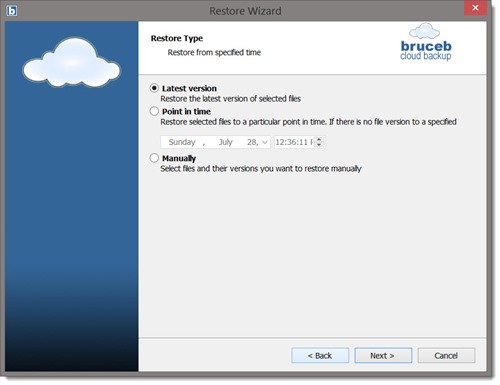 That's the easiest way to restore a file. You can restore it to its original location or to another location – useful if you want to look through earlier versions of a file to decide which one you want, since there's no preview pane.
You can get additional information from the Backup Storage tab. When you highlight a file, the bottom right panel shows a list of the versions of the file that have been backed up. You can restore any of the earlier versions.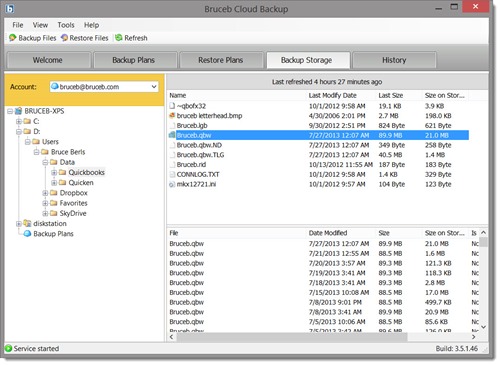 You can restore a file by right-clicking on the name of the file in the upper right pane. Once the wizard starts, choose "Restore point in time" to restore an earlier version of a file.
It's possible to restore files from the web portal available to all Bruceb Cloud Backup subscribers, but it's far easier to use the software installed on the computer doing the backups.
There is one additional option for a crisis: a computer crashes and has to be replaced. When Bruceb Cloud Backup is installed on a new computer for an existing subscriber, the first question during installation is whether this is a new computer to be backed up, or if the goal is to restore files that were originally backed up from another computer. It only takes a moment to start the process of restoring all of the files from the crashed computer.
If you're a Bruceb Cloud Backup subscriber, take a look through the program. Make sure it's doing what you expect, and check with me if any questions come up.
Need anything backed up? Give me a call or drop me a note. It takes just a few minutes to install the program and set up a free 30-day trial. Bruceb Cloud Backup is inexpensive, secure, and easy to use. Don't lose any data!