I made a trivial change to Outlook that made me so happy I have to share it with you.
Like many of you, I use Outlook's calendar to view one week at a time. It shows work appointments during the week, plus personal events on the weekend.
It's always been vaguely annoying that the weekend was split up – Saturday at one end, Sunday at the other end. It's the traditional way to display a weekly or monthly calendar. We've grown up with Sunday in the left column. But it's clumsy to track weekend events that span both days – the eye has to jump back and forth.
It's both a strength and a weakness of Outlook that it has a huge number of options and settings.
Sure enough, there's an option to change the display in Outlook so Monday is on the left and the weekend is on the right. In Outlook, click on File / Options / Calendar. Change the first day of the week to Monday.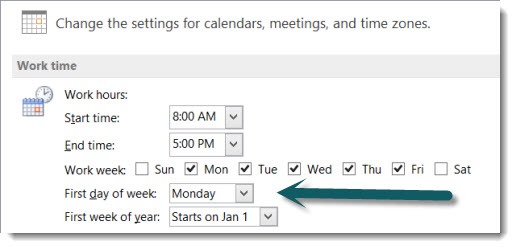 All of the calendar views shift by one day. Saturday/Sunday getaways appear together. Personally, I find it much easier to make sense of my calendar this way. Try it!

If you're an Outlook user with an Office 365 hosted email account, you might appreciate a reminder of two more options for your contacts.
Display Contacts in the Outlook Address Book
When you click on the TO: button to address an email message in Outlook, most people expect to see a list of their contacts. If your mailbox is run by Office 365, chances are that you'll see the short list of users inside the company, not the people in your Contacts folder.
There are instructions here explaining how to set your Contact folders as the default list when you open up the Address Book.
Sort the Outlook Address Book by last name
When you open the Outlook Address Book to address an email message, the names in your Contacts folder are sorted by first name. There are instructions here if you want to sort contacts by last name.