Many things in technology are easy once someone shows you how to do them. I have "D'oh!" moments just as often as you do. Here's one I just figured out about Outlook Contacts.
The Contacts folder in Outlook 2013 opens by default in a streamlined vertical view with names on the left and an expanded view of a highlighted name on the right.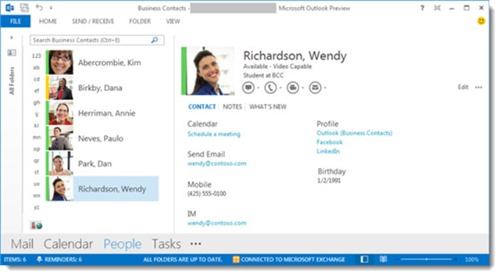 Clicking "Edit" on the right allows editing of the most commonly-used fields – email addresses, phone numbers, and addresses.
I'm used to the old contact cards with a unified view of more information, including fields that aren't displayed in that abbreviated view. I thought it was necessary to change the view to Cards or Business Cards, then find the contact and double-click it to open up the familiar full contact card, shown below.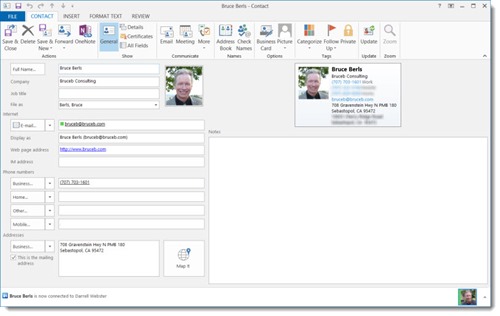 It wasn't until I read a Microsoft article about the new Outlook hover card that I realized the answer was staring me in the face.
In the People view, click on View Source / Outlook to open up the full contact card.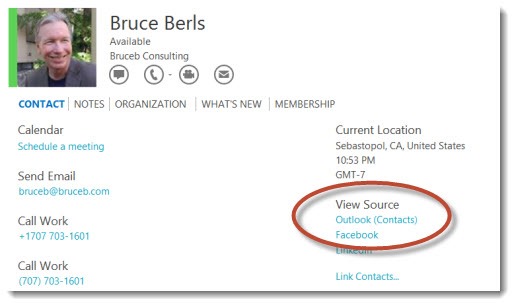 Click – instantly open up the full card with all the contact details. It was there all along.
If you've connected Outlook to your LinkedIn or Facebook accounts, you can click under View Source to go directly to your contact's social media pages.
You'll see a similar card appear when you hover over contacts in email messages, Lync, Sharepoint, and Office documents. If someone is already in your contacts, you can open their contact card with the same single click. If not, click on Add in the upper right on the hover card to add them to your contacts.
Sometimes the answer is right in front of you, but it might as well be invisible until someone points to it. Take a closer look at contacts in Outlook 2013! All the changes are improvements – once you know how they work.