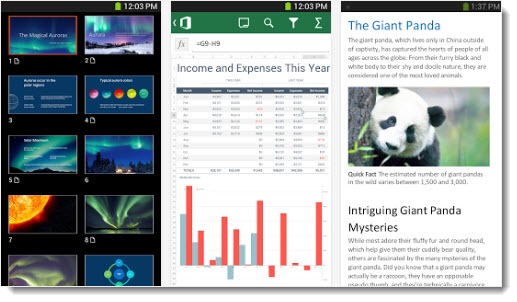 Microsoft released Office Mobile for Android phones this week, with versions of Word, Excel and Powerpoint optimized for small screens. Here's where you can download it from the Google Play store.
The apps are very similar to the Office Mobile app released for iPhones less than two months ago. Like the iPhone app, the new release for Android is free but available only to Office 365 Home Premium subscribers and Office 365 business users with a subscription that includes Office ProPlus (aka Office 2013).
There are more details about Office Mobile and the required Office 365 subscription in my article about the iPhone release. There are three things to keep in mind.
—  You need to know the credentials to activate the app. If you subscribe to Office Home Premium, the credentials are your Microsoft account. If you have a business subscription to Office 365 that includes Office ProPlus, the credentials are your Office 365 account. This article explains the difference between the two accounts.
—  The Android and iPhone apps are only useful with files stored in Skydrive. Install the separate Skydrive app on your phone and log in with your Microsoft account.
—  Lower your expectations. It's nice to have access to these apps for on-the-fly editing and looking up information in your documents but let's face it – you're not going to do any serious work on a 4.7 inch screen. The tablet versions will be more useful but they're not here yet for iPads or Android tablets.