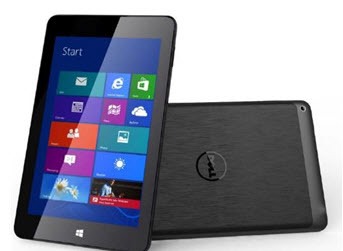 Windows tablets have a lot to offer business users whose time is spent using Microsoft Office programs on Windows computers and notebooks. If you slip into Microsoft's ecosystem, your files will follow you onto the tablet along with your settings and your Internet favorites, and you'll get the advantages of familiarity and compatibility along with better security and manageability than you'll find on iPads or Android tablets.
Last year Microsoft offered the only viable Windows tablets – and botched the marketing and distribution, leaving it in the embarrassing position of taking a writeoff for unsold Surface units. This fall Microsoft will take another swing with improved tablets, the Surface 2 and Surface Pro 2, which will be marketed as classy, high-end devices, with price tags to match.
You will have some other choices this year if you want a Windows tablet but you'd prefer not to pay a premium price – tablets are on the way from Dell, Lenovo, Asus, Acer, Toshiba, and possibly Nokia.
Dell recently revealed all the details of the Dell Venue 11 Pro, an 11 inch tablet running the full version of Windows 8.1 on an Intel Bay Trail or Haswell processor. The feature set and accessories look quite a lot like the Surface Pro 2 but the Venue 11 Pro will start at $499, much more reasonable than the $899 starting price for the Surface Pro 2. If you need serious battery power, the Venue 11 Pro has a removable battery that can be swapped on the fly, plus Dell has an optional keyboard with integrated battery to extend battery life even further. (Dell claims 16 hours of battery life from the Venue 11 Pro with the Mobile Keyboard.) Dell also has other accessories ready – a slim keyboard that becomes the case when folded up, like a notebook (or like the Surface tablets), and a dock with display and USB ports.
Dell will also be one of the first manufacturers to offer an 8 inch tablet, the Dell Venue 8 Pro. The smaller tablet will weigh less than one pound and start at just $299. Dell promises 10 hours of battery life running the full version of Windows 8.1 on an Intel Bay Trail processor. The display is 1280×800, not quite full 1080p but more than adequate for crisp displays on an 8 inch screen.
Details are available about the Dell Venue tablets here and here.
Paul Thurrott put together an exclusive look at more upcoming tablets from Acer, Asus, Toshiba and Lenovo, 8 inch and 10 inch models, all thin and light and aggressively priced. There will be a lot to learn about the quality of the accessories – tablets can be made or lost by the experience with the keyboard or dock. Some (but not all) of them will come with Office 2013, but probably not a version that includes Outlook, meaning most of you will need an active Office 365 subscription to get the right mix of Office programs.
One of the biggest unanswered questions is about the performance of Intel's Bay Trail processors, the less-expensive option used in most of these tablets. Intel has promised snappy performance and long battery life, but Intel has disappointed us before (Atom, Celeron) and no one has tested Bay Trail in the real world yet. Cross your fingers.
Later this month Nokia will announce its own tablet. There's no shortage of leaked specs and blurry camera shots but no official details yet. According to Paul Thurrott, Nokia's tablet was going to be similar to the Windows RT-based Surface 2, with a similar price tag, but that was before Microsoft announced the deal to acquire Nokia. The companies may adjust their plans so they're not selling devices that directly compete with each other.
Two other things to think about.
When Apple released the 8 inch iPad Mini, it discovered a more receptive audience than anyone expected. It's a comfortable size for consuming media, great for photos and movies and books. Microsoft will release an 8 inch Surface tablet ("Surface Mini"?) but not until next year. It's not impossible that Nokia will have an 8 inch tablet this fall to join Dell and the others. At that size, though, it's more natural to use the tablet in portrait mode, and that works better with a more square display instead of the elongated display that makes the bigger tablets look more like notebooks. So far no one has changed the aspect ratio on the small tablets. Someone should.
There's a feature missing on most of these tablets: integrated LTE to connect the tablets to AT&T or Verizon for an always-on data connection. Nokia's tablet will likely have built-in LTE capability, and Microsoft has hinted that it will be shipping LTE-enabled Surface tablets in 2014. For some reason AT&T seems to get the first exclusives on new devices, so Verizon subscribers may have to wait (like usual) even after the first LTE devices are on the market.