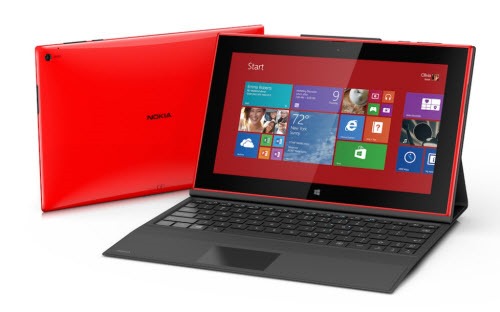 The Microsoft ecosystem of devices and apps is thriving and deserves your consideration when you're looking for your next tablet or phone. Here are some of the latest developments.
WINDOWS PHONES
Nokia Lumia phones are impressive! Well engineered, reasonably priced, with the best cameras on the market, bar none, and a selection of Nokia apps that add real value.
AT&T has several Lumia models. The Lumia 920 and Lumia 925 are both excellent phones with cameras that rival the iPhone and the best Android phones.
The Lumia 1020 is a bit of a specialty phone with a slightly larger screen and an astonishing 41-megapixel camera that takes unbelievable pictures, rivaling DSLR cameras.
The Lumia 1520 has a six-inch screen, which turns out to be absolutely enormous. It's too big for a phone, not quite a tablet – an interesting niche. The features are all fine (including a 20-megapixel camera that outdoes every other phone except the 1020) but by all accounts, it's hard to get past how big it is.
The Lumia 520 is sold by AT&T as a Go-Phone (prepaid phone service), not a smartphone under contract. It's $69 without a contract and is reportedly a great phone – not said defensively as "a great phone for the price," just a great phone. At that price, it would make sense to buy it without setting up phone service and use it on wireless to play music, watch videos, check mail, and browse the web. I haven't tested but I'm told the GPS works without setting up AT&T service, which mean you could use Nokia's excellent Here Maps and Here Drive apps. Not a bad deal for $69! The Lumia 520 is so popular in other parts of the world (South America, Europe, Asia) that it is currently the single largest-selling Windows device in the world.
Verizon lags behind on the new models, as usual. The Nokia Lumia 928 is a great phone, so it's not as if we're being punished, but it would be nice to try one of the others.
WINDOWS PHONE APPS
Perhaps Microsoft is twisting arms to make it happen but there is an influx of high-profile titles for Windows Phones. In the last few weeks, we've gotten Instagram, Waze (Google's traffic and driving app), and Vine, to join Pandora, Twitter, Facebook, WhatsApp, Netflix, Kindle and Audible. All of them are being regularly updated, too, so they are increasingly likely to have all the features and stability of the same apps on iPhones and Android phones. Google even updated its Search app on Windows Phone, which is remarkable given Google's bad attitude toward the platform.
When you're searching for big-name apps in the Windows Phone store, look at the publisher name! There are many third-party apps imitating the well-known versions and it can be difficult to tell them apart. Do a search for "Instagram" and the official app is not necessarily going to be first in the list.
Nokia has a selection of apps for Lumia phones that add real value – not like the junk that clogs up Samsung phones. Nokia's maps are second only to Google Maps, and there are several Nokia camera apps that provide near-professional control over the excellent cameras and lenses in the phones. Last week Nokia updated its music player and renamed it Nokia MixRadio. It's like a mashup of Pandora and Microsoft's XBox Music, streaming radio stations like Pandora from a seed of up to three bands, as well as playing music stored on the phone.
WINDOWS TABLETS
Tablets running Windows 8.1 are true productivity tools. They're hybrids that are carving out a new niche, potentially a really useful one. They're not quite comparable to iPads – the shape of the screen works better in landscape mode, so you're more likely to use it with the screen oriented like a laptop, and chances are you'll keep the keyboard connected most of the time. Yet they're not quite like a laptop – the small screen and keyboard keep them from being quite as powerful and comfortable for work as a 13" or 14" laptop, and of course the Windows RT tablets can't run most traditional Windows desktop programs other than Office.
The small size, light weight, and extended battery life put them into a different category that will be just right for many people. The combination of Windows 8.1 and the upgraded processors from Intel (Haswell and Bay Trail), and from the companies that make ARM processors, has given them a substantial performance boost and improved energy efficiency. They're fun, like an iPad or Android tablet, but you can also get some serious work done.
Last week Nokia began shipping its 10-inch tablet, the Nokia Lumia 2520 (pictured above). It is comparable to the Microsoft Surface 2 in most ways but there are some interesting differences and there's no clear "winner."
Both tablets run Windows RT. Both are well engineered and have rich, vibrant displays, like most of the tablets this year. Both ship with Microsoft Office – Word, Excel, Powerpoint, OneNote, and Outlook.
The Surface 2 has a kickstand. iPads don't have a kickstand. You don't miss it until it's gone. Once you've had a built-in kickstand, though, it seems natural. The Lumia 2520 doesn't have a kickstand; like other tablets, the keyboard/cover holds it up when attached.
The Lumia 2520 has two features that set it apart.
It is only being sold through Verizon and AT&T with built-in LTE for an always-on Internet connection. That means a new 2-year contract and more money for a data plan, but it also means the tablet can be used anywhere without thinking about how to find a wi-fi connection. If you have a Verizon Share Everything plan, it's only $10/month to add the Lumia 2520 to the plan.
The Lumia 2520 also has built-in GPS, which is not included with the Surface 2.
The Lumia 2520 tapers at the edges, making it feel thinner and oddly lighter in the hand than the Surface. The rounded corners make it less industrial looking. It's subtle but immediately noticeable. It comes in matte black or in a very glossy bright red from Verizon. (Later there will be glossy white and matte cyan versions.)
Both the Surface 2 and Lumia 2520 take advantage of the new ARM processors to deliver snappy performance that rivals any other tablet. The original Surface RT would lag and load programs slowly; the Lumia 2520 pops everything into place immediately.
Battery life for the Surface 2 and Lumia 2520 is 10 hours or more. The Power Keyboard accessory for the Lumia 2520 adds an additional battery along with a couple of full-sized USB ports (and another pound of weight), reportedly extending battery life for another five hours.
Funny thing about that Lumia 2520 keyboard! If you want to be a stickler, there's a minor technical issue with the keyboard. Really, a small thing, hardly worth mentioning. You see, technically, the keyboard doesn't exist yet. Nokia didn't have it ready to ship when the tablets went on sale last week, and hasn't announced yet when they'll become available.
That's a bit of a handicap for a device whose appeal is that it's a productivity device. It also highlights the lack of a kickstand, since there's no way to stand it up now.
Here's where the timing of your Xmas shopping gets interesting. The Lumia 2520 is $399 from Verizon or AT&T with a new two-year contract, or $499 without a contact. (It ought to be less with a contract. The carriers don't treat us fairly.) The keyboard will be $149 when it becomes available.
If you buy the Lumia 2520 between now and December 2, you can get the Power Keyboard free. That's a total of $399 for a very attractive Windows tablet and keyboard, far cheaper than the Surface 2 or the iPad. Here's the website with the free keyboard offer. It's a typical rebate offer, so follow the instructions closely, and remember there's no promise of when the keyboard will ship – you could be using the tablet for six weeks (or more) without a keyboard.
You might also want to consider the Dell Venue 8 Pro, a Windows tablet with an 8" screen, roughly the same size as an iPad Mini. It's available for only $299 and it's being praised by most reviewers. It's based on an Intel processor so it's running the full version of Windows 8.1, not Windows RT, which means it can run any legacy Windows program you care to install on the desktop. That's not much of a selling point, though, because what you will discover is that traditional Windows programs on an 8" screen are too small to be usable. Still, you could, if you wanted, and that means something to some people. The Dell Venue 8 Pro runs all the Metro full-screen apps, of course, and Windows 8.1 supports mini-tablets beautifully. Microsoft will release a Surface mini-tablet next year.
Full-screen Metro apps are being released quickly for Windows 8, just like for Windows Phone. Chances are getting better all the time that you'll find your favorite. Last week Flipboard was released for Windows 8 and Windows RT, a wonderful free app that pulls together content from your social networks (Facebook, Twitter, LinkedIn, and the rest) and a wide variety of other sources and presents them in beautiful magazine style layouts. Don't miss it if you get a tablet.
Happy shopping!