Once in a while a tech deal shows up that is so good it deserves special attention. I've got a stocking stuffer for you that represents one of the great bargains of the year – frankly one of the great deals of the last few years.
Let's do this like an infomercial.
What if I told you that the Nokia Lumia 520 is a nice MP3 player and you can get one for only $99. Would you be interested? After all, an iPod Classic is $260.
No? Okay, I understand. MP3 players are old news. How about if the same device can stream online music from Pandora, Spotify, Rdio, and many other music services. And the price isn't $99 – let's say it's only $89. Are you interested now?
Not convinced yet? Okay, let's imagine that the Lumia 520 can browse the Internet and let you read your mail. It's fast and has a beautiful screen and feels good in the hand. It's got a decent camera. And the price isn't $89. It's time for CRAZY SALES! Imagine that you could get it for a special price, available only to people, of $79. Am I getting your attention?
But wait! There's more! It's perfect for reading Kindle books and listening to Audible audiobooks, great for watching TV shows on Netflix. It can connect to Facebook and Twitter. It does weather, news and games. It comes with handheld versions of Word, Excel, Powerpoint and OneNote – you can open and edit your files from the cloud. You can get them in cool colors, too.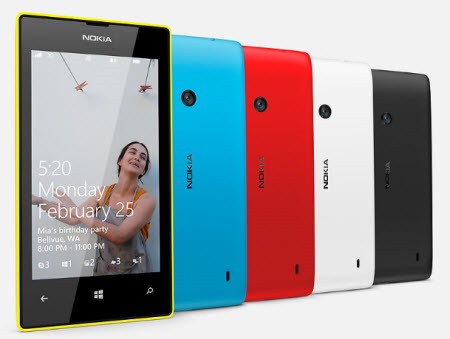 My manager will hate me, folks, we're losing money on every one, but you can get this for $69 for a limited time only, or possibly forever. Sixty nine dollars! Pocket change in a world of too many five hundred dollar gadgets! Right? Pick up the mouse and start dialing! And then put the mouse down and start clicking, because dialing – well, a mouse doesn't really do that, does it? You were excited. I understand.
Hold that clicking finger! I haven't told you the best part! If you get the Nokia Lumia 520, I'll throw in a full-featured GPS running some of the best programs in the industry for maps and driving directions. Absolutely free! That's right!  Get a GPS for the car along with all of these other great features, and for you, because I love you, I'm going to drop the price to an unbelievable, storm-the-doors price of $59!
That's right! The price for all of these features – GPS, music player, Office programs, weather, apps, camera – is only
Fifty-nine dollars!
(Flashing lights. Applause sign is lit. Audience is cheering. Ushers are futilely trying to restore order.)
Well, maybe. Microsoft is selling it for $59 but it's currently out of stock – no word on whether they'll get more in stock before Xmas. Maybe you'll get lucky and find it at that price somewhere else. It was as low as $49 for some Black Friday sales. But Amazon has it in stock for $69, anyway, and it's a great buy at that price.
The Nokia Lumia 520 is a phenomenal deal. Here's the sweetener that makes it a great Xmas present. The Lumia 520 happens also to be a phone but it is sold at these prices off-contract, so you don't have to sign any contract with AT&T to start using it for everything else it does. If you use it without paying AT&T then it will do everything (except phone calls) when it's connected to a wireless network. You'll use it in the house or office, and on the road anywhere you're connected to wireless.
There's one important exception. GPS works anywhere and you can download maps to use offline, whether or not you have a wireless or data connection. You can use GPS on the road and run Nokia HERE Maps and HERE Drive apps while you're walking or driving, without a wireless connection and without a carrier contract.
At this price you can give these to kids with a lot more confidence than an iPhone or iPod Touch or any of the other devices that cost far more money. Keep one as a spare phone for an emergency if you lose or break your regular smartphone – AT&T will sell prepaid time for it on the fly as a "Go Phone." Leave one or two around the house for quick on-the-fly Internet searches.
There's nothing else with the same capabilities that is even remotely close to the Lumia 520 in price. No Android phone can be purchased off-contract for less than a couple of hundred dollars, and most are much more. An iPod Touch is over $250. The Lumia 520 stands alone as a high quality device that could easily be three times the price. We're a little slow in the U.S. to catch on: because it is selling so well in Europe, South America and developing countries, the Lumia 520 is currently the biggest-selling Windows device in the world and is almost single-handedly responsible for Windows Phone's rising profile.
Get a Lumia 520 for Xmas! It's a great deal. And who knows – you might like Windows Phone 8 enough to get another Lumia as your primary phone the next time your contract comes up for renewal.