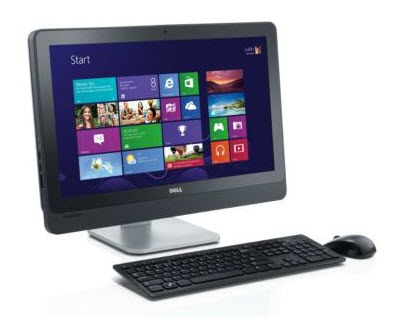 In the market for a new desktop computer? Laptop? Tablet? Phone?
Good luck! There are way too many choices. I can't imagine how you pick one.
The good news is that almost everything is good enough, especially in the desktop and laptop worlds. Just about everything on the market that's above the bottom shelf at Walmart has a big enough this and a fast enough that. You won't go far wrong.
I haven't seen everything on the market but I try to keep an eye on Dell and Lenovo and a few other manufacturers. Here are a few of the computers that I've been setting up for clients recently.
Desktop computers
Small businesses still buy Dell Optiplex desktop computers from Dell's Small Business division, usually the Optiplex 7010 – nice compromise of price and features, with the usual high quality of construction and minimum of fluff that has been the hallmark of the Optiplex line for a long time. It's annoying that Dell's business division has effectively stopped selling Windows 8 completely, but that's the reality of it, so you'll get Windows 7 on a Dell business computer.
Home users can safely get the Inspiron Desktop 3000 from Dell's Home division – cheap and good enough.
There's another option worth considering if you also need a new monitor to go with a new computer in your home: Dell's all-in-one Inspiron One 23 is just wonderful. It's a full-powered computer contained within a 23" monitor, matched with a wireless keyboard and mouse. See the picture at the top? That's it. There's no box on the floor. It's streamlined and reduces clutter and wires. It's not a new concept but this is the first time I've seen it done right in the Windows world.
In general, only buy desktop computers with Core i5 and Core i7 processors. There are loss leaders with Core i3 and lower processors but you won't be happy with their performance. Dell has too many of those – ignore the too-cheap configurations and find the choices with adequate processors on Dell's increasingly labyrinthine web site.
(There is one and only one model of the Dell Inspiron One 23 with a Core i5 processor and touchscreen, which is the only way you should buy it. Pretend the cheaper models aren't there and buy the $999 version.)
Laptops
There are thousands of laptop variations and everyone has something different that's important to them. I focus on light weight and thin form factor combined with a screen size that works for my baby boomer eyes. Other people don't mind extra weight to get a separate number key pad or an even larger screen. Perhaps you have to have a backlit keyboard or a non-reflective screen. Lots of people are buying the Surface 2 Pro and finding that they can work productively on an 11" screen. There are choices for all of you.
Only a few laptops stand out, to be honest.
Lenovo recently updated the Thinkpad X1 Carbon Touch with a very high resolution screen, 2560×1440. It continues to be the closest thing on the market to perfection. It is solidly built and thin and featherweight, with the legendary Thinkpad keyboard (albeit with a couple of odd changes to the keyboard on the new model that have caused some complaints). A 14 inch screen fits in a chassis that others use for a 13 inch screen. It's the one you want.
There is that one niggling issue with the Thinkpad X1 Carbon Touch – a small thing, really, hardly worth mentioning. It's just the teensiest bit expensive. It might be the most expensive laptop on the market, bar none. Consider it if you can afford it, but move along if it's too rich for your budget.
Lenovo has been turning heads with the IdeaPad Yoga 2 Pro, a 13.3 inch laptop with a lid that folds back 180 degrees so the screen can be used as an oversized tablet. The Yoga 2 Pro has an absurdly high resolution screen, 3200×1800, which means desktop programs are very, very tiny but very, very crisp. As always with Lenovo, there are too many confusing configurations but you should be able to get one for about a thousand dollars.
After those two, the laptop market turns into a blur. Try and figure out what matters to you before you go shopping, and stay away from the bargain basement prices. If you're spending less than five or six hundred dollars, you're buying a crappy laptop. Sorry to be the bearer of bad tidings but that's the way it is.
Tablets
Just a few notes about a fast-moving market for Windows tablets.
—  Microsoft is expected to announce new Surface tablets with built-in LTE connectivity if you sign up with a carrier for a data plan. No word yet on details or timing, although it won't be long.
—  Nokia's Lumia 2520 tablet has built-in LTE connectivity already and provides a nice alternative to the Surface lineup if you want a pure tablet that cannot run legacy Windows programs. (Other than Office, which is included.) They started shipping at Xmas without keyboards, which kind of misses the point of a Windows tablet. Apparently the technical or supply problems have been cured because keyboards are appearing now at AT&T and reportedly keyboards for Verizon models will ship Real Soon Now.
—  Microsoft will announce an 8 inch Surface tablet soon.
—  Dell's Venue 8 Pro Windows tablet is a great deal at $299. I've seen favorable reviews of the Lenovo Thinkpad 8 tablet at $399 – the extra money might be worth it for better specs and higher quality.
Happy shopping!