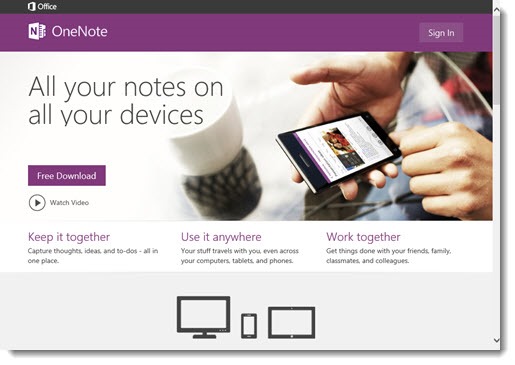 Microsoft has updated OneNote.com as the first step in a broader rebranding and refreshing of the web versions of all the Office programs.
There are apps available for viewing your OneNote notebooks on just about any kind of computer, tablet, and phone. It's also been possible to view notebooks online in a web browser but most people don't know that. Until now, it has required going to SkyDrive and finding notebooks mixed in with all the other files.
You can still do that, but now you can also go to www.onenote.com and sign in with your Microsoft account. It will go through your SkyDrive folders and present just the OneNote notebooks without any distractions.
The list at OneNote.com includes notebooks shared with you. If you have only one notebook, it will just open, and if you don't have any notebooks yet then a new notebook will be created for you.
When you open a notebook, you'll get a two-column navigation pane for easy switching between sections and pages. The layout is similar to the OneNote Metro app in Windows 8.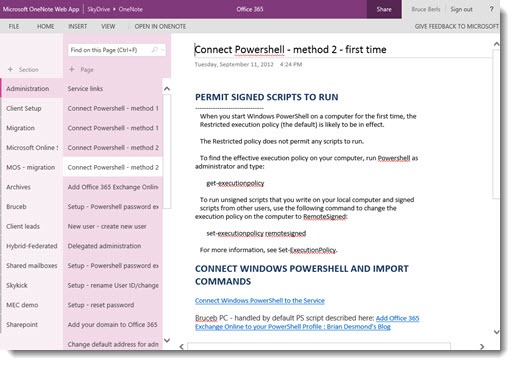 It's a preview of changes ahead for the other web-based versions of Office programs. There are lovely browser versions of Word, Excel and Powerpoint available through the SkyDrive web site but people aren't discovering them. It's believed that the name will be changed to Office Online (instead of the clumsier "Office Web Apps"), and you'll be able to access them by signing in at Office.com, in addition to the SkyDrive web site. There will be tiles leading to each program to make it more obvious how to get started. The goal is to make the services more discoverable rather than to change them very deeply.
There's no official timetable but changes are expected in the next few weeks, perhaps accompanying the name change from SkyDrive to OneDrive.