Offices have settled on PDF as the universal file format. PDFs are used for everything, from scanning the mail to exchanging contracts during negotiations. Offices might be creating more PDFs than Word documents and Excel spreadsheets.
Sometimes it's necessary or helpful to edit the contents of a PDF file in Microsoft Word. Here are four ways to do that, including a couple that you don't know about.
Background
The PDF format is designed to display a document accurately regardless of what device is used to view it. It has a secondary characteristic: it's difficult to edit a PDF very extensively. That's sometimes overrated. Adobe Acrobat has all kinds of tools to mark up PDFs and even do light editing (as well as tools to lock down PDFs to prevent any alternations). But the general point is true – Adobe Acrobat is not a word processor and PDFs aren't meant to be edited directly.
Frequently it would be helpful to edit the contents of a PDF in Microsoft Word. Before we talk about how to do that, let's make sure you understand that there are two different types of PDFs – PDFs that understand the individual words on the page, and scanned PDFs that are just a picture.
PDF created from a web browser or from an Office program  When a PDF is created onscreen from a program like Internet Explorer or Word, the words in the document are saved in the PDF along with the layout and formatting. It's called an editable PDF. You can highlight words in the PDF. You can search for words in the file. You can convert the PDF into a Word document.
PDF created from a scanner  When a document is scanned, however, the scanner takes a picture of the page – and at that moment, your computer has no knowledge of what's on that page. It might be words or it might be a photograph of a grumpy cat. You can't edit that PDF in Word until OCR has been done. Optical Character Recognition looks at the page and tries to figure out whether there are words. If it's typed and neat, OCR can be very accurate. If it's handwritten or has marks, OCR can be just awful.
If you use Adobe Acrobat to scan, the OCR is probably done right after the scan is finished. It's a setting in the scan dialog – "Make Searchable (Run OCR)."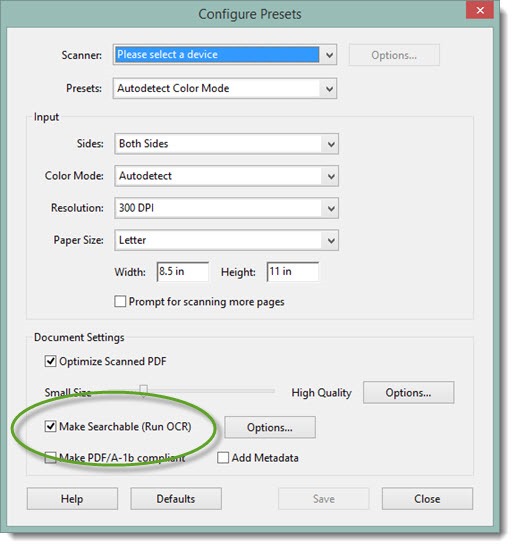 If you use another program to create PDFs from a scanner, it might or might not do OCR before it saves the file. An easy way to find out: open the PDF, hold the left mouse button down, and drag along the words. If each word is highlighted individually, OCR has been done. If the mouse cursor draws a box without regard to the words, then it's just a scan and you can't do anything with the words yet.
You can't convert a scanned PDF to a Word document without the extra step of doing OCR. Some – but not all – of these methods include OCR as part of the process.
Method 1 – convert files with Adobe Acrobat
If you have the full version of Adobe Acrobat (not the free Adobe Reader), you can convert a PDF to Word format with a few clicks.
—  Open the file in Acrobat XI
—  Click on Tools / Content Editing / Export file to Microsoft Word document
—  If the document is scanned, click on Settings to turn on Optical Character Recognition
—  Name the Word file and choose a file location
Method 2 – convert files with Adobe ExportPDF
If you need to convert files regularly but you don't have the expensive full version of Acrobat ($1.99/month), you can sign up for Adobe's web-based ExportPDF service. For $21/year, you can upload PDF files to Adobe and download the converted Word documents. Adobe will automatically run OCR is necessary and preserve as much of the layout as possible. (The same subscription now covers exporting PDF tables and spreadsheets to Excel.)
Method 3 – convert files with Word 2013
The current version of Microsoft Word converts editable PDFs into editable Word documents. It's a built-in feature called "PDF Reflow" that might even be better than Acrobat at replicating the formatting and page layout from the PDF. This only works with Word 2013, available with the Office 365 ProPlus and Office 365 Home Premium subscriptions.
How do you do it? That's the best part. If you have Word 2013:
—  Click on File / Open and open a PDF
That's it. The program will automatically copy the contents of the PDF (the original PDF is untouched) and open a new Word document. It's the easiest way to convert a file.
Note that Word 2013 does not do OCR. If the PDF is scanned and not editable, you can't open it in Word without the help of something that will do OCR on the file.
There are more details about Word 2013 and PDF Reflow here.
Method 4 – convert files with Word Online
Word Online, accessible from your OneDrive files or from Office.com, has always been able to display PDF files. A few months ago it became possible also to use Word Online to convert PDFs to editable Word documents right there in your browser. No software needed – and remember, the Office Online programs are free for anyone to use, as long as you log in with your free Microsoft account.
When you open a PDF in Word Online, the first view is a highly accurate file viewer. Click on the button in the upper left that says "Edit in Word." A window appears: "File conversion – Word Online will make a copy of your PDF and convert it to a Word document for you to edit."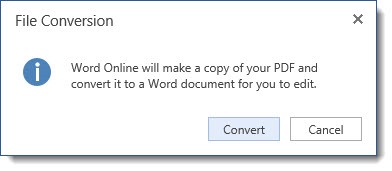 Like Word 2013, Word Online does not do OCR. If the file is not editable, Word Online will turn it into a collection of page-sized pictures. In my experience, it struggles with pages that were scanned or that have handwriting or marks on them. It's more successful with editable PDFs created from Office programs.
It's another reason that OneDrive/SkyDrive and Office Online are becoming powerful tools for businesses. It pays to be familiar with them.
There are more details about PDFs in Word Online (previously Word Web App) here.