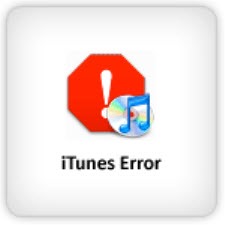 If you're an Outlook user and iTunes is installed on your computer, you may have an Apple add-in running in Outlook that isn't doing anything useful. In some cases, it turns out to cause slowdowns and crashes in Outlook. Since nothing is easy these days, naturally it requires an extra trick to remove the add-in.
What is added into Outlook by iTunes?
Actually there are two add-ins: "Outlook Change Notifier" and "iTunes Outlook Addin." In typical Apple fashion, you didn't ask for them and the chances are you're not using them.
The idea is that iTunes can be set up to sync contacts and calendar from Outlook. It's different than the syncing done from Outlook with iCloud, which has its own problems.
Almost no one uses the iTunes contact and calendar sync. It's clumsy and doesn't work very well, and it can cause problems if it's running on an Exchange mailbox which takes care of its own syncing.
The iTunes addins can cause problems for Outlook even if the sync is not set up. It's better than it used to be but there can still be lengthy delays when Outlook is started, errors when Outlook is shut down (or even a failure to completely shut down), and occasional crashes. It's not always obvious that the Apple add-ins are responsible and yet a surprising number of problems seem to melt away when the add-ins are removed.
How do you find out if the iTunes add-ins are installed?
Outlook add-ins are listed in File / Options / Add-ins. You'll likely find eight or ten or more add-ins listed. Most of them should be left alone. Microsoft has several that work with Office 365 and Exchange, for example. There's one named "Windows Search Email Indexer" that always shows as Disabled but apparently has to be there for some reason. If Acrobat is installed on the computer, an add-in is responsible for the ribbon that adds buttons for easy PDF creation. You may see some add-ins from other third party programs. They can be disabled or removed if you're sure you don't use any feature from those programs in Outlook.
How do you remove the iTunes add-in?
This is the path to remove or disable most Outlook add-ins. (As described below, there's an extra trick for the iTunes add-in.)
—  Click on File / Options / Add-Ins
—  At the bottom, click on Manage / COM Add-Ins / Go
—  Uncheck the box by an add-in to disable it, or highlight it and click the Remove button
—  Restart Outlook
The iTunes add-ins won't let you uncheck the box, and Remove is greyed out. If you try to disable the add-ins, you'll get this message: "This add-in is installed for all users on this computer and can only be connected or disconnected by an administrator."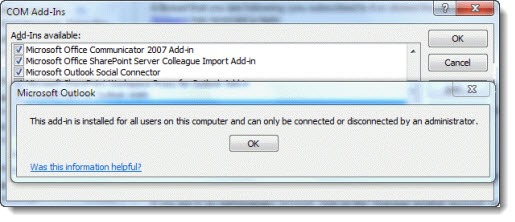 The trick, then, is that Outlook must be running with elevated administrator privileges before you can remove the iTunes add-ins. Try this:
—  Hold the Shift key down and right-click the Outlook icon in the task bar or on your desktop. You'll be able to click on Run as administrator. After you click OK on the UAC prompt, Outlook will start normally.
—  Now retrace your steps to the list of add-ins: File / Options / Add-Ins / Manage / Com Add-Ins / Go
—  This time the iTunes add-ins will disappear without complaint when you uncheck the box to disable them, or highlight them and click on Remove
This isn't necessary for most people but I've worked on computers where the iTunes add-ins were causing 20-30 second delays before Outlook would start, and seemed the likely cause of crashes. Try yanking them if they're not doing anything for you. And be alert – I haven't tested it but I'll bet they reappear after the next iTunes update.