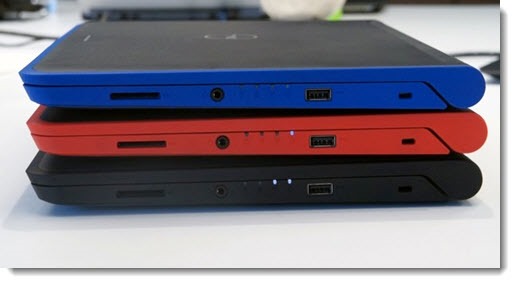 The new Dell Latitude 13 is being marketed as an "Education Series laptop" for classrooms because of its sturdy construction, but anyone can buy it. It's a good choice for parents and might be a good fit for anyone who will be using a laptop in a tough environment.
The Latitude 13 has some of the characteristics of Dell's usual business Latitude laptops, but Dell has added rubber around the edges, Gorilla Glass on touchscreen models, and a sealed keyboard and touchpad to resist spills. The hinge is designed to open a full 180 degrees, which will help avoid accidents and stress.
There are more details here and here. The lowest priced models have Celeron processors, which I strongly discourage you from buying. Move up to a Core i3 minimum, or a Core i5 model for better performance. At the moment, there is only one model with Windows 8 and a touchscreen ($769), available only in black. If you want Windows 7 and no touchscreen (and no Gorilla Glass), you can also choose red or blue models ($679-$769).
It takes a little hunting to find them on Dell's web site. Go to Dell's Small Business web site, click on Shop / Laptops & Tablets / Latitude laptops. Scroll down the page to Latitude Specialty near the bottom.
The Dell Latitude 13 is worth a look for parents of young kids. Get Windows 8 and parents can take advantage of the new Family Safety features, where kids don't have permission to install programs without a parent's help and weekly reports are sent to the parent about Internet activity. There's more information about Family Safety here, and a tutorial from Microsoft here.
Parents of older kids should be cautious. The video systems in these laptops, like most laptops, are not designed to play games! If you've got a kid playing League of Legends, this will not be the laptop to send with them when they go to college. Gamers get laptops in a special category with beefy video cards, usually sacrificing thin profiles and light weight to get the performance they need.
[From the Department Of Things You Didn't Know Were Going On In The World: League of Legends is the most popular game in the world, by an ever-widening margin. Forget Facebook – this is what kids in college are doing. Playing the game is the primary method of entertainment, of course, but there are professional players with a rapidly growing audience of people watching them play. Tickets for last October's LOL World Finals at LA's Staples Center sold out in minutes, and the webcast was watched by 32 million people worldwide, the most watched esports event in history. According to Wikipedia, the United States Citizenship and Immigration Services now recognizes League of Legends pro-players as professional athletes and the visa application process is now simplified for them.]