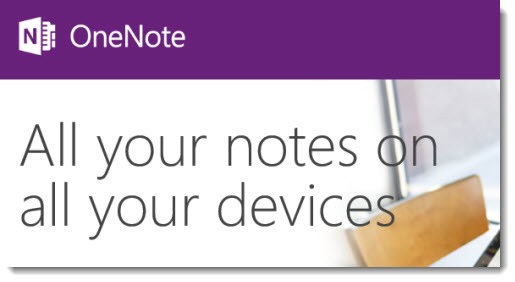 OneNote is the cross-platform note-taking program that has been included with every copy of Microsoft Office for longer than you realized. Microsoft plans to raise its profile and add features to ensure that it stays a step ahead of its biggest competitor, EverNote.
Mary Jo Foley reports today that a new version of OneNote for Mac will be released soon for free. The OneNote program for Windows computers will apparently be released separately for free as well, although most people have OneNote already as part of the Office suite. (You may not know you have it. Check your Start menu under Microsoft Office, or type "onenote" on the Windows 8 Start screen.)
OneNote is already available for free almost everywhere. There are free OneNote apps for iOS and Android devices. There is a free Metro OneNote app for Windows 8. There is a free version that you can display in a web browser at www.onenote.com.
Your Microsoft account is the glue holding everything together: your notes are synced to all the different places you start OneNote tied to the same account. OneNote is designed for its notebooks to be stored online in Microsoft OneDrive. When you link to your online OneNote notebooks from different computers or mobile devices, the program syncs everything instantly and seamlessly.
If you're not using OneNote, get an overview from my last article about it, then go to the OneNote web site and read about it. Go to www.onenote.com and watch the video.
More resources:
—  A free collection of beginner videos to help you get started
—  A free collection of short training videos about OneNote 2013, targeted at people who have used a previous version
—  A one-page Quick Start Guide
—  Short videos on how to use tables inside OneNote
—  More general info about the program
—  A few years ago I wrote three articles with more detailed info about OneNote 2010: Introduction, Outlook Integration, and Syncing And Sharing.
OneNote has the potential to change the workflow for your business and your personal life. I use it more than almost any other program on any of my devices. Try it!