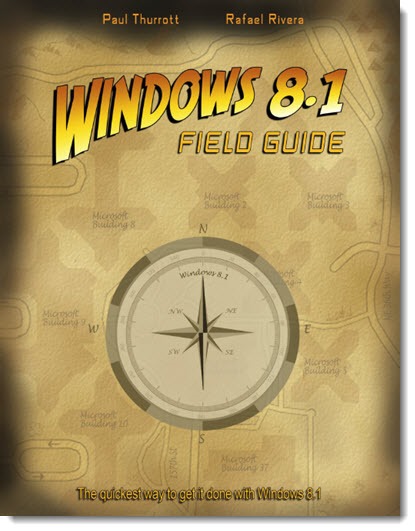 Windows 8.1 Field Guide is highly recommended for anyone who wants a clearly written book about what's new and changed in Windows 8. It's an experiment in self-publishing – over five hundred pages of information and screen shots that you can get for $2. If you're someone who likes the comfort of looking something up in a manual, it will be money well spent.
Paul Thurrott is an insightful and prolific writer who covers Microsoft and the rest of the tech industry at winsupersite.com. He joined forces with Rafael Rivera, blogger and software engineer, to write and distribute Windows 8.1 Field Guide outside the publishing industry. Drafts of chapters were posted online and feedback was integrated into the book as it evolved. It's nearly final now and you can purchase it for a price that you choose from a slider. You don't have to pay for it! $2 is the suggested price but you can download it for free by moving the slider to the left. Or pay more than $2 – I did. It's worth it.
You'll be sent a link to a download page where you can choose PDF format (best for most people), or MOBI or EPUB formats for people who know what to do with those. It will also be available from Amazon in Kindle format later. Don't print it out! It's nearly 600 pages. You'll spend $50 in ink and paper and your printer will collapse.
The book is organized by task and liberally illustrated with screen shots. Here's an example of how it's written – the beginning of the chapter about Basic Navigation.
BASIC NAVIGATION
Start screen + Modern apps + Desktop
While previous Windows versions were optimized for the mouse and keyboard interfaces that are common on traditional PCs, Windows 8.1 adds pervasive support for the multi-touch screens found on modern PCs and devices as well as support for different classes of digital pens. This system is versatile and you can mix and match between whatever interaction methods your system supports. For this reason, many basic actions you perform in Windows can be completed in different ways, depending on how you interact with the PC.
Furthermore, in this new Windows, Microsoft has combined the desktop environment from previous releases and combined it with a modern mobile environment. This change was made to help take Windows into a new era of mobile computing in which touch-based tablets, rather than traditional laptops, are the norm.
But this change can be confusing, and is less than ideal for many users. And that's true whether you're using a traditional PC with mouse and keyboard or a new multi-touch-based Windows device like a tablet or hybrid PC. So this chapter will show you the basics of getting around in the new Windows, no matter which type of PC you use, and no matter which input type you prefer.
In this chapter
Here are the key tasks you can accomplish in this chapter:
• Use the Start screen
• Access all of your Modern apps and desktop applications
• Launch a Modern app
• Switch between running Modern apps
• Access Modern app commands
• Close a Modern app
• Display two Modern apps side-by-side
• Display the Charms
• Find things with Smart Search
• Share items between apps
• Interact with devices
• Access system and app settings
• Pin programs to the Start screen and taskbar
• Switch between running desktop applications and Modern apps
• Access the Quick Access menu
• Change the display orientation between landscape and portrait modes
• Use Windows with a pen
All descriptions and screen shots are up to date, including new features introduced this week in Windows 8.1 Update. The authors plan to continue updating it as Windows 8 evolves; once you buy the book, you can return and download updated versions.
There are hundreds of screen shots to make it easy to understand each point. Here's an example, where the book explains a new Reading View in the Metro version of Internet Explorer that can be toggled on individual web pages by clicking an easily overlooked button at the right of the address bar.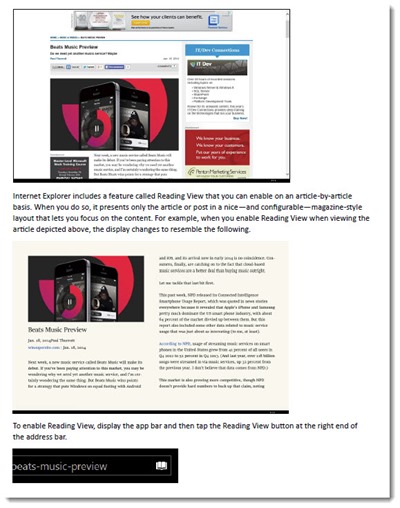 As you'd expect, the PDF is easy to navigate, with links in the table of contents to jump from section to section.
I hear complaints frequently from people who miss the days when products came with a manual. Well, here's your manual for Windows 8 – cheap and well-written and easy to get. Put it to good use!