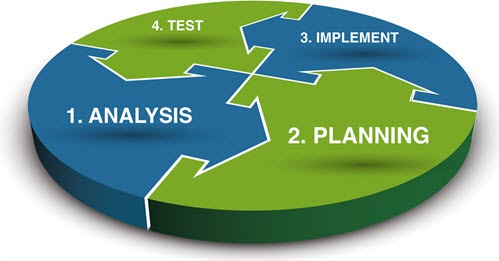 The challenge is clear: how can small and medium businesses maximize continuity and minimize disruption when a server fails?
Business continuity encompasses planning and implementing a process to ensure that your business will be able to recover within a reasonably short time after a serious disaster. The disaster might be a failed server, a fire or theft, or malware that requires taking a server out of service.
The key elements of business continuity are resilience; recovery; and contingency planning. I'm going to outline some of the steps that I'll be proposing to Bruceb Consulting clients in the next few months that address each of those elements, with an emphasis on a new backup system that provides multiple points of protection.
RESILIENCE
Large businesses can afford to set up redundant systems, so a failure of any one component does not bring down the entire system. Until now it has been impossible for small businesses to afford the IT infrastructure required to accomplish that; small businesses almost always rely on individual servers that are crucial to operating the business and that will cause disruption when they fail.
We have always purchased strong servers that have redundant systems inside, to the extent the budget allows – mirrored hard drives in RAID 1 or RAID 5 arrays with generous storage capacity.
True redundancy, however, is still out of reach. Later I'll describe Hyper-V replication, brand new technology from Microsoft that comes close and might be within a small business budget, but in general small businesses will not have a fail-over server ready to take over in a crisis.
The best way to avoid disruption is for your server not to fail. I'll be proposing checks of server components, hard drive replacement, and even server replacement when warranted. After that we'll rely on advance planning and a strong backup solution.
RECOVERY
The crucial element for small businesses is a strong backup and recovery plan.
The threshold requirement for a backup program is that your data is safe. Most backup programs can make a safe copy of your data. (Not all. I could tell you stories.)
Business continuity depends on the ability of the backup program to minimize recovery time, the time that your systems are out of commission. Enterprises love acronyms, so they refer to it as "RTO" – the "Recovery Time Objective" is the maximum downtime after which the consequences of being down are unacceptable.
There are limits to Windows Server Backup, the built-in backup service used by most small businesses. As I've described, in a crisis there may not be hardware at hand that can be used for recovery, requiring delays while a new server is ordered or hard drives are delivered. Once the hardware is in place, it can take days to build up the equipment with the operating system and applications and to restore terabytes of data.
StorageCraft has been the industry leader in backup and disaster recovery software and services for more than ten years. Its core product, ShadowProtect, was originally built on Microsoft VSS technology to store hard drive images, but StorageCraft has taken that technology further than any other company and now StorageCraft technology is used by partners like Microsoft, VMWare, Kaseya, Doyenz, and many others as part of their own backup products. StorageCraft has also added products to its lineup for offsite replication, image management, cloud backups, and monitoring.
We will be using ShadowProtect as the primary backup program for servers. ShadowProtect has some unique characteristics. It is more successful than any other program at doing a bare metal restore – restoring a computer onto new hard drives as an exact clone of the original with a minimum of delay. Even better, ShadowProtect is the only product on the market that can reliably handle a hardware-independent restore of a clone of a computer onto different hardware – for example, a new server purchased to replace an older dead server. This is often crucial for a small business that does not have redundant identical hardware.
In the last few years, StorageCraft has focused on improving ShadowProtect's ability to backup and restore virtual machines, which adds tremendous flexibility to the options when a server goes down. It's an important part of the reason small businesses can improve their continuity in a crisis. More about that later.
ShadowProtect can also handle day-to-day recovery needs, of course. Backups are updated every two hours and retained for months, so files can be recovered if they are inadvertently deleted and previous versions of files are readily accessible.
CONTINGENCY PLANNING
Once we have reliable and flexible backups, we need to be sure steps can be taken to recover machines regardless of what kind of crisis has taken down the network.
FASTER RESPONSE My colleague Mike Cook and I will both be ready to respond in the event of an outage, reducing the chance of a delay if one of us is unavailable.
ONSITE BACKUPS Backup images will be stored onsite in a more secure and sturdy device than the external hard drives used by most small businesses.
OFFSITE BACKUPS – LOCAL Backup images will then be replicated offsite and stored at the global headquarters of Bruceb Consulting. They'll be accessible if something damages both your server and the onsite backup device, without the delay required if the images were stored online and had to be downloaded.
OFFSITE BACKUPS – CLOUD Because redundancy is a crucial part of a complete backup solution, we will also store your data files online with Bruceb Cloud Backup, because redundancy is a crucial part of a complete backup solution.
REPLACEMENT HARDWARE We will have a specially prepared server available to put into place at your office as a temporary replacement for a dead server. ShadowProtect has unique features that allow a clone of your server to begin working with a minimum of delay with the right equipment – and we'll have the right equipment. StorageCraft has several different programs that work with its backup images to bring a business back online quickly; no other backup system can match those features.
Nothing is certain. I can't guarantee that there won't be some weird sequence of events that takes your business down for a while. With advance planning and the right tools, however, we can reduce the risk and put you in a better position to recover from an unexpected crisis. That's what business continuity is all about.
In future articles, I'll tell you specifics about ShadowProtect, VirtualBoot, ImageManager, and how we'll be able to keep a copy of your backups at Bruceb Consulting headquarters with offsite replication. I look forward to keeping you up and running for years to come!