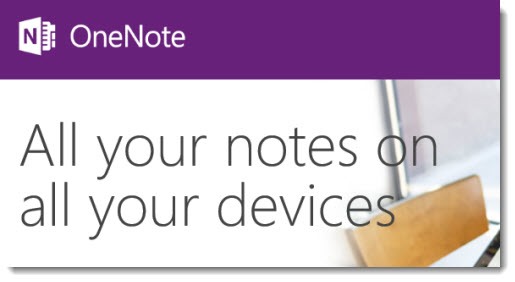 Microsoft has long believed that OneNote should be better known as one of its signature products. OneNote has been included with every version of Office 2010 and Office 2013, and it is now available for free on every computing platform – there is a free version of OneNote for every type of phone, tablet, laptop, and desktop computer, as well as a web-based version.
Here are a couple of new OneNote tricks, and a look behind the scenes at the corporate reorganization that reflects the high regard for OneNote in the halls of Microsoft.
Microsoft's new Surface Pro 3 tablet/laptop hybrid will begin shipping later this week. The Surface Pro 3 includes the new Surface Pen, a high-quality digital pen for taking notes or working on creative projects. Clicking the button on the top of the pen will turn on the Surface Pro 3 and start OneNote. You can write a quick note into OneNote with literally a click of a pen. The quick note screen will appear regardless of whether the Surface is turned on or locked. OneNote will immediately do its usual tricks – it will analyze your handwriting and turn it into searchable text if possible, and sync it immediately to OneNote online and on your other devices.
Recently the OneNote team wrote an article about another cool OneNote trick: you can dictate notes into OneNote from any phone.
•  Windows Phone 8.1 (a major Windows Phone upgrade that should be delivered in the next week): open Cortana and say "Note," followed by your note. OneNote will also save a recording of your note and store it for playback later.
•  iPhone: set up OneNote so an email to me@onenote.com is added to your Quick Notes, then add OneNote to your contacts on the iPhone. When you tell Siri "Send an email to OneNote," you'll have a one-step way to dictate a quick note. There's a step-by-step guide in the article.
•  Android: In Google Now, say "Note to self," then dictate your note. The first time you do that, choose "Add to OneNote" as the default way to complete the action.
The real sign of the importance that Microsoft attaches to OneNote came in a corporate reorganization earlier this month. The entire Office division was reorganized around cross-platform groups that are not divided the way you expect: no separate divisions for consumer and enterprise, for example, and no divisions between software and services.
Instead, there are four groups reporting to executive vice-president Qi Lu:
•  Exchange / Outlook / Outlook.com (mail)
•  OneDrive / Sharepoint Online (cloud storage)
•  Skype / Lync (communications)
And finally, by itself in a separate division:
•  OneNote
That's a sign of high regard for the OneNote team, which has been delivering updates and new features almost weekly this year.
Expect the OneNote push to continue. When the 8" Surface Mini arrives, it will be marketed as a note-taking device first and foremost. OneNote is complex but deserves the time to learn how to use it. It's like a Swiss army knife with a hundred functions – at first it's hard to find the tool that you need but it becomes more valuable the more you use it.