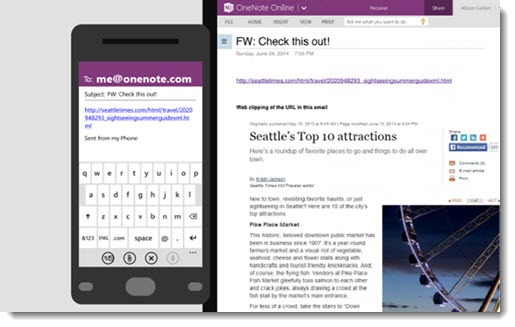 Microsoft has added yet another nifty feature to make OneNote easier to use. If you send an email to me@onenote.com with a link to a webpage, a screenshot of the webpage will automatically be added to your Quick Notes in OneNote.
A few months ago, Microsoft added the ability to send the contents of an email message to Quick Notes. There's a video here that explains how it works.
This week's new feature adds a screenshot if there is a link in the message. (If there are multiple links, they are added to OneNote but without screenshots.) The post from the OneNote team about the new feature is here.
The screenshot appears in OneNote along with a clickable link to the page, as well as anything else in the email message. The text of the webpage is searchable in OneNote. (The words in the screenshot cannot be highlighted for copy/paste, however.) The subject of the message is used as the title of the OneNote page.
It only takes a second to set up me@onenote.com. Go to the OneNote Mail Settings page and add the address you'll use to send messages. Once that's set up, messages to me@onenote.com will be added to your default OneNote notebook.
To make it easier, I created an Outlook contact named OneNote with the address me@onenote.com. In seconds, I can send a URL to "OneNote" – me@onenote.com. In Internet Explorer, click on File / Send / Link by email. (If you don't see the menu, hit the Alt key to make it appear.) In Windows 8 Metro programs, bring out the Charms bar and click on Share / Mail. In Chrome . . . really? There's no easy way built into Chrome? Sigh. I don't get Chrome sometimes. Google it – there are workarounds.
The real value, though, comes from remembering this when you're browsing web pages on your phone or tablet. It's easy to email a link from the browser on a a phone or tablet. Send the link to me@onenote.com and you'll know you can find it later.
It's the latest in a string of OneNote features designed to make it an essential tool. You can dictate notes on your phone directly into OneNote; use your phone camera to scan documents and whiteboards into OneNote (soon on Android and iOS); send web pages from your desktop browser with a single click with a clipping button; access your notebooks at OneNote.com; and install OneNote for free on every device – all phones, all tablets, PCs, and Macs.
It's time to become familiar with OneNote. There are articles and videos here to help you get started, and tutorials here. Resistance is futile!