Windows Phone 8.1, a major update to Microsoft's phone OS, will be rolled out to Windows Phone users over the next few weeks. If you have a Windows Phone, you'll be alerted when it's available, possibly as soon as this week. There are some nice improvements in the new version, as Microsoft continues to make Lumia phones into a tempting alternative to iPhones and Android phones.
I'll call attention to four new features that should be the first things you look for in the update. There are many other changes – updates to the apps and settings, better battery life, useful new features in Internet Explorer, and new tools for enterprises as Microsoft steps up its efforts to woo business users.
Improved home screen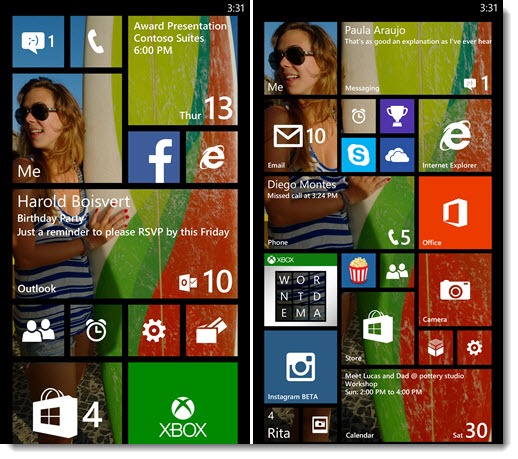 There are two new features in the home screen, both shown in the screen shot above.
First, it's possible to add an extra column of tiles, making the tiles a bit smaller and allowing more to be displayed without scrolling. It works particularly well on larger phones with 5" screens or larger, but I've been using it happily on my 4.5" Nokia Lumia 928.
Second, it's possible to set a photo as a background image on the home screen. If you do, many (but not all) of the tiles become transparent, giving the phone a much more personalized look. Everyone will have a different preference: I use subtle colors and patterns; my wife turned it off. I expect lots of people will rotate photos through the home screen, as shown above.
Cortana, your personal assistant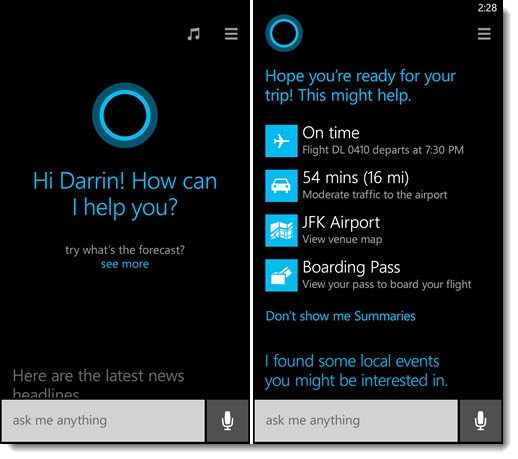 Cortana (named after the AI in the Halo series) is a "personal digital assistant." Once you find it on the menu and go through a short setup, Cortana will respond whenever you hit the magnifying glass at the bottom right of the phone.
Cortana responds well to spoken commands – "Set an alarm for 20 minutes," "Send a text to Bruce." There's some personality if you ask things at random – "How old are you?", "Tell me a joke." Cortana can identify songs that are playing, look up sports scores, and do web searches (the default if nothing else is obvious).
The goal is for Cortana to be a cross between Siri and Google Now. Eventually Cortana will do more proactive things based on the information gathered about you. Cortana might have flight tracking information, warnings about driving delays to your next stop, and information about your calendar.
Spend a few minutes reading about Cortana here when you get the Windows Phone 8.1 update. Customize Cortana from the settings button in the upper right to define some nicknames and identify your interests. One tip that isn't obvious: Cortana brings up more information if you click on the Cortana tile than if you click on the magnifying glass. Put the Cortana tile on your home screen.
Cortana's best achievement to date: correctly predicting the outcomes of 15 straight World Cup games, straight through the finals, the best record of any predictor, machine or human. Microsoft Research Labs is using Cortana as a chance to flex the muscle of its prediction engine.
Action Center for notifications and more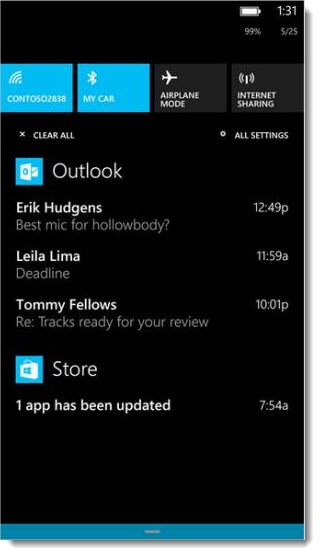 Swipe down from the top of the screen and the Action Center will display notifications of your most recent email messages, phone call, text messages, and waiting app updates. Microsoft is following Apple and Google but improving on their similar panels.
Tapping an item will take you to it. The list is smart and interacts with the other apps – if you view an email in the mail app, for example, it will drop out of the notification center. That's an improvement on Apple's notification center, which continues to show "unread" email messages long after they've been read in the mail app.
At the top is a customizable row of buttons for single-click access to common functions – wireless, airplane mode, and Internet sharing, for example. You can choose the four buttons from a long list of quick actions.
The best smartphone keyboard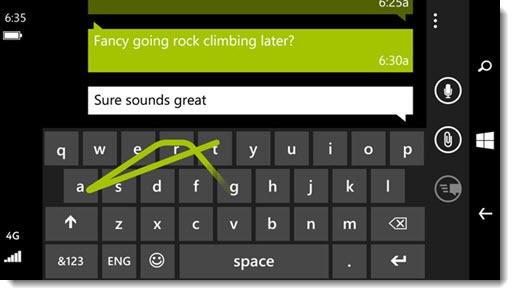 Windows Phone already had the best keyboard of any smartphone, and the new Word Flow keyboard is stunning.
Windows Phone 8.1 allows you to "type" by sliding your finger from letter to letter, lifting your finger at the end of a word. There have been similar keyboards for years (Swype and SwiftKey are probably the best known examples), but Microsoft has taken it to a whole new level. The keyboard starts with a near-psychic ability to guess what word you intended, then improves over time as it learns from you. If it doesn't guess correctly, the word you meant is probably shown above the keyboard, able to be chosen with a single tap.
If you know the QWERTY keyboard, you can enter messages very quickly. For a short time the Guinness Book of World Records certified it as the fastest smartphone keyboard in the world. (Since then, the record has been taken by an Android/iOS keyboard app named "Fleksy," which beat the Windows Phone time by 0.25 second.)
The takeaway: Windows Phone is the most elegant smartphone operating system on the market. Version 8.1 makes it even better.
When the update arrives for your phone, be prepared to set it aside for a while. There may be two or three different updates before you're done, and the process takes 30-45 minutes. Make sure your battery is charged or the phone is plugged in.
If you're thinking of getting a phone, you're wondering if you should get a Windows Phone.
It's not the device, it's the ecosystem. I'll have more to say about that soon. If you are already in the Google or Apple ecosystem, a Windows Phone might not be the best choice.
Windows Phone lags behind on apps. Developers are creating apps for Android and iOS; Windows Phone is either an afterthought or left out. If there are apps you depend on that aren't available for Windows Phone, you might be disappointed.
If you're not coming in loaded with preconceptions, and especially if you use Windows to get work done, Windows Phones are really great. They combine beautiful design with great cameras and the best operating system. Absolutely, go get a Windows phone! You'll like it.