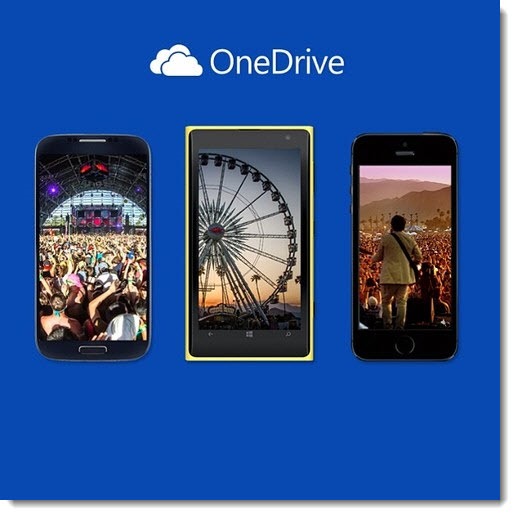 Free! Additional 15Gb of OneDrive storage! Limited time only! Expires soon! Operators are standing by!
Microsoft has been steadily improving OneDrive this year, dropping the price of online file storage and forcing Dropbox and Google to lower prices to match Microsoft. Now Microsoft is using the iPhone launch as an excuse to push a few more people into the OneDrive camp.
(New to OneDrive? Here are some articles to help you get started. OneDrive is connected to your Microsoft account; here's an article to help you understand what a Microsoft account is. This offer is for the consumer version of OneDrive, not OneDrive For Business.)
For a limited time, you can get an additional 15Gb of OneDrive storage space by installing the free OneDrive app on your phone and activating the auto upload feature to send your phone photos to OneDrive. The bonus space is only available until September 30.
The offer is not limited to iPhone users, and is not just for new OneDrive users. If your phone is already uploading photos to OneDrive, then you've been given the extra space. (Windows phones upload to OneDrive by default so all Windows phone users likely already have the extra space.) Log into OneDrive.com and click on "Get more storage" in the lower left. You'll see "Camera Roll bonus – 15Gb" listed as part of your additional storage. Every OneDrive account starts with 15Gb of free storage, so you'll have at least 30Gb with the camera roll bonus, and perhaps more – a subscription to Office 365 Home includes 1Tb of storage, there have been other promotions and bonuses in the last few years, and some of you have purchased additional space.
OneDrive is a free app for iOS and Android, and activating the photo backup is part of the setup, so it takes very little effort to take advantage of the offer.
You're not required to change your habits. Theoretically you can upload photos to OneDrive and also other services like Dropbox, Google+, and iCloud, but I'm a fan of simplicity so I'd suggest you pick one and use it consistently. For example, if you're a diehard Dropbox user – well, you don't really need more space in OneDrive, do you?
Many of you, though, don't really know where your photos go. Pick OneDrive and stick with it. Turn off iCloud photo sync and Android Google+ sync. The online display of photos at OneDrive.com is attractive, you can sync the photos with OneDrive on any other device (OneDrive is the only true cross-platform file syncing service), and sharing photos is easy.
Regardless of what kind of phone you have, check the OneDrive settings and make sure it is set to upload photos in their original resolution ("best quality"), not resized. In some cases the upload will only happen when the phone has a Wi-Fi connection, but very quickly after that you'll be able to view the photos in a web browser at OneDrive.com or on another device connected to the OneDrive account.
Tip: your photos are copied from your phone to OneDrive. Once they're copied, there's no further link between them. You can delete them from the phone and they'll still be in the OneDrive Camera Roll folder, and vice versa.
Microsoft continues to tweak OneDrive in other ways too. Last week OneDrive began allowing files up to 10Gb to be synced, increased from the previous limit of 2Gb. The team also claims that file syncing speed is going to be improved significantly in the next few weeks, and improved the experience of getting a simple sharing link.
The missing feature is the ability to sync shared folders to your computer, which has been rumored but continues not to be available. If a folder is shared with you, you have to start on the OneDrive website to access it. The website is designed well and it's not an awful experience, but many of us are waiting for Microsoft to step up to match a feature that Dropbox has had all along.
Get your free space! You might not need it right away but it won't hurt to have it.