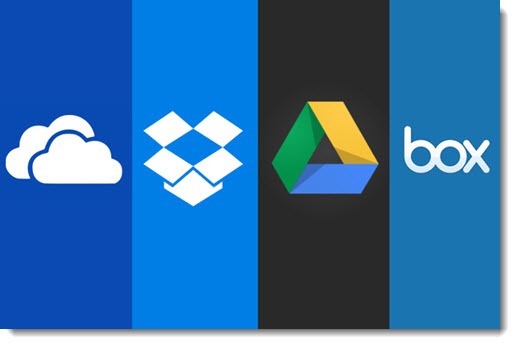 The cost of online storage continues to drop as Microsoft, Google and Amazon race to build out enormous online data storehouses. Last week Dropbox finally dropped its price for 1Tb of online file storage to $9.99/month to match the competition. Google Drive and Microsoft OneDrive will also give you 1Tb of space for $9.99/month.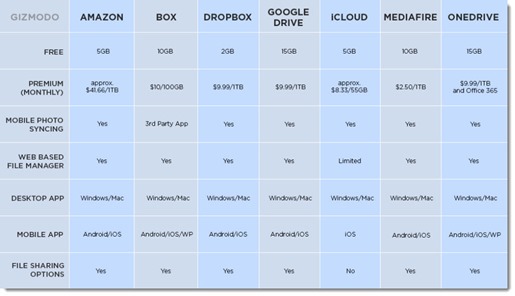 The chart above, reprinted from Gizmodo, compares prices and features of online file storage services from Dropbox, Google, and Microsoft with more or less similar services from Amazon, Box, Apple, and MediaFire. They all look pretty similar, don't they?
One of those things is not like the others.
For $9.99/month, Dropbox and Google give you 1Tb of online storage space.
For $9.99/month, Microsoft gives you 1Tb of online storage space in OneDrive – and five licenses for Office 2013. You're more accustomed to seeing it the other way around: a $9.99/month subscription to Office Home Premium buys Office 2013 for all your computers (and tablets and phones), with 1Tb of OneDrive space thrown in as a bonus. (Here's an overview of Office Home Premium that is still accurate except for the huge increase in free OneDrive space since the subscription was introduced.)
That puts it in a different light, doesn't it? All of them are mature services, each with its  own strengths and weaknesses, but Microsoft is offering something that literally cannot be compared when it comes to value for money.
Dropbox continues to be reliable. The price reduction last week (actually ten times as much storage for the same price) came along with some nice security improvements, including the ability to wipe out the Dropbox folder from a lost or stolen laptop when it comes online. The Dropbox IOS app now supports searching in Word and Powerpoint documents.
There are differences between the various services and you may well find something about one that is important to you and makes it the best choice. There are less expensive tiers than $9.99/month and an infinite number of ways to compare the amount of free space each one offers and the prices for the less expensive tiers.
When it gets to the $9.99/month level, though, it's impossible to overlook those Office licenses. The Office programs are tightly knit together with OneDrive, and Microsoft has made OneDrive and Office available on every platform that matters – computer (PC or Mac), tablet, and phone.
OneDrive's biggest advantage over the other services is only slowly being recognized: when you click on an Office file on the OneDrive website, it opens in an online version of the Office program, able to be edited with controls that closely resemble the computer version of the programs. There are constant improvements to the online versions of Word, Excel, Powerpoint, and OneNote for editing, sharing and collaboration – now including simultaneous collaboration, allowing you to work with someone else on the same file at the same time from two different devices.
Tip: you can get to all of your OneDrive files by logging into your Microsoft account at www.onedrive.com. Or, you can log into your Microsoft account at www.office.com and start a new document by clicking on the tile for a program – Word, Excel, Powerpoint or OneNote.
There are two disappointments with OneDrive, both of which will be addressed over time.
•  OneDrive is easily confused with OneDrive for Business, the online file storage made available with business Office 365 subscriptions. The business version of OneDrive is improving but continues to lag behind the consumer OneDrive in stability, features, and the number of platforms where it can be used. Last week Microsoft updated the Android OneDrive app with a glimpse of the future: the app allows access to either set of OneDrive folders and makes it reasonably clear which one is which. It will be helpful if Microsoft continues to bring the two services together in a way that reduces confusion.
•  Shared OneDrive folders still cannot be synced to your local computer so you can work on the files from a folder on your hard drive. The only access to a OneDrive shared folder happens from the OneDrive website. It's a nice website, but I want those shared folders right here where I can see them with my other files. Dropbox has always synced shared folders, and there have been rumors for months that Microsoft would step up with a similar feature. It's time!
Ready to get started with OneDrive? Some articles to help you get oriented:
•  The Difference Between A Microsoft Account And An Office 365 Account
•  Part 1: OneDrive vs. OneDrive for Business
•  Part 3: The Microsoft Office Connection
•  Part 4: Sharing And Collaboration
•  OneDrive And Smart Files In Windows 8.1