Here are three cool wallpaper tricks for Windows 8 users with dual monitors.
Set different pictures as wallpaper for each monitor
You can use two different pictures as wallpaper on your dual monitors. Like the best tips, this one is easy and not a soul knows about it.
  •  Right-click on the desktop and click on Personalize.
  •  Click the words Desktop Background at the bottom of the window.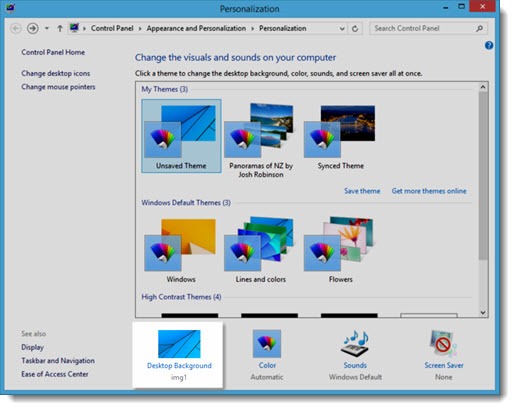 You'll choose a picture on the next screen. You can browse to your picture folders.
If you left-click a picture, you're selecting it as the wallpaper for both monitors.
Here's the super-secret part: if you right-click on a picture, you can choose the monitor it will be displayed on.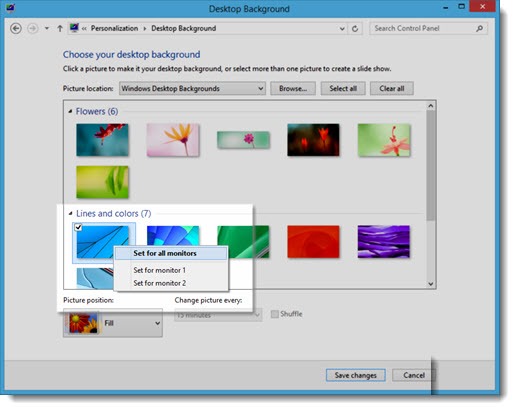 Isn't that better than seeing the same picture twice?
Display panoramic pictures across both monitors

If you happen to have a wide picture (or if you find some panoramic shots online), you can choose one as your wallpaper. Windows 8 may automatically position it across both monitors, or you can choose Span from the Picture Position options at the bottom left of the Desktop Background window.
There's an easier way if you don't mind using someone else's photos.
  •  Right-click on the desktop and click on Personalize.
  •  Look for the words "Get more themes online" in small letters on the right. (You might have to scroll up or down to see it.) You'll be taken to Microsoft's Themes page. You can also get there from Bruceb Favorites – click on Microsoft / Products / Windows Themes.
  •  On the Themes page, click on Panoramic (Dual Monitor) in the left column. Each theme is a collection of gorgeous photos chosen to span dual monitors. The picture will change every 30 minutes, rotating through the 6-20 pictures in the theme.
Microsoft's themes are free and each one includes lovely photos. You can change from one theme to another as often as you like. Highly recommended for everyone – themes work on Windows 7 and Windows 8 and all will work on single or dual monitors. If you choose a panoramic theme for a single monitor, the picture will be cropped to fit. If you choose a regular theme and you have dual monitors, Windows 8 will automatically display a different picture on each monitor.
Create a slide show from your pictures
  •  Right-click on the desktop and click on Personalize.
  •  Click on Desktop Background and browse to a folder full of your favorite pictures. (Fill up a folder with your favorite pictures ahead of time if you don't have one already.)
Instead of choosing one picture, stop for a moment and notice that all of the pictures in the folder have checkmarks on them. If you click Save Changes, Windows 8 will display a different picture from the folder on each monitor and change them every 30 minutes. You can uncheck any pictures in a folder that you don't want displayed, and you can customize the length of time between changes. (Don't set it to 10 seconds, like one of my clients did. This isn't a flipbook. The processor and hard drive were going nuts on that poor computer.)
Remember to check the box in Taskbar properties / Navigation to "Show my desktop background on Start" so you can see your wallpaper under the Start screen tiles. Then enjoy some pretty pictures!