Microsoft unexpectedly announced that the Office apps on iPad, iPhone and Android devices can now be used for free without an Office 365 subscription. There are new versions of the core Office programs – Word, Excel and Powerpoint – for iPhones, updates for the already excellent iPad programs, and touch-optimized versions of the programs for Android tablets are right around the corner.
A few details.
•  The mobile versions of Office have already been available to use for free for limited purposes. You could install them without an Office 365 subscription and open files but not edit them or create new files. The announcement means that those limitations are lifted and now you can create and edit files in the programs with nothing more than a free Microsoft account.
•  This is, however, limited to consumer accounts. The programs won't connect to OneDrive For Business without a business Office 365 license. Theoretically the license does not allow the programs to be used for business without a business license, although there's nothing in the programs that can distinguish between a shopping list and a business plan.
•  A few extra capabilities are turned on after you buy a license, mostly features that appeal to business users – Track Changes in Word, editing pivot tables in Excel, and presenter view in Powerpoint, for example.
•  The new apps for iPhone and the preview versions of the apps for Android closely resemble the touch version of the programs for iPads. It appears that Microsoft is working on the same design for the next version of Office for Windows next year, along with touch versions of Office for Windows phones and tablets. In other words, Office is being updated for iOS and Android before comparable updates arrive for Windows devices of any kind. This really is a new Microsoft!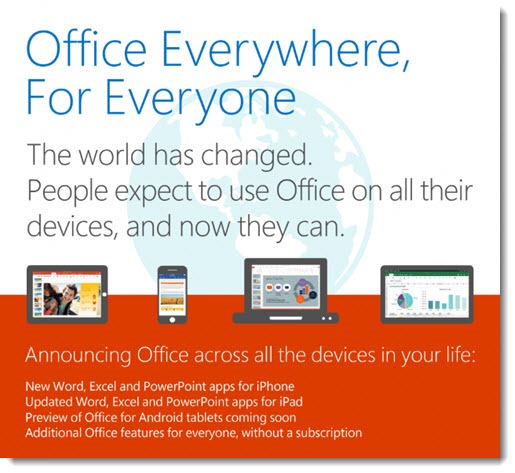 Yesterday I talked about Microsoft's strategy to preserve Office's mindshare. For decades Office programs have been the unquestioned default choice for creating word processed documents, spreadsheets and presentations. That dominance has been slipping as the world shifted to mobile devices without Office, and as Google began to make inroads with its online apps.
Microsoft is doubling down on its bet that it can keep Office in that dominant position if it makes sure that everyone has the programs, even if it has to sacrifice some revenue to do it. Yes, some people will use the Office programs for free on an iPad. But it's worth it if the result is that Office will continue to be used almost exclusively in their businesses for a few more decades. Most people will still wind up buying those inexpensive Office 365 licenses so they can use Office on their home computers and laptops. Oh, and you'll need an Office 365 license to get that unlimited OneDrive storage, too.
After the integration with Dropbox was announced on Wednesday, I told you to expect a lot more Office news. I wasn't expecting the next Office bombshell to land the next day. Things are moving fast!