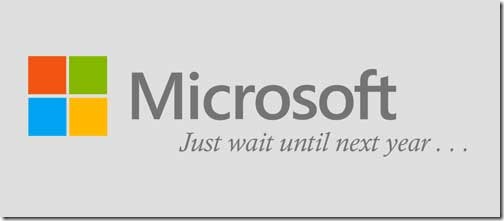 In some ways Microsoft did not have a great year in 2014. Windows 8 deserves better but it can only be called an interesting failure and Microsoft is anxious to put it in the rear view mirror. Windows Phone does not show any sign of gaining momentum.
There is better stuff coming from Microsoft. Or so they want you to believe. In fact, that will be the message in 2015 across most of their product lines: we may not have the products you want right now, but just wait – better products are coming. Eventually.
It's a bit shocking to see how many products and services are lagging behind, with only promises of improvements to come. It's possible that Microsoft will deliver on the promises and emerge revitalized, but at the moment it looks weak almost across the board.
Here's a quick recap.
Windows
Windows 8 has turned into a bigger debacle than Vista. Microsoft is giving it a facelift and backing away from some of the more distinctive features of Windows 8, and actually named the next version "Windows 10" to emphasize the distance from Windows 8. Next month there will be much hoopla about the release of a Windows 10 beta called the "Consumer Preview" but the final version of Windows 10 will not arrive until next fall, a long three years after the release of Windows 8.
There are other products – too many other products – which will not be released until Windows 10 is on the market. Some of that is inevitable; Microsoft taking a different approach to a unified platform that will be consistent across desktop PCs, laptops, hybrids, tablets, and phones, which requires a lot of code to be rewritten. That was the goal for Windows 8, too, and it didn't work out well, but Microsoft hopes to get it right this time. They promise they'll get it right. Next fall. In the meantime, the message is: buy Windows 8, because next fall you'll be able to upgrade and then you'll like Windows again.
Office
Microsoft's Office team has been busy but it is embarrassingly late in delivering updates to its core products.
On the one hand, we've had previews of new Office services that you've never heard of (Office Mix, Office Sway), along with constant updates to the online versions of the Office programs. The OneNote team is firing on all cylinders with fine versions of OneNote on all platforms.
Office 2013 for Windows is great. Microsoft has dramatically lowered the price for Office and liberalized the license policies by moving to a subscription model through Office 365, and the programs are stable and full-featured. An updated version will be released in the fall to accompany Windows 10. That's a reasonable schedule.
But Office has not been updated for the Mac in more than four years and there is still no firm word on when a new version will be released. Microsoft finally released a new version of Outlook for Mac a few weeks ago but the other programs look old and tired and should have been updated literally years ago.
It has been obvious for years that the Office programs should be rewritten for touchscreens and small screens. Finally, after agonizing delays, Office for iPad appeared in March 2014, followed by . . . nothing. Microsoft promises that Office for Android tablets will be released in the next few months, but the latest rumors say that the touchscreen version of Office for Windows computers, tablets and phones will not be released until next fall, to accompany Windows 10.
Microsoft promises that the new version of Office for Mac, and Office for Android, and the touchscreen versions of the Office programs, will be just great. Eventually.
OneDrive For Business
Microsoft has created a branding nightmare with its artificial and inconsistent division of accounts to log into Microsoft services.
On the one hand, it has personal / consumer accounts, aka "Microsoft accounts", used to log into Windows 8 computers and access the consumer version of OneDrive.
On the other hand, it has business / corporate accounts, which would be called "Office 365 accounts" except that the name Office 365 is now being used as readily for consumer services ("Office 365 Personal," "Office 365 Home") as for business services.
I've been waiting in vain for a promise to allow those accounts to be linked or merged so you could have a single sign-on for all Microsoft services. (In the meantime, here's how to tell the difference between a Microsoft account and an Office 365 account.)
Business users have access to OneDrive For Business, a poorly understood service to store individual employee files online. Some of its shortcomings are experienced immediately by anyone who attempts to use it. It is built on a completely different sync engine than the consumer OneDrive; it is unreliable and buggy, and has odd limitations on the number of files that can be uploaded. Trying to use it quickly exposes the confusing Sharepoint framework that underlies OneDrive For Business.
There are rumors that Microsoft intends to improve the sync engine and make the experience more like the consumer OneDrive, which is rock-solid and full of appealing features. Eventually.
Windows Phone
Windows Phone is failing in almost every way, and it's now understood that there will be no big change to the platform until next fall, when it will be re-introduced as part of the Windows 10 launch. As of now, carriers and developers are uninterested. Microsoft is giving the OS away to anyone who will produce a phone but even that has not inspired a flood of new phones onto the market, certainly nothing that will move the needle on the Windows Phone market share compared to Android. There will apparently not be a new flagship high-end Windows phone on the market until next fall. That's an eternity in the world of phones and Apple and Google are not going to be sitting still for the next year.
Microsoft Band
Even some interesting new products are waiting for promises to be fulfilled. A few weeks ago Microsoft released the Microsoft Band, more than a fitness band but not quite a smartwatch. Its basic functions are similar to Fitbit and Jawbone, measuring steps and monitoring sleep, but it also has a display for text messages, email, and appointments, measures heartrate, and can provide some interactive help with exercises. Oh, and it has a GPS to measure runs and walks, but if you use it, the battery will likely be dead before you finish the run.
The Microsoft Band is packed with sensors and theoretically can measure far more than the competitors. That's the problem. It's all theory. Microsoft promises that the band will be able to provide feedback for all kinds of interesting things. Eventually. And there are gaping holes in what it can do today. Microsoft proudly announces that data from the band is synced online, but there is no way to view the data online in a browser; the only way to review what the band has collected is on your phone. Kudos to Microsoft for supporting all phone platforms, but that's quite a limitation. Microsoft Health HealthVault is a sophisticated platform for collecting your health data from many sources . . . and at the moment there's no way to get the data from the band into Microsoft Health  HealthVault. Microsoft promises there will be, someday.
Xbox One
Xbox One is a year old and still has not lived up to the promises made for it when it was announced. Everything about the product launch was botched, from its price (too high), to the decision to include the Kinect motion sensor, which has not been widely used and has attracted no interest from developers.
Although many features for media and networking were clearly unfinished, Microsoft promised that the Xbox One would be regularly updated and it would become a compelling addition to everyone's living room. Not to mention that there were virtually no important games available for Xbox One at launch, making it nearly useless since it's incompatible with Xbox 360 games.
A year later, there still aren't very many important games available, and the updates have barely scratched the surface of the nirvana that was promised. Cable companies don't want to give up control so there's no DVR capabilities and the TV integration is clunky at best. It still can't stream media from a network share and there's no native DLNA support yet.
After cutting the price to what it should have been all along, and stripping the Kinect off, Xbox One just outsold the Playstation 4 for the first month ever. Microsoft promises Xbox One will keep improving. Eventually. In the meantime, an Xbox 360 and a Roku provide more entertainment for less money.
And the rest
It's not all bad news for Microsoft, of course. Its enterprise and cloud divisions are moving at full speed, building Azure into a market-leading cloud service that will power a generation of new companies and services. The Surface Pro 3 laptop is deservedly popular; The Motley Fool says it could be "one of the top devices to watch in 2015."
For too many things, though, Microsoft is working on promises and letting time pass. Its competitors are not standing still. Microsoft already has ground to make up simply to stay even with Apple and Google in some areas, and it will have to take some big steps indeed to emerge ahead of them next fall.
Loyalty to Windows is fading and more people are concluding that it doesn't matter what OS is running on their computers. Windows 10 will be a better version of Windows and that will be swell, but it may not be enough to reverse long term trends, especially after another 8-10 months of Windows 8-bashing.
No conclusions. This is a story in progress. It may turn out to be a story about the decline of a once-dominant company – a shame, but perhaps inevitable.