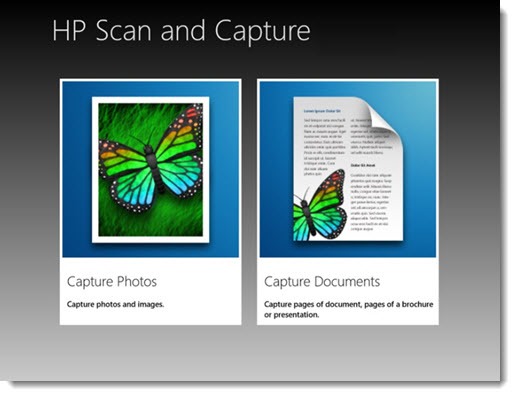 HP Scan and Capture is a free app for Windows 8.1 that can create PDFs from scanned documents – if your computer and scanner meet the requirements. It may help some of you avoid paying Adobe's expensive subscription rate for Adobe Acrobat.
The takeaway
•  HP Scan and Capture reaches out to your HP scanner and creates either JPGs or multi-page PDFs.
•  HP Scan and Capture is a full-screen modern app for Windows 8.1 only. This is not for Windows 7 computers.
•  The app works with any HP scanner installed with up to date HP drivers. It doesn't work with other brands of scanners.
•  It requires a bit of luck to avoid being one of the people who complain that the app doesn't work. It's worked for me each time I've tested but your mileage may vary.
Background
Scanning documents to PDF is a daily requirement in most offices. Adobe successfully made the PDF format a global standard, in part by the clever trick of widely distributing the free Adobe Reader, which can display PDFs but not create them.
The PDF standard is open and theoretically any company can produce a program that creates files in PDF format. In reality, Adobe Acrobat is an unavoidable expense for most offices. It has features that extend far beyond the simple creation of a PDF file; it integrates with Office programs and Outlook; and line-of-business programs will only interact with Acrobat to provide PDF support, in much the same way that Quickbooks is the only financial program supported by most LOB apps.
There are some perfectly adequate alternatives to Acrobat but they tend to have problems. They might be poorly designed, or aging badly, or they're produced by companies that aren't making any money, or they're supported by adware that mucks up your computer. Or maybe they're quite nice, like the long-time stalwart Foxit, which is just fine but has the weakness of not being Acrobat – and at some point that becomes an issue.
The problem is that Acrobat is expensive. Adobe hasn't gotten the memo about a new era of lower prices for software license subscriptions. Microsoft will give you five licenses for all the Microsoft Office programs for $8/month, but Adobe refuses to budge and charges $19.99/month to install Acrobat on two computers. (To add insult to injury, it's not easy to figure out how to buy that Acrobat subscription – here are tips about how to buy Acrobat.)
Some programs have built-in support for creating PDFs. Microsoft Office 2010 and 2013, for example, can create PDFs from Word, Excel and Powerpoint files – click on File / Export. (No built-in support for PDFs in Outlook, though.) Quickbooks can turn invoices into PDFs and attach them to an email message. Built-in PDF support is becoming more common in business programs; that's why your printer folder is getting clogged up with PDF writers.
Scanning to PDF, though, has traditionally been a more difficult problem. Some scanners – including some HP scanners – include software that can create PDFs. If you have an HP all-in-one, see if you have HP Scan on your list of programs. If you do, it might (or might not) create PDFs. I can't find a list of HP printers that include HP Scan or that support PDFs out of the box. HP's support document for HP Scan on Windows 7 helpfully says:
"Select a scan option for the item you are scanning, such as PDF for a document or JPEG for a photo. NOTE: Depending on your printer, not all of the scan options will be available." That's all the information you need, right? PDF support is either there or it's not, depending on your printer. Perfect!
Windows 7 and 8 include a weak and confusing program, Windows Fax and Scan, which does not create PDFs. Windows Fax and Scan was originally developed for Vista and looks like it hasn't been updated since then.
For most offices, that's the end of the options. You're forced to put up the money for Acrobat if you want to scan documents to PDF, even if that's all you will do with Acrobat.
HP Scan and Capture provides a free alternative for Windows 8.1 users with an HP scanner or all-in-one. Multi-page scans are saved to PDF with a couple of clicks. Once they're saved, they can be viewed in a familiar desktop program like Adobe Reader.
There is an important shortcoming: the program does not do OCR on the scan, so the text is not recognized. Acrobat does OCR by default when it scans; when it's done, lines of text can be highlighted and the text is searchable.
Keep HP Scan and Capture in mind if you have (1) an HP all-in-one, (2) a Windows 8.1 computer, and (3) you don't have a copy of Acrobat. HP Scan and Capture may do some good for you.