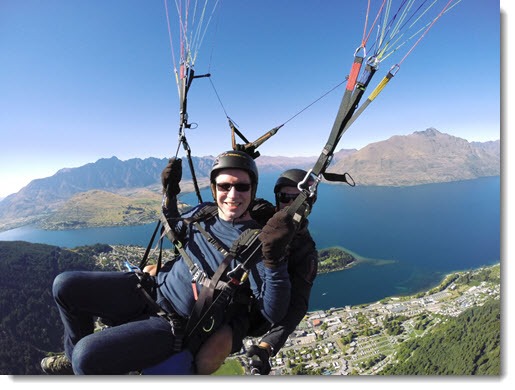 I missed you all very much, honest. Here are a few more pictures if you want to be sure that I was using my time wisely.
Here's how I overpacked on technology for international travel:
•  OnePlus One Android phone, converted to a New Zealand phone with 2Gb of data, unlimited local calls, and 100 minutes of US phone calls, for $49 with a Vodafone airport SIM card.
•  Spare Lumia Icon phone to use as a camera – completely unnecessary, since the quality of its pictures is no better than the OnePlus One.
•  Surface Pro 3 for work, also loaded with movies for the plane. Air New Zealand has a ten inch screen in each seatback and streams a large selection of movies and TV shows on demand for free, so the movies on the laptop went unwatched.
•  Lenovo Thinkpad X1 Carbon spare laptop – technically unnecessary but reassuring to have a spare after I dropped my previous Surface Pro 3 and shattered its screen a couple of months ago on another trip.
•  Kindles for me and my wife.
•  Fitbits for me and my wife. High point: 30,000 steps in one day on the Abel Tasman track, and 219 floors (Fitbit's measure of elevation change) on another long day on the Routeburn track. Don't forget the little charger cable!
•  HooToo TripMate combination mini-wireless router, dual USB wall charger, and battery pack for recharging phones and USB devices. Never used it but any number of things might have made it valuable to have along. Amazon has it for $44.99. Not a bad addition to the briefcase for a road warrior.
•  Adapters to plug electrical devices into New Zealand plugs. If you read the little tiny letters on phones and laptops, it turns out they can be charged either from 120 or 240 volt circuits, so a plug adapter is sufficient. You don't need a power converter unless you bring a device that requires 110/120 volts and won't run on 240 volt circuits.
•  Way too many USB cables and chargers. I probably had eight or ten in my suitcase. Why?