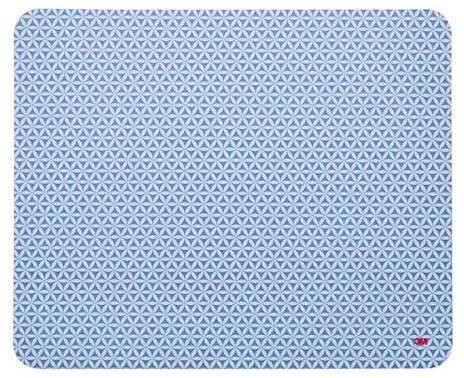 It's the little things that count. My mouse pad makes me happy. It's my favorite $7 accessory.
I've used a 3M Precise Mouse Pad for years. 3M calls it a "mousing surface." It's got a microtexture on the surface that you can barely feel with your fingers, something like a subtle version of the ridges on those pictures that you can tilt back and forth to get a 3D effect. The texture helps optical mice track more precisely, according to 3M.
It's exceptionally thin, something like 1/32", the thickness of five sheets of paper. If the mouse goes off the edge, it doesn't thunk to the desk and need to be lifted back up. It's more ergonomic than the old thick neoprene mouse pads.
3M says the pad has a "battery saving design" that extends battery life in a wireless mouse up to 50%. There's no way to know if that's true but it's very comforting to think so. Batteries last so long now in Logitech wireless keyboards and mice (anywhere from six months to three years, depending on the model) that it's not terribly important to extend them any further, but hey, why not?
The best thing about the 3M Precise Mouse Pad is the backing, which is the same kind of adhesive used on Post-It Notes. The mouse pad sticks firmly in place on your desk, with no slipping or sliding, but you can pull it up whenever you need to without leaving any sticky residue behind. The other ultrathin mouse pads on the market are basically thin sheets of plastic that slide all over. The repositional adhesive on the 3M mouse pad is a clever way to eliminate that problem. (You can't use it without the adhesive. 3M has a conventional mouse pad if you don't want the adhesive – slightly thicker, bigger, more traditional, and it also looks nice.)
The adhesive opens up one unexpected possibility. If you carry a mouse in your briefcase to use with your laptop, you can stick the 3M mouse pad on the bottom of the laptop so you always have it with you. Pull it off and put it on the desk that you're using, then put it back under the laptop when you're done.
Not everyone needs a mouse pad, of course! If your mouse works just fine without a mouse pad, thank you very much, then don't change anything. If you need a gel wrist guard, or your mouse pad has a cute picture of your gerbil, or you're a gamer who needs an oversized rigid gaming mouse pad, then follow your instincts.
I got the 3M mouse pad because my desktop mouse was stuttering on light-colored surfaces, like the glossy bamboo top on my standing desk. My laptop mouse is fine on most surfaces but goes berserk on a desk with a glass top. There are a dozen mouse pads on the shelf by my desk but all of them have the traditional thick rubber back that slides around the desk like a hockey puck on ice. The 3M mouse pad with adhesive solves all those problems.
If your mouse pad came with a Dell computer in 2002 and all the edges are fraying, treat yourself to something high-tech. Take a chance, you high roller – put up the seven dollars and see if the 3M Precise Mousing Surface works for you.