Alas, poor MSN Travel! We knew it well.
That's not true. If we had paid any attention to it, it would probably still be alive.
At some point in the last month, Microsoft gutted MSN Travel, one of the apps created as a showcase for the new program designs in Windows 8 and Windows Phone. It survives as a hollow shell. All of its content has been removed. What's left is a placeholder that pops air and hotel searches out to the web.
We live in an age when every aspect of Microsoft's business is endlessly analyzed by journalists and bloggers. There have been literally hundreds of articles in the last 72 hours about the Windows 10 upgrade icon that appeared in your taskbar on Sunday night. But Microsoft hasn't said a word and not a soul has written about the abandonment of MSN Travel and the loss of all the rich content that used to be found there. The silence is a bit eerie.
Since you probably never looked at the Travel app, let me give you some background – a bit of a eulogy, since no one else seems to care.
The Start screen with the tiles wasn't the only new feature introduced by Microsoft with Windows 8 in 2012. There was also a new design for programs that would run full screen, with support for touchscreens and oversized controls that would work well on smaller laptop and tablet displays. The new apps (referred to briefly as "Metro" and later as "Modern" apps) would be obtained through a new Microsoft store that looked similar to the Apple store and Google Play store on mobile devices.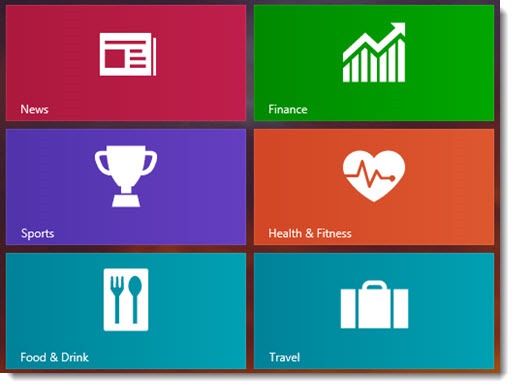 Microsoft included five apps with Windows 8 as examples of the greatness of the new app design and Windows 8: News, Weather, Sports, Money, and Travel. When Windows 8.1 was released, Microsoft added Health & Fitness and Food & Drink.
They're glorious. They're intensely visual, with oversized photos and big text. The News app gathers constantly updated news from all over the web and presents the articles in an attractive magazine-like format. Each app can dive into very deep content – thousands of recipes in Food & Drink, scores of exercise videos in Health & Fitness, on and on. Microsoft made mobile versions of the apps for phones and tablets that were just as beautiful. I wrote an article last year to make sure you saw them.
During the next three years, the apps were re-branded – News became Bing News became MSN News – but they continue to be featured on the Windows 8 Start screen on new computers. Microsoft was using them to demonstrate the "live tiles" in Windows 8 that are always refreshing with up to date info, news headlines and weather updates and the like. These apps are one of the reasons the Start screen looks so busy on a new computer.
The Travel app was my favorite. The opening screen would feature a travel article, looking like this on a computer and a phone.
The key to it was the search button in the upper right. Tap in the name of a city and you could get huge amounts of information: travel guides from Frommer's, Michelin and Lonely Planet; hotel and restaurant guides; things to do; weather; currency conversion charts; large photo archives from professionals and from travellers; and that was just the tip of the iceberg.
My favorite feature was the collection of "Panoramas," interactive photos that you could navigate through a full 360-degree field of view, panning up and down and every direction using your fingers.
There were thousands of panoramas in the Travel app. It seemed I would find some every time I did a search for any vacation destination of any size, and there were dozens for every well-known city.
At some point in the last few months I was puzzled that the Travel app was no longer automatically displayed on the Windows 8 Start screen on new computers. All the other apps were there but Travel was relegated to the All Apps list that no one ever looks at.
A month ago I was setting up a new computer and opened Travel so I could show off the Panoramas. It was puzzling. There was no Search button in the upper right. See the magnifying glass in the upper right of each of those screenshots? It was gone. I wrote it off to a bug. Without it, there was no way to get to all the info about cities and regions and vacation ideas and everything else I knew was in there.
After more failed demos, I sat down to research the bug and discovered: nothing. In a world where nothing is overlooked and every infinitesimal detail is commented on, there was nothing to tell me what had happened to Travel.
Deep digging turned up a handful of clues.
Three weeks ago WMPowerUser mentioned the Windows Phone Travel app in a single sentence: "Also, MSN Travel app got updated in Windows Phone Store with bug fixes."
The comments to that thread make it sound like it was that "update" that emptied out the Travel app and removed all the content. "The whole locations page has disappeared . . . A step backwards in functionality and design." "It's rendered the app to be completely useless now."
At about the same time, a few people began posting similar comments about the Windows Phone app here and here. "This app used to be good, but the update just destroyed the goodness." "This app was pretty decent but it seems like most of the functionality has been removed and replaced with hyperlinks to MSN."
Complaints finally began appearing in the Microsoft store for Windows 8 on May 18. "This app went from very useful to useless." "Why are there no more panoramas? That was the best part of this app!" "It's a travel app. HOW DOES IT NOT HAVE A SEARCH BAR?"
Microsoft has apparently abandoned the app and removed all of the rich content. No more photos, no more panoramas, no more vacation planning – all thrown away. There is basically nothing in the Travel app today. Clicking on the buttons to "Search flights" or "Search hotels" closes the app and launches a web browser for a search on the MSN website. It's a placeholder, nothing more.
I'm convinced that most Windows 8 users never look at the Start screen. A year after the launch of Windows 8, a study concluded that almost no one ever opened a Windows 8 Metro/Modern app. We'll never know for sure but I would guess that Microsoft found that the Travel app was almost never used, and made the decision to scrap it.
The proof that it was never used is that after it was killed, no one noticed.
Well, I noticed. It took a month, but I noticed. It makes me sad. It makes me wonder about the future of the other MSN apps, too.
I'll miss the panoramas.