Here's a tip about an Outlook feature that only a few people will appreciate – but if you're one of those people, you might like it a lot.
If you sort your incoming email into folders, a simple change will result in your replies being filed automatically in the same folder as the original messages, instead of having them land in a huge unsorted pool in Sent Mail.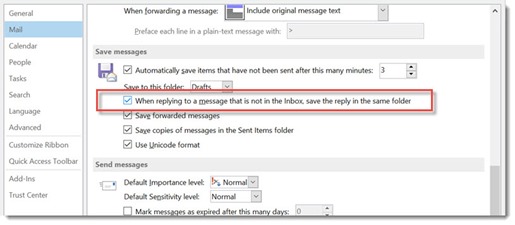 The setting
In Outlook 2010 and 2013, look in File / Options / Mail / Save Messages
Check the box: When replying to a message that is not in the Inbox, save the reply in the same folder
Putting the setting into practice
To make this work, you have to change one habit: When a message arrives, first sort it into the folder where it will be stored; then hit the Reply button. The reply will be saved in the same folder as the original message.
If you reply to a message in the Inbox, the reply will be saved in Sent Mail, just as it is now.
Some context
This is a tip for Office 365 and Exchange users. Unexpected things may happen for Gmail users.
Most people don't sort their mail into folders any more. It was common at one time to organize incoming mail into subfolders, typically by case or client or project. This tip is for the people who still do that.
It's more common now to leave mail in big unsorted chunks and use Search to find relevant messages when we need them – for example, search by email address to bring all messages to and from a person or business to the surface. Outlook's indexing is so fast and accurate now that it's no longer necessary to sort messages manually. I have a folder named "Clients" that gets 90% of my filed mail. I use searches to locate material in it.
Still, old habits die hard and I have many clients with carefully groomed mailboxes full of subfolders. I had no idea this setting was in Outlook. It turns out to have been hidden away in plain sight for more than ten years.
If you're obsessive and neat and you spend time every day dragging messages into subfolders, check the box in the Outlook settings. Then, until it becomes second nature, remember: first, sort a message into the folder where it will be stored; then hit the Reply button.
(Thanks to loyal client Scott Williams, who had to overcome my disbelief and prove to me that this setting exists.)