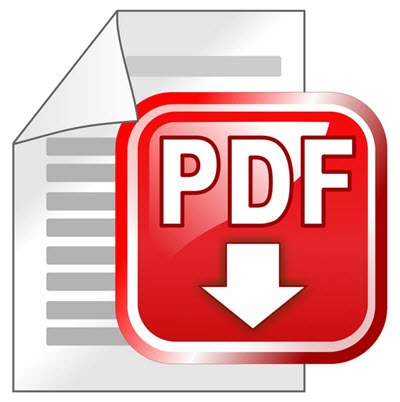 Windows 10 finally includes a "Print To PDF" driver, allowing you to create PDFs from most programs without Acrobat or any other third-party program. It's got an interesting limitation (more about that below) but it might be enough for some offices to avoid paying $14.99/month for Acrobat or picking up the adware that inevitably accompanies the less expensive or "free" alternatives. It's one of the hundreds of small improvements and new features that make Windows 10 lovable.
The PDF file format is being used more often than .DOCX or .XLSX in many offices. It's the closest thing we have to a universal format. Anyone who only needs to create a PDF occasionally finds it frustrating that it's difficult and possibly expensive in Windows. After all, support for creating PDFs has been built into Mac OS X for years. Most people don't know that the Office programs for Windows have built in support for creating PDFs – it's oddly hidden under File / Share in Office 2010 and File / Export in Office 2013. In the end, most businesses need the extensive tools in Acrobat for creating and working with PDFs, and at least subscribing to a license for Acrobat now is less painful than in the old days when Acrobat Pro cost hundreds of dollars.
For occasional use, Windows 10 now has native support for creating PDF files. The terminology (created by Adobe, I think) is that you "print" from any program; instead of being sent to a printer, the file is saved in the PDF format. If you look in your Printers folder, you'll see "Microsoft Print To PDF" listed alongside your real printers.
There are two things to know about the new Windows 10 Print To PDF feature.
One is that Print To PDF may not be enabled by default. Click on Start / Settings / Devices / Printers & Scanners. (Make sure you're in the new Windows 10 Settings screen with all the white space, not the old Control Panel / Printers screen.) Click on Microsoft Print To PDF to enable the print driver.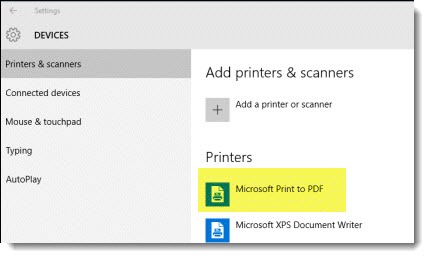 The other is that the PDF may be a single big image without any of the features added by Acrobat when it creates a PDF or does OCR text recognition. You won't be able to search for text in the PDF; links in the PDF won't be clickable; and you won't be able to highlight text to paste somewhere else. If you need more from PDFs, get a subscription to Acrobat.
Creating PDFs is a simple thing and yet it wasn't there before Windows 10 and now it is. Isn't that nice?