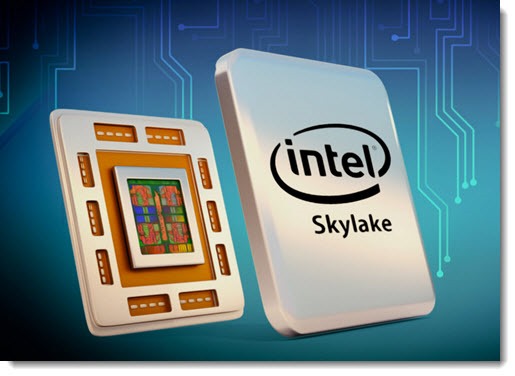 In October the market will be flooded with new laptops and hybrids, powered by a new generation of Intel processor. If it's convenient, wait a month or two to buy new computers.
The manufacturers will almost completely turn over their lineups of computers and laptops in the next 60-90 days. Some upcoming PCs were displayed at last week's IFA trade show in Berlin, and more will be publicized continuously for the next few months. PC manufacturers planned to be ready with new equipment for the launch of Windows 10 in October and were a little taken aback by Microsoft's change of the Windows 10 calendar. The new products are being announced now and will go on sale during October and November, the traditional holiday shopping season.
Windows 10 is the consumer-facing part of the new systems. Under the hood, Intel is providing the Skylake line of processors offering better performance in all sizes and types of devices. They offer faster performance, better graphics, and longer battery life than last year's Broadwell chips. If you have a five-year-old laptop, the Skylake processors are so far improved that the comparison seems unfair.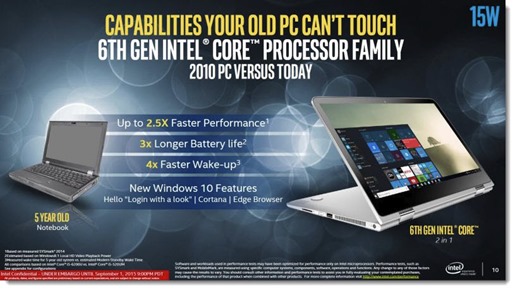 On top of raw performance, Intel and Microsoft claim to have collaborated on tuning the new processors specifically for Windows 10. The operating system will work directly with the processor to be more responsive and power-efficient than with previous processors.
Windows 8 may have been a marketing disaster but it has influenced this year's computer designs. Manufacturers will be lining up a variety of interesting new hybrid machines featuring keyboards that swing out of the way or detach, along with surprisingly good cheap laptops, fanless laptops, lots of thin and light premium laptops, and even a new generation of all-in-one desktops with SSDs and Intel cameras that support Windows Hello, the Windows 10 technology that logs you in by scanning your face.
You can get an idea of the variety of devices on the way from this Microsoft page hyping devices highlighted at the IFA show: dirt-cheap laptops aimed at schools, hybrids with keyboards that fold back or act as stands, rugged laptops for heavy use, tablets, and more. Lenovo covers many categories by itself with a new generation of Yoga hybrids, many many new laptops, new desktops, all-in-one desktops, tiny PCs, and more – all powered by Skylake chips and running Windows 10.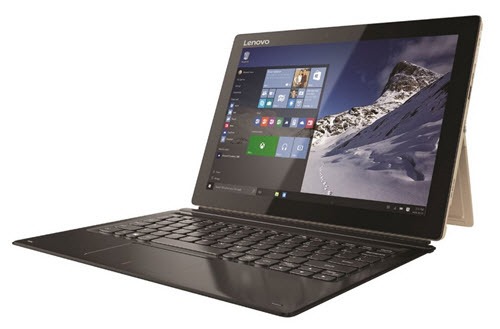 Lenovo also caused a few double-takes at IFA with the Miix 700, another new device coming in October. If you know the Microsoft Surface Pro 3, you probably recognize it in the above picture – which is actually a picture of the Miix 700, although the Lenovo logo in the corner is almost the only way to tell it apart from the Surface. Lenovo has copied the Surface Pro 3 design in virtually every respect, from the kickstand to the magnets that attach the keyboard. It is so complete a copy that it has to have Microsoft's approval, and perhaps fulfills Microsoft's goal for the Surface of goading the industry into making better devices – even if that means copycat designs.
The Miix 700 is slightly cheaper than the Surface Pro 3 but is otherwise very similar. It looks great, but that's not surprising since the Surface Pro 3 is already pretty great. No one knows if Microsoft will reset the goal posts when it introduces the next generation Surface Pro 4. (In October, of course.)
The new Skylake processors will be available on desktop computers as well but there are fewer reasons to care. I expect all-in-ones to become more popular as they become thinner and cooler (less fan noise), but otherwise the important thing in a desktop computer is getting a solid state drive; the processor doesn't matter much.
There may be sales for bargain hunters on current laptop models as manufacturers begin to clear the shelves. If you're shopping and you can wait, take a fresh look in October or November when things have settled down. You'll find some great computers. But having said that, keep a clear head and don't let this make you crazy; nothing that's coming is magical. Buy a new PC any time if you need one.