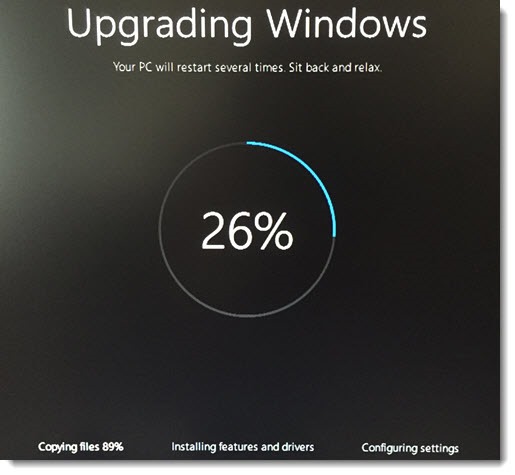 Finally! Next week, you'll do your backups and you'll upgrade to Windows 10 and everything will go smoothly and you'll log in and everything will work perfectly and you'll love it. It's absolutely guaranteed – subject to my Standard Disclaimer, of course.
Here are ten ways to make Windows 10 more lovable.
1) Customize or replace the Start menu
2) Make Edge disappear and choose a better web browser
3) Customize the File Explorer navigation pane
4) Turn on File History
5) Turn off uploads to online computers
6) Turn on file extensions
7) Remove multimedia devices
8) Change privacy settings to match your preferences
9) Set Outlook as the default mail client
10) Configure Cortana
---
1) Customize or replace the Start menu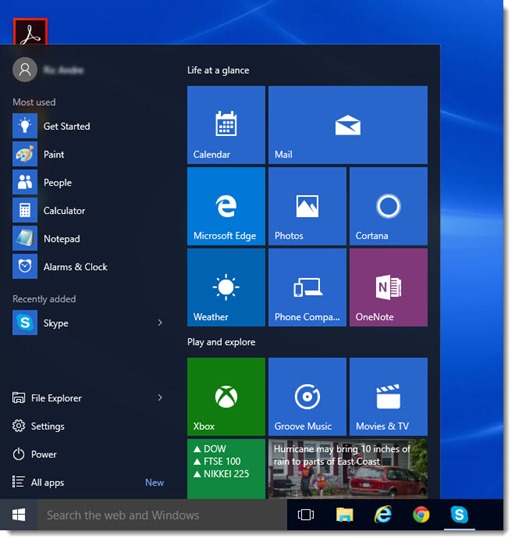 The new Windows 10 Start menu is intended to combine the best elements of the Windows 7 Start menu and Windows 8 tiles. If you like it, use it! Now me, I'm not a big fan of the new Windows 10 Start menu. When I saw a Candy Crush tile on my Start menu, I knew something drastic had to change right away.
You'll find instructions here about how to customize the Windows 10 menu to your liking, or even replace the menu with Start10, a Windows 7 look-alike.
---
2) Make Edge disappear and choose a better web browser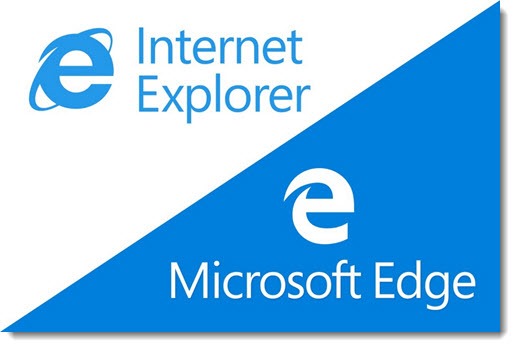 After you upgrade, Microsoft will have changed your default web browser to its new Edge browser, regardless of what you were using before. The Edge web browser is built on a solid foundation and it will be improved by the Windows 10 November update, but it's not finished and it's still not ready to be used as your full-time browser. I find it nearly unusable in its current form.
You'll find instructions here about how to set Internet Explorer as your default browser, or set up Google Chrome instead.
---
3) Customize the File Explorer navigation pane
The left column navigation pane in File Explorer is cluttered with features that you're probably not using. I'll be writing a tip soon to help you remove some of the unnecessary items. Subscribe to Bruceb News to get it in your mailbox, or check www.brucebnews.com in a week or two.
---
4) Turn on File History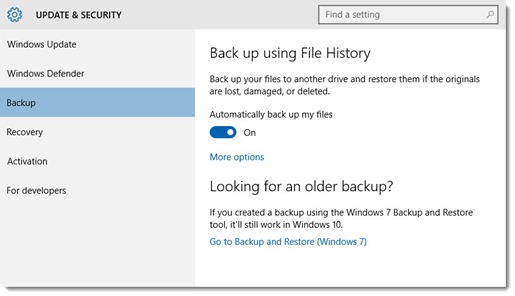 If you're using a desktop computer, connect an external hard drive (buy a 2Tb drive if you don't have one), then click on Settings / Update & Security and turn on File History. File History backs up all the files in your user folder automatically and continuously, with an easy interface to recover deleted files or roll back to earlier versions. It provides extra protection even if you have another backup program.
File History now allows you to save those backups to a shared network folder instead of an external hard drive, if you're savvy enough to set that up.
If you're using a laptop, File History is harder to use, because it only runs when the external hard drive is connected. At least set up Bruceb Cloud Backup or another online backup service on a laptop, or make sure that all your files are stored in an online service like Dropbox, Box, or OneDrive.
---
5) Turn off uploads to online computers
By default, Microsoft turns on a "feature" that uploads Windows 10 setup files and patches from your computer to other computers on the Internet. Microsoft has no business using your upstream bandwidth without your knowledge for something that does not benefit you. Go to Start / Settings / Update & Security / Windows Update and select Advanced Options / Choose how updates are delivered. Use the toggle to turn Delivery Optimization off. There are more details in the second half of this article.
---
6) Turn on file extensions

The strangest default setting in Windows has been the same for several versions: for some reason, file extensions are kept hidden. You have to play a guessing game to decide if a file is a Word .DOCX file or an Excel .XLSX file or an Acrobat .PDF file.
It's easy to turn on file extensions in Windows 10: open File Explorer, click on View, and check the box for File Extensions. It helps so much when you're browsing through files!
---
7) Remove multimedia devices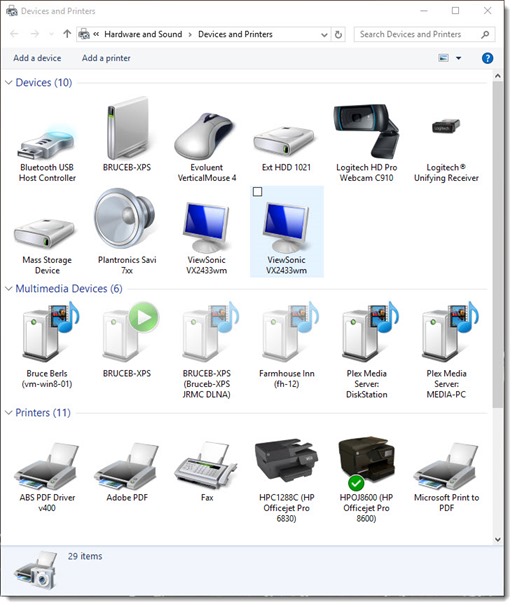 Click on Control Panel / Devices and Printers. Right-click and remove each of the Multimedia Devices from the middle of the window. They don't hurt anything but they also likely aren't doing anything for you except making it hard to get to the printers. There's more information in this article.
---
8) Change privacy settings to match your preferences

When you set up Windows 10, you almost certainly chose "Express Settings." Everyone does. Microsoft deliberately sets the option to "customize settings" off to the side in small print.
I've read deeply about privacy in Windows 10 and the result is that I haven't changed a single option. If you're at peace with the modern world, you don't have to do anything. This explanation is for people who are sensitive to privacy issues.
There are many options covered by the "Express Settings" button. For most people, those settings make Windows work the way they expect. Information flows freely back and forth between Microsoft and your computer. Some of it is personal information synced with your Microsoft account – your favorites and browsing history in Internet Explorer, for example. Some of it is anonymous – the web addresses you're browsing are run through a service named "SmartScreen" to prevent malicious content from getting onto your computer, for example. Another example: Microsoft collects anonymous diagnostic information about program crashes from millions of computers so it can make Windows better overall. And yes, some information about you is used by Microsoft to choose the ads that are displayed on some web pages.
Some people want to reduce the amount of information transmitted to Microsoft as a way of safeguarding their privacy as much as possible in the modern world. There are many places to change settings that are arguably privacy related; many (but not all) are in Settings / Privacy. It's not as simple as going in and turning everything off, though. You'll wind up so secure that some things won't work.
Let me give you three places to start your research: Microsoft's explanation of how it handles your data and why each type of data is collected; a calm and thorough walkthrough of the specific options; and a description of how to lock down Windows 10 for maximum privacy.
---
9) Set Outlook as the default mail client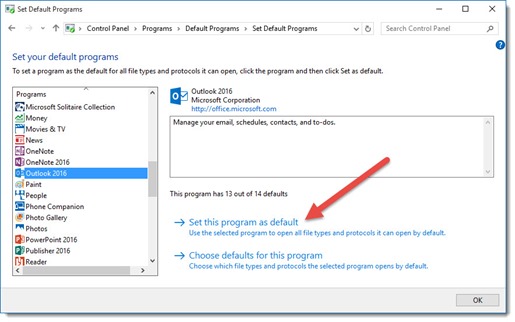 This tip is only for Outlook users. You want Outlook to be responsible for everything dealing with mail, right? By default, Windows 10 does not give Outlook control of every mail task, so at some point an unexpected thing happens when you're expecting Outlook to pop up with, say, a new email message.
You want to set Outlook as the default program for everything it knows how to handle.
Click on Start, type in Default Programs, and click on Default Programs (Desktop App) when it appears at the top.
Your goal is the Default Programs section of Control Panel, shown above. There is also a Defaults section in the new Windows 10 Settings screen that's separate from Control Panel. If you wind up there, click on "Set defaults by app."
Click on Set default programs. Highlight Outlook 2013 or Outlook 2016 and click on Set this program as default.
There are more details in this article about a similar problem in Windows 8.
---
10) Configure Cortana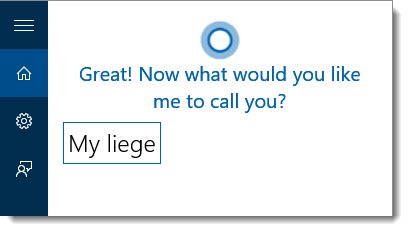 The search box next to the Start button in the lower left can be used to search for anything on your computer or online. It can also be used to start Cortana, Microsoft's answer to Siri, which can add a personal touch to searches and can include things that you've told it you're interested in.
Cortana has the potential to be one of the most useful new features in Windows 10. Microsoft is hoping to expand Cortana to Android phones and iPhones in the future, in the hope that it will become second nature to depend on her. (Like Siri, it's easy to personalize Cortana.)
There is a special section in Settings / Privacy about Cortana, because she has to know a lot about you in order to be helpful. Here's a description of Cortana: "In order to work, Cortana logs your voice (to process what you're saying), location (to give you location-specific answers), your writing (to answer questions), your contacts (so you can reference them), calendar events (so it can create, delete, or give information about your upcoming appointments), and more."
Cortana is turned off by default. You'll be asked to configure Cortana when you click the search box on the taskbar, or when you click the Cortana tile on the Start menu. You can leave Cortana turned off if you're worried about privacy issues.
If you want to try Cortana – and you should – the setup process is straightforward. You can find a walkthrough of all the options here. You can configure each category (Eat & Drink, Travel, etc.), give Cortana permission to check your calendar, train her to respond to your voice, and more.
I haven't gotten in the habit of using Cortana much yet, but that may change. Microsoft and Apple are using Cortana and Siri as proxies in a war to be the first and best at creating a meaningful digital assistant, and we will all benefit from their progress. Google is working on the same concept for Android phones with Google Now, and Alexa, the assistant in Amazon's Echo, is only a step behind. You should configure Cortana and give her a chance to help sometimes.
Windows 10 should be much more lovable now! Enjoy your shiny new operating system.