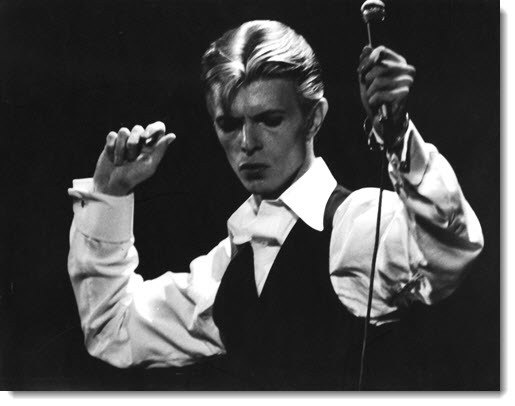 In February 1976, I saw David Bowie perform at The Forum in Los Angeles. It is one of my most vivid memories from the 70s – white lighting on a stark black stage, Bowie in tuxedo pants, white shirt and vest, no props, no special effects, with Bowie completely mesmerizing the audience using nothing but his stage presence and the powerful music from the Station to Station album. It was a lesson in the power of charisma, something I've seen onstage from only a few very special performers. My long-time friend Tom Gold took the above picture at that show. I still have it on my shelves.
In the decades since then, a lifetime of constant listening to music, I've probably spent more time with David Bowie than any other performer, perhaps even more than my beloved Rolling Stones. It's far more than the upbeat songs from Ziggy Stardust – Hang On To Yourself, Suffragette City – that were perennial favorites at college parties. It is fascinating to go back and listen to albums you may not have heard for a while – Low and Heroes, Lodger and Scary Monsters, say – and remember just how odd they still sound, the music of an artist who never gave up on being restless and creative and moving to rhythms that no one else had heard yet but influencing generations of musicians who followed in his footsteps. He helped his friend Iggy Pop through a difficult period dealing with drug addiction and contributed songs and production to the albums The Idiot and Lust For Life, then provided another memorable concert moment when we saw Iggy Pop at the Santa Monica Civic Auditorium with David Bowie on keyboards. Bowie was determined to help his friend but did not want to distract the audience, so he shuffled onstage wearing a cardigan sweater, sat at the keyboards, and never once looked at the audience. Iggy was spectacular; no one left disappointed.
The 80s brought new popularity with Let's Dance and a choreographed show at The Forum that was completely different from the austere '76 show – a big band, special effects, Bowie in a chair staring dolefully at a skull straight from Hamlet, the audience clutching at a giant inflated globe bouncing over their heads, and Carlos Alomar and Earl Slick playing guitars that made it impossible not to grin and jump and dance.
And I kept listening. The 90s and the 2000s are the albums you're less familiar with, some of them following trends – the drum and bass of Earthling – and some of them simply odd, like 1.Outside. Not all of them are successful but I loved them all, each in their own way. Bowie never allowed himself to turn into a nostalgia act like – let's face it – virtually all of his peers. We could never be sure what to expect from his next project. His last tour in 2004 for the album Reality featured Bowie in his own skin, no costumes, no personas, just a generous and open and friendly performer showing himself to the audience – and after all those years, it was a side of him we had never seen.
The Next Day album in 2013 was a breath of fresh air after ten years when Bowie had dropped out of sight, perhaps never to return. Out of nowhere we had new music that was a match for anything he had ever released, familiar sounding but fresh. And this week's album Blackstar has been playing nonstop on my headphones. It is strange music and I can't promise you'll like it right away. But Bowie was one of the artists whose music would grow and burrow under my skin with each listen until each one became its own favorite, unique and lovable, and I can feel the same process going on with this new album. And that has had me marveling to everyone around me how special it is to have an artist who is still creative and confounding and different than everyone else after almost fifty years. Most artists find a voice and an identity and they stick with it, some successfully, but more often for no creative purpose, just feeding the appetite of nostalgic aging baby boomers. Not Bowie. The chameleon always brought us something new, seldom aiming to be the most popular singer in the world, just the most interesting.
His loss strikes me hard. We've lost other rock icons, and there are some bad days to come when more of them leave us. Bowie was special. The last two albums were unexpected gifts and it's heartbreaking to think that there won't be more. I'll miss him.