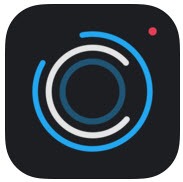 Box continues to knock me out with its smart choices of apps and features for small businesses. Last week Box announced another essential addition to its lineup. Box Capture is an iOS app for document scanning that integrates directly into your business processes and provides security features that are not matched by anyone else.
Box Capture was initially released last fall as an app that would connect to the camera on your iPhone and send pictures, video, and audio recordings directly to Box. As of last week, though, Box Capture was enhanced with features that turn it into a full-fledged scanner – comparable to Microsoft Office Lens, described here, but leveraging the security and convenience of the Box platform.
Think about pictures and videos from a business perspective. When an employee takes pictures with a smartphone, the photos are saved on the employee's Camera Roll. They might be synced to the employee's personal Dropbox or OneDrive accounts. The business can't work with them until they are emailed from the phone or saved to a place accessible by other employees. Personal camera rolls are not secure and there's a likelihood that the pictures cannot be considered to be confidential.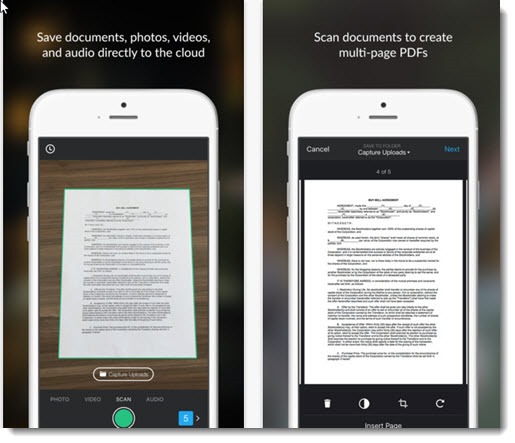 Box Capture uploads photos and videos directly to folders in Box, bypassing the Camera Roll folder. Now anyone in the business can access photos and scans right away, and everyone can begin using Box's sharing and collaboration tools immediately. Only people with access to the folder can see the photos. Law firms, medical professionals, or any business with confidentiality requirements can work with photos and scans as readily as any other files with full confidence in Box security and HIPAA compliance. If employees leave the company, they can be immediately cut off from photos and scans as well as company documents.
When the new "scan mode" is selected in Box Capture, the app automatically expects documents to be scanned. It detects the edges of a document and crops to them. It rotates the document so it's straight. It applies lighting and contrast filters. There are controls for manually cropping, rotating and resizing the document if necessary. Then the scan is saved as a PDF and uploaded directly to Box, bypassing the Camera Roll folder. Once it's in Box, all the Box sharing and collaboration tools can be used on the phone or on a computer.
At this time Box Capture is only available for iOS. It's fair to assume that an Android version is coming but there's no word on when to expect it. At the moment the app does not do OCR to extract searchable text, which is disappointing but possible to work around.
Microsoft gets full marks for introducing the first app that was good enough for a phone to be used as a scanner. Office Lens is a great phone app. Office Lens saves its files to OneDrive or OneNote, both fine services that might meet the needs of individuals. Box has extended the idea in a way that is immediately useful for businesses. I know, I've been writing a lot about Box lately, but I see it as a very fundamental game-changer for small businesses. If your business has a collection of company documents on a server, then you really ought to be evaluating Box sooner rather than later as a replacement. The rewards are immediate and valuable.