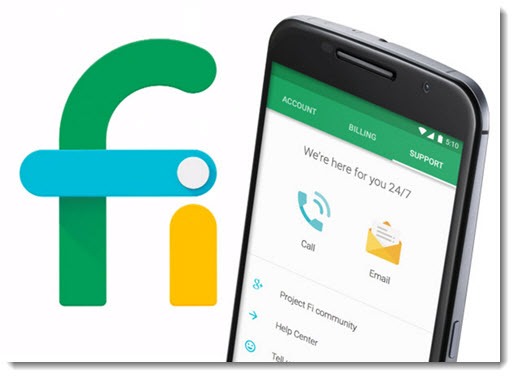 The tech community is entranced with Google Project Fi, a partnership between Google, major carriers, and hardware manufacturers to deliver a unique and satisfying phone experience – and along the way deliver a powerful message to the carriers about how they should change their business practices. It's audacious and ambitious. Now it's open to anyone – and they're having a sale.
I'm just going to touch on the basics here. If you're interested, find out more!
These are the three reasons that Google should be your next phone carrier.
1) Google's Project Fi outdoes Verizon, AT&T, and the other carriers in almost every respect for phone and data service.
2) Google's Nexus phones (required to sign up for Project Fi) are great Android phones at extremely reasonable prices.
3) For the next three weeks, you can get the Nexus 5X phone on sale if you combine it with Project Fi phone service.
---
What is Project Fi?
Project Fi is Google's program to provide cell service directly to phones in ways that are technically advanced but strongly focused on making your experience as simple as possible.
When you sign up with Project Fi, Google is your carrier. It sends the bill and provides 24/7 customer support. You have no direct contact with the phone carriers whose networks are providing your connection.
The phones on Project Fi use special SIMs that can switch between different data services seamlessly. Google bought worldwide service from Sprint and T-Mobile and the phones switch between them on the fly to get the strongest, most reliable signal. The phones can also switch to Wifi for calls and texts when in range of a wireless network. Google has set up secure access to quadrillions of public Wifi hotspots that the phones connect to automatically. The result is that you are more likely to have a strong connection than if you signed up with any individual carrier; the phone will always grab the best network available and switch between them as necessary.
The service really begins to shine when you look at how it is billed. You pay $20/month for unlimited talk and texting, and a flat rate of $10/gigabyte of data. You pick the amount of data that you guess you might use in a month, so your initial total bill might be $30 (1 gigabyte) or $40 (2 gigabytes) or $50 (3 gigabytes). Guess what? At the end of the month the bill is based on the exact amount of data you actually used. There's no penalty for guessing wrong. If you used less data, you'll get a refund. If you used more, you'll pay for what you actually used. It's always $10/gigabyte and Google calculates it precisely – use 1.6 gigabytes, pay $16.
The phone works in 120 countries around the world. Data speed is limited to 256kbps but it comes out of the same $10/gigabyte bucket; there's no additional or different data charge when you're overseas. You get unlimited international texting. If you're connected to one of the overseas cell carriers, then calls to any number are 20 cents/minute. If you're connected to Wifi, then calls are free to the U.S. and discounted for other countries.
Oh, and there's no contract commitment. Project Fi service is month to month. You can cancel any time.
I assume you're cursing right now as you compare this to the miserable, expensive, confusing contract that you're locked into with Verizon or AT&T. Project Fi is simple, elegant, and cheap. It's kind of awesome. I've moved my sons to Project Fi and they've been using it with no complaints or problems for the last few months.
Until last week, Project Fi was only available with an invitation, although those have been readily available. Now anyone with the right phone can sign up for Project Fi.
---
What about the phones?
This is where things get interesting. Project Fi is only available if you buy a new phone from Google – either the Nexus 5X or the Nexus 6P, both released late in 2015. The Nexus 5X is built by LG; it's the smaller model at 5.2 inches. The Nexus 6P is built by Huawei; it's the larger model at 5.7 inches.
Both phones have high resolution screens, quite good cameras (not quite on par with the iPhone but very respectable), fast fingerprint readers, and decent battery life. They ship with the pure Android experience, not cluttered up with useless and duplicative apps.
The reviewers are impressed. Here are typical reviews of the Nexus 5X and the Nexus 6P. "There is absolutely no reason not to buy this phone. None. Zero. The Nexus 6P is the closest thing there's ever been to a perfect Android device. Is the best Android device better than the iPhone? That's a different question. It has to do with security, app quality, customer service, accessory markets, and much more. The allure of the iPhone always has been about more than the camera. But finally, someone has solved the hardware part."
Try this for a comparison. Samsung just released two new phones, the Galaxy S7 and S7 Edge. They are undeniably beautiful. But (1) they cost an arm and a leg, almost $800 for the more expensive S7 Edge, which is actually more than a comparable iPhone. And (2) Samsung and the carriers have loaded the phones with unnecessary and duplicative apps. Walt Mossberg's review: "Out of the box, there are still two email apps, two music services, two photo-viewing apps, two messaging apps, and, except on Verizon, two browsers and dueling wireless payment services. (Samsung says Verizon barred including Samsung's browser and Samsung Pay out of the box.) And Verizon builds in a third messaging app. And, speaking of Verizon, my test unit running on that carrier had a folder with eight of the carrier's apps in it."
The Nexus phones have none of that, just the latest version of Android, with updates coming directly from Google.
The prices? Glad you asked.
---
How much do the Nexus phones cost?
The Nexus phones work with service from any carrier but they shine when they're paired with service from Project Fi.
Google is having a sale. For the next three weeks (until April 7), you can buy the Nexus 5X for $199 (16Gb) or $249 (32Gb) if you activate it with Project Fi. That's $150 off the normal price.
Even sweeter, Google will bill you in installments, interest-free, over 24 months – $8.29/month (16Gb) or $10.38/month (32Gb).
(Incidentally, no one should buy a 16Gb phone – not an iPhone, not an Android phone. It's not enough. You'll wind up unhappily deleting pictures and uninstalling apps and getting error messages. Always get 32Gb of storage or more on a new phone.)
The Nexus 6P is not on sale. It's still a good deal at $499 (32Gb), $549 (64Gb), and $649 (128Gb).
But that price on the Nexus 5X – $249 for the phone, plus $30/month for unlimited calls and texting, 1Gb of data, international calls/texting/data, the ability to use the phone as a hotspot – that's a pretty incredible deal.
---
Is there a downside?
There's only one downside, and it's not Google's fault. You're already deeply entangled with a carrier. You have a phone and you have a contract with Verizon or AT&T or one of the others, and they're not going to make it easy to leave. It took me call after call after call to Verizon to kill the service to my sons' old phones and reduce my monthly bill accordingly. There might be contract termination fees. It's possible to port your existing phone number to your new Nexus phone, and Google makes that as easy as possible – but that doesn't mean it's easy. I tore out my hair trying to figure out which arcane code was being demanded by Verizon to port the numbers.
If you're an iPhone user, keep your iPhone. If you're deep in a contract and not willing to fight your carrier to get out, you might be well advised to stay put. If you would find it uncomfortable to have your phone service provided by Google, with no local store to drive to for support, keep your present plan.
But if you're in the market for a new phone – especially if you want a 5.2 inch phone in the next three weeks – then check out the Nexus 5X and Project Fi. It's a very tempting choice.