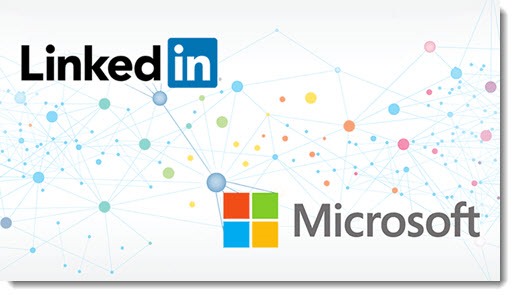 (Warning: this article gets pretty geeky by the end. Feel free to look away. I'll try to make the next article about a Dancing Kitten app or something.)
Last week Microsoft agreed to pay $26.2 billion cash to acquire LinkedIn. It's one of the largest technology industry deals in history. It dwarfs Microsoft's previous big acquisitions of Skype, Nokia and aQuantive.
There is no shortage of airy language describing the deal. LinkedIn: The company will continue to "drive value" for members. "This is an opportunity for us to truly change the way the world works." Satya Nadella/Microsoft: "Together we seek to empower every person and organization on the planet." New York Times: "LinkedIn could help Microsoft accelerate its shift to the internet . . ."
It took some digging to figure out the specific reasons that Microsoft bought LinkedIn. One of them – identity management – has not gotten much attention, but it might turn out to be the most important result in the long run.
Here's why Microsoft bought LinkedIn.
1) Business news feed
2) Professional data to make Dynamics CRM more valuable
3) Professional data to integrate with Cortana
4) Advertising and subscription revenue from job seekers and recruiters
5) Subscription revenue and boosts to Microsoft products from Lynda.com
6) Control over the online identity of every person in the world (in a good way)
---
1) Business news feed
LinkedIn has 430 million members. Each one has voluntarily supplied at least some information about their employer, their work background, their skills, their connections, and their education.
That is incredibly valuable data for advertisers. It's similar to the voluntarily submitted personal information that Facebook has used to become one of the richest and most influential companies in the world.
Satya Nadella dreams of creating a business news feed that professionals will spend time with every day, just as Facebook users check their personal news feed.
LinkedIn already has a news feed, of course, but it's not compelling for many people. (Only 100 million LinkedIn users are active each month, and much of that is related to job searches.) Microsoft believes it can integrate collaboration and project management related items from its enterprise products, making the news feed more targeted and valuable to professionals.
Facebook has proven that the sky is the limit on advertising revenue from an active news feed. LinkedIn is the only company that can create a comparable news feed in the business world. The open question is whether professionals want such a thing.
---
2) Professional data to make Dynamics CRM more valuable
Microsoft Dynamics is a line of enterprise resource planning and customer relationship management (CRM) programs and services. Dynamics CRM competes directly with enterprise giant Salesforce.
CRM is focused on sales, marketing and help desk service. Microsoft will immediately create connections from Dynamics CRM into the treasure trove of LinkedIn data. Everyone using Dynamics will have access to a wealth of information about connections to customers and colleagues. A salesperson taking a call from a prospective client will have LinkedIn data onscreen before the call connects.
CRM is big business. Salesforce is one of the most highly valued America cloud computing companies. If the LinkedIn data helps boost sales of Dynamics CRM (and LinkedIn's complementary product Sales Navigator) to make it more competitive with Salesforce, this could alone nearly justify the cost of the LinkedIn acquisition. (Worth noting: Salesforce competed with Microsoft to acquire LinkedIn.)
---
3) Professional data to integrate with Cortana and other Microsoft products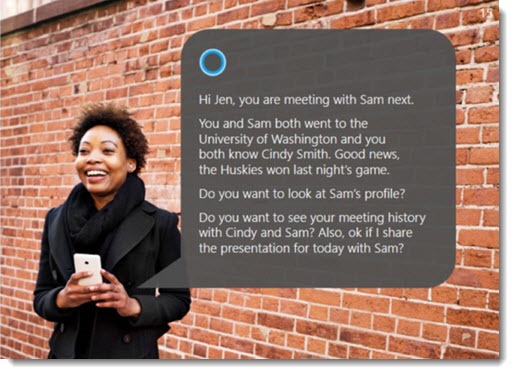 Microsoft will add LinkedIn data to Cortana, its personalized search assistant. The above picture is Microsoft's example: Cortana sees an appointment on your calendar and looks up information from LinkedIn about the person you're meeting. Cortana could potentially provide useful information at any time about a client or co-worker.
This doesn't directly produce revenue for Microsoft but Cortana is considered to be a key property that will keep you in Microsoft's ecosystem. In Microsoft's dreams, Cortana becomes so valuable that you begin to rely on it instead of Apple's Siri or Google Now. It's a way of locking you into the Microsoft services that work better with Cortana – Outlook and the Office programs, business Office 365 services, and other Microsoft enterprise cloud services.
Similarly, expect buttons to appear in all the Office programs and online Microsoft services for quick search results from LinkedIn. Likely example: highlight a person's name in a Word document or email, push the LinkedIn button, and see that person's job title, background and connections in a sidebar.
---
4) Advertising and subscription revenue from job seekers and recruiters
LinkedIn is widely used by employers to promote openings and by employees to research companies and find connections with interviewers and company employees. That produces direct revenue from advertising and LinkedIn premium subscriptions, which offer enhanced features both for employers and job seekers.
---
5) Subscription revenue and boosts to Microsoft products from Lynda.com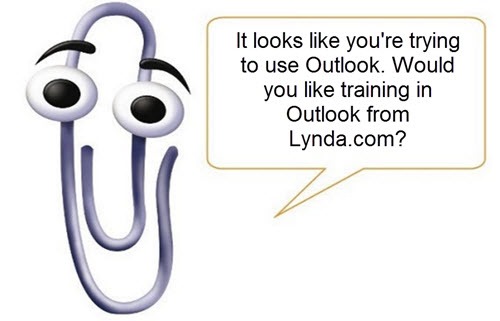 Lynda.com provides online training for software and online services, plus a variety of other interests – photography, marketing, education, and quite a lot more. It is exceptional! I've been a subscriber for years. If you want to learn more about anything from Word to Photoshop to Quickbooks, Lynda.com is the gold standard. Highly recommended.
Even if you know Lynda.com, you might not have heard that Lynda.com was acquired by LinkedIn last year. Now Microsoft owns it, and by a lovely coincidence many of Lynda.com's most popular courses are for Microsoft products. There is a natural opportunity for Microsoft to promote Lynda.com subscriptions from within its properties.
Jeff Weiner, LinkedIn CEO: "One example specifically we're excited about is integrating learning alongside some of the most popular productivity apps anywhere in the world, Excel, PowerPoint, and Word.  Now visualize a new tab added to Office called Learning.  And you'll start to get a sense of the power of this."
Think of it as a natural successor to Clippy. Wait, don't think of it that way. Everybody hated Clippy. This is pretty much the same idea but perhaps it will be executed more tastefully.
---
6) Control over the online identity of every person in the world (in a good way)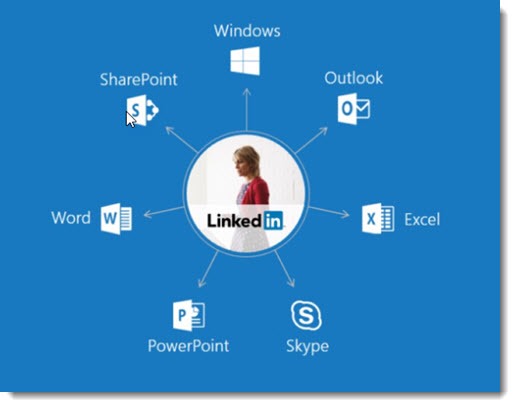 Microsoft envisions a world in which your LinkedIn identity is at the center of all of your other professional accounts. It is easy to imagine a connection to your personal Microsoft account as well. If this is carried through, then your LinkedIn credentials could become the mythical single sign-on that unlocks all of your online resources.
I've just written about Microsoft's dilemma with its business and personal accounts – they're overlapping but separate, and it's difficult to keep them straight. LinkedIn could sit in the middle and provide a way out of Microsoft's dilemma.
Here's how that might work – and the evidence that Microsoft and LinkedIn are thinking about this path.
First, some background.
•  Microsoft currently manages the identity of almost everyone in the workforce through Active Directory, a directory service it gives away with its server operating systems. Active Directory maintains information about each employee, including extensive information about what company assets are available to that employee and what programs and services the employee can use on the company network. Wikipedia: "Initially, Active Directory was only in charge of centralized domain management. Starting with Windows Server 2008, however, Active Directory became an umbrella title for a broad range of directory-based identity-related services."
•  In the last year Microsoft has begun a major campaign to extend Active Directory to the cloud. Azure Active Directory runs online with connections back to an increasing number of company servers through hybrid connections to Azure servers. This is not limited to enterprises, though. Every company with a business Office 365 subscription (which is almost every company) can now manage its employees in Azure Active Directory, making it available to businesses of all sizes regardless of whether there is an onsite Active Directory server. Microsoft's description of Azure Active Directory points this out:
"If you are an Office365, Azure or Dynamics CRM Online customer, you might not realize that you are already using Azure AD. Every Office365, Azure and Dynamics CRM tenant is actually already an Azure AD tenant. Whenever you want you can start using that tenant to manage access to thousands of other cloud applications Azure AD integrates with!"
•  Azure Active Directory can be integrated with other online services for single sign-on. Once it's set up, an employee can log into a computer with their Active Directory credentials and automatically be signed on to services like Box, Salesforce, Dropbox for Business, Google Apps, and more, as well as Microsoft services like Office 365 and Dynamics DRM. Microsoft describes it this way:
"Single sign-on means being able to access all of the applications and resources that you need to do business, by signing in only once using a single user account. Once signed in, you can access all of the applications you need without being required to authenticate (e.g. type a password) a second time.
"Many organizations rely upon software as a service (SaaS) applications such as Office 365, Box and Salesforce for end user productivity. Historically, IT staff needs to individually create and update user accounts in each SaaS application, and users have to remember a password for each SaaS application.
"Azure Active Directory extends on-premises Active Directory into the cloud, enabling users to use their primary organizational account to not only sign in to their domain-joined devices and company resources, but also all of the web and SaaS applications needed for their job."
•  Active Directory accounts are designed to be temporary. They only last while an employee is employed at a company. When an employee leaves the company, the Active Directory account is de-provisioned. There is no continuity. A new Active Directory profile is set up for that person at their next job. Today, members of the work force do not have any permanent professional identity in the cloud with information that travels from job to job.
That's the background. Now let's speculate about how Microsoft might use LinkedIn profiles to extend its identity management to a more mobile workforce that changes jobs frequently.
•  Microsoft and LinkedIn want to make your LinkedIn account represent your permanent professional identity. In the phone presentation of the LinkedIn deal, LinkedIn CEO Jeff Weiner described his vision of an "economic graph" and said, "The economic graph envisions a profile on LinkedIn for every one of the 3 billion members of the global workforce . . ." Microsoft CEO Satya Nadella then took over and chose the LinkedIn profile as the first example of the benefits of the LinkedIn acquisition. "I want to start with talking about more of the usage of Office 365 and LinkedIn and how that will get lit up and really help drive engagement on both sides. Take the most obvious one, which is the profile. LinkedIn essentially becomes the social fabric across all of Microsoft, whether it's in Outlook, in Excel, or Skype, or Powerpoint, or Word, or Sharepoint."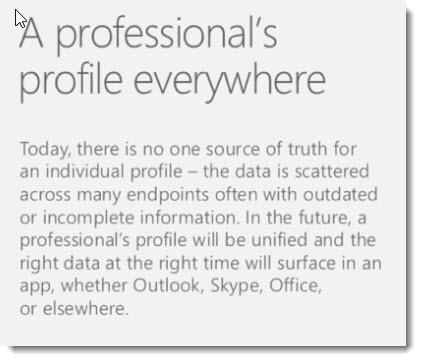 The text in the Powerpoint slide accompanying those points is shown above. "In the future, a professional's profile will be unified . . ." It was accompanied by the graphic above, with LinkedIn at the center, surrounded by the Microsoft services in Office 365.
To reiterate: your LinkedIn account is permanent. Its record of your jobs, your background, and your connections stays with you as you move from one business to another.
•  When you join a company, your LinkedIn account could be linked to your Active Directory profile in the company. With appropriate security mechanisms in place, logging into LinkedIn could in turn authenticate you in Azure Active Directory. AAD then acts as the single sign-on that authenticates you in all the onsite and cloud services used by the company.
•  When you leave the company, the Active Directory connection is removed. Your permanent LinkedIn profile goes with you to the next job and gets connected to that company's Active Directory.
•  In that scenario, your LinkedIn password would be the only password you need to memorize for your work life. Ever.
There's another similar scenario for connecting your LinkedIn account to your Microsoft personal account. Remember, the Microsoft personal account is permanent, like a LinkedIn account. LinkedIn permanently maintains the record of your work life; a personal Microsoft account permanently maintains your relationship to Microsoft personal services like OneDrive. Neither one changes as you move from one job to another, or one computer to another. The two accounts could be connected, so that logging into one also authenticates you into the other.
And voila! Your LinkedIn credentials are the single set of credentials that handle your online identity. In a good way.
There are many parts to that story and not all of them will happen smoothly, if at all. History is on Microsoft's side, though. When it gave away Active Directory, Microsoft took over company identity management without a struggle. It worked, it solved important problems faced by every company for authentication and security, and it was free – as long as companies adopted Windows Server. It's an important part of the reason that Microsoft was able to lock companies into Windows Server for decades and it keeps many of them there today.
Today, Azure Active Directory is gaining momentum for single sign-on because it solves huge corporate problems with cloud-based credentials and security in an economical way that builds on existing corporate assets. LinkedIn may provide another important advance in identity management and lock companies into Microsoft services as they transition to the cloud.
There, you see? Perfectly easy to understand why Microsoft spent $26 billion. It's an ambitious agenda for Microsoft, which has a bit of a mixed record on ambitious agendas in the last few years. If Microsoft can make it work, LinkedIn may become known for more than a caption that works with every single New Yorker cartoon.