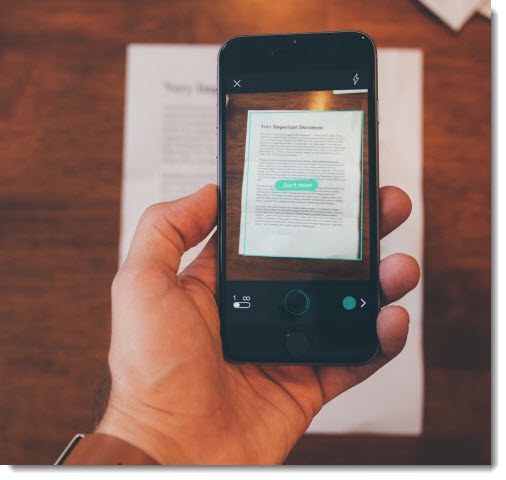 It has become easy to use your phone for quick scans and to create PDFs on the fly. Find an app to use and remember it when you get a receipt or document that should be scanned on the fly.
Each of the major cloud services – Microsoft OneDrive (Office Lens), Box (Box Capture), Dropbox, and Google Drive – has an app for scanning documents with the phone camera and storing the scans online. When you point your phone at a document, the app detects the edges of the document and crops out the background, then does magic to rotate it, correct the perspective if the phone was held at an angle, and adjust the lighting to make the scan crisp and bright.
Naturally there are differences between the various apps. For example, not all of them are available on both iOS and Android; at the moment, Box Capture and Dropbox are only available on iOS and Google Drive is only on Android. Another example: the next step after creating a PDF is to perform OCR so the text in the document can be searched later. Office Lens does OCR to every PDF. The Dropbox app only does OCR for Dropbox Business subscribers. Box Capture and Google Drive do not do OCR.
(Correction 07/11/2016: Dropbox scanning is also only available on iOS. Thanks to alert reader Roger Slimwood!)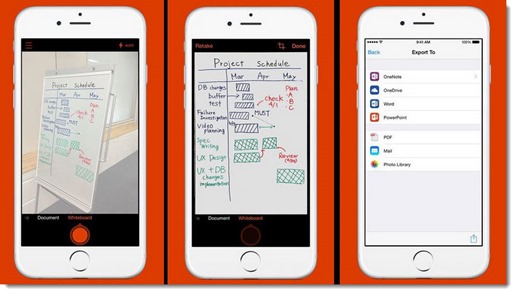 Microsoft released Office Lens last year. In some ways it's the easiest and most full-featured of the apps. It's available for both iOS and Android. Scans are saved to the Documents\Office Lens folder in either your personal or work OneDrive account. That requires you to figure out your credentials for your personal or business account with Microsoft and to know which OneDrive you're going to use, which might be the most confusing thing about personal computing today; here's the article that tries valiantly to explain it. Office Lens can also save pictures as JPGs; it can save images to OneNote; and it can convert the scan on the fly to Word's .DOCX format for editing later. Here's more info about Office Lens.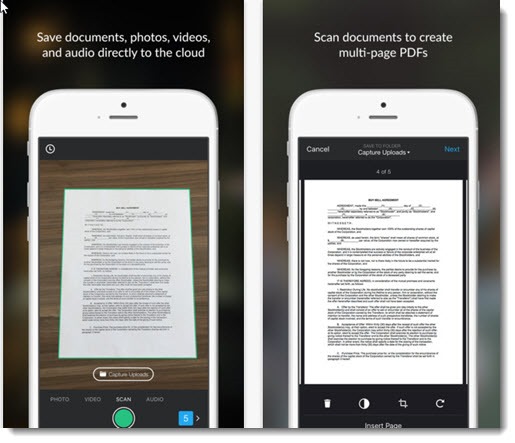 Box Capture is an iOS app with features aimed at Box's business users. It works like Office Lens and the other apps but it sends photos, video, and scans directly to Box online, without keeping a copy on the phone. Only people with access to the Box folder can see the photos or scans. That provides extra security for any business with confidentiality requirements. Here's more info about Box Capture.
Dropbox added document scanning to its iOS and Android app last month. Instructions are here, but the basics are easy: open Dropbox, tap the + (plus sign) button, and choose Scan Document. Like the other apps, you can take several pictures for a multi-page scan, you can edit or share the scan, and scans are saved directly to your Dropbox folders online.
Only Dropbox Business users will have OCR done on the scan to make it searchable. Like other tech companies, Dropbox is engaged in a frenzied quest for ways to squeeze more money out of its users, so it's frustrating but no surprise that OCR is treated as an extra feature reserved for the most profitable customers. The other change announced by Dropbox last month has the same kind of passive aggressive edge: you will not be able to upload photos from your phone to Dropbox unless you have the Dropbox app installed on a computer. Not using Dropbox on a computer? You'll have to upgrade to Dropbox Pro to keep uploading photos, at a hefty $9.99/month for 1Tb of storage space. By way of comparison, $9.99/month will also buy 1Tb of storage space in OneDrive, along with five licenses for the full Microsoft Office suite of programs. Dropbox is a rock solid service with good security and fast performance, but I don't really understand its pricing these days.
There are many other apps for scanning documents with a phone! You're not required to use the apps that match your cloud storage service. Here's a recent roundup of five scanning apps for iOS, for example, and a comparison of five more from last year. Most of them will connect to a number of the cloud services to save the scans. Scanbot, for example, connects to OneDrive, Box, Dropbox, and Google Drive, all in one inexpensive app. Pick an app and force yourself to use it on every receipt and document until it becomes a habit.