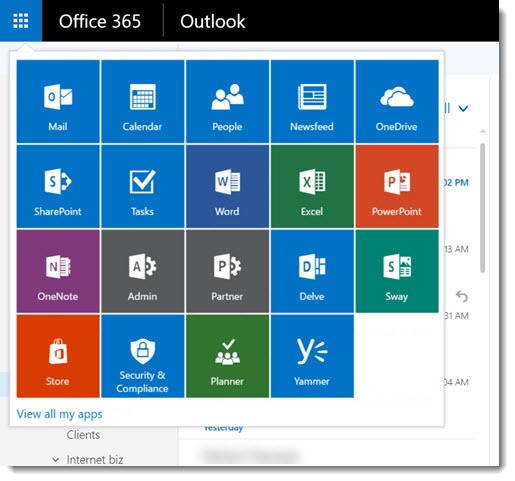 In the early 1990s Microsoft was the dominant company in personal computing but its products did not recognize or incorporate the brand new concept of something called the "Internet." After a famous 1995 memo from CEO Bill Gates, Microsoft embarked on a pivot that led the company to integrate the Internet into everything it produced – one of the most stunning turnarounds in business history, and one that ensured the company would continue to dominate personal technology for the next fifteen years.
Now it's the 2010s. You may not realize it but Microsoft has been engaged in a similar pivot for the last few years, beginning with a 2009 memo from Steve Ballmer and continuing with greater emphasis under new CEO Satya Nadella. This time, the course was set for the company to move Microsoft products and services to the cloud.
That pivot is well under way. Microsoft still makes traditional software, of course; Windows and Office will be profit centers for years to come. But its consistent growth in revenue and net income, year after year, increasingly is powered by its cloud services. In its most recent financial report, Azure revenue was up more than 100%, and the bulk of Office 365 revenue increases came from business cloud subscriptions.
The money for Microsoft cloud services comes from enterprise customers. Consumers and SMBs are still important but much of what we'll talk about here is aimed at large companies ranging from hundreds to gazillions of employees.
Microsoft's emphasis on cloud services is leading it to create new Office 365 services at a rapid clip. The screenshot above shows my Office 365 menu as it appears tonight. If you log into webmail and click on the grid in the upper left, you'll see at least a few of the same tiles, including some of the ones pictured above that you've never noticed.
This is a very quick look at some of the less familiar services in Office 365. Although most of these are enterprise only, don't overlook Sway and Bookings if you're in a small business. They're for everyone, not just large businesses.



Microsoft has worked so hard to enable business networks for collaboration that it has several services that overlap and integrate and duplicate and weave together into an impenetrable maze. I spent a couple of hours tonight reading about the features of these services, hoping to describe them with even a tiny bit of clarity. I gave up.
Let's try this summary. It's a generalization but I think it's basically accurate.
•  If you work in a large company with in-house IT employees, the company will decide which Office 365 collaboration services you will use. You'll ignore the rest.
•  If you work in a small company without any IT staff, you won't use any of the Office 365 collaboration services.
Let me give you an idea of the difficulty. These are Microsoft's tag line summaries for each service.
•  Sharepoint – "Empower individuals, teams and organizations to intelligently discover, share, and collaborate on content from anywhere and on any device."
•  Newsfeed – "Visit the public newsfeed to stay in tune with conversations among your workmates, and to see other updates about their activities."
•  Yammer – "Discuss ideas, share updates, and crowdsource answers from coworkers around the globe. Yammer gives your team a faster, smarter way to connect and collaborate across your company."
Surely that answers all your questions about the distinct identity of the three services, right?
These aren't three identical services, of course, but there is significant overlap. If your company is big enough to have teams and divisions, it is now common and important to have a method for team members to collaborate and exchange messages. Each of these services addresses that need, and in typical Microsoft fashion it is difficult to sort them out.
Sharepoint has existed for years as a huge portal capable of doing anything from holding document libraries to facilitating project and team management.
The Sharepoint newsfeed was intended to be a daily launchpad for every employee to review project status and exchange information. The newsfeed was sufficiently important that it was given its own tile in Office 365.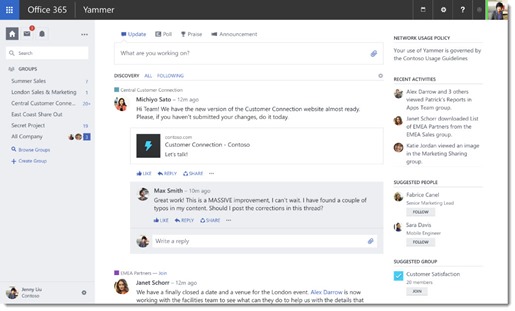 Then Microsoft bought Yammer a few years ago, which basically does the same thing. Call it "enterprise social networking," because "social networking" is all the rage in 2016. The Yammer screenshot above will give you the idea – think Facebook for your business.
On the one hand, Yammer is being rolled out to all Office 365 business customers, and Microsoft refers to the Sharepoint newsfeed as the tool that "used to be" the default for business networking. On the other hand, Microsoft laid off the Yammer Community Team early in 2016, which many people believed was at the heart of the Yammer experience, and "barely mentioned" Yammer at a recent Sharepoint event.
Skype for Business is yet another Microsoft service that handles instant messaging and communication, which happens also to be one of the primary purposes of Yammer. Naturally, Microsoft is planning to integrate Skype for Business into Yammer. Will it be a clear-cut handoff of responsibility from Yammer to Skype for Business, or yet another option for employees to try to understand?
Oh, and just to add to the muddle, when Microsoft bought LinkedIn last month, Microsoft referred to the LinkedIn newsfeed as one of the most important parts of the deal. No one can guess how it might fit into this puzzle, or if it will simply be added as still another duplicative piece.
Although I'm sure Microsoft has millions of enterprise users around the world, perhaps it's not an accident that the technology world has seized on Slack, a third-party business networking and instant messaging service that has grown at a viral rate and is spreading widely into traditional enterprises. There's only one Slack, not half a dozen overlapping and confusingly differentiated Slacks.

Delve is a new Office 365 collaboration service that is, again, only of interest to enterprise employees. It searches information stored in various Office 365 sources – Sharepoint, Exchange, Yammer, OneDrive for Business – and analyzes it in an attempt to bring information you need to the surface. For example, documents aren't displayed in chronological or alphabetical order; instead, Delve looks for documents that are most likely to be relevant to you at the moment you're looking. Microsoft runs technology behind the scenes called "Office Graph" analyzing signals from everyone's activity. "For example, when you and a colleague modify or view the same document, it's a signal that you're likely to be working together. Other signals are who you communicate with through e-mail, and who you've shared documents with, who your manager is, and who has the same manager as you."
Best for large businesses and enterprises that are fully invested in Sharepoint.

Sway is an online tool for creating and sharing presentations, reports, and personal stories. Think of it as Powerpoint dressed up for the Internet age, using drag-and-drop controls to help you easily assemble a web-based "Sway" that can then be shared and viewed on computers or mobile devices. It's not a replacement for Powerpoint. Instead, Sway is that rare thing, something new that does not just mimic something else. Microsoft calls it "digital storytelling," which is as good a term as any.
A Sway can hold anything – photos, maps, music, charts, PDFs, spreadsheets, even Powerpoint presentations. Much of the work is done automatically to arrange the contents into a nicely laid-out display.
Sway is free to use and is not limited to Office 365 business customers. Here's a nice overview of Sway; there are tutorials to help you get started at the Sway website. It's worth a look! Sway is not getting a lot of buzz in the tech press but it's an interesting service. Put together a Sway from some vacation photos to get an idea of how it works.
Microsoft Bookings was announced last week by Microsoft for Office 365 Business Premium subscribers. It is aimed at small businesses that schedule appointments with customers. It sets up a web page for customers to use to schedule appointments, based on availability that you define. The service integrates with individual Office 365 calendars as well as setting up a central booking calendar.
The Bookings service is starting to roll out now and will be fully available in the next few months. Only one Business Premium subscription is required for an entire company to have access to Bookings. There are lots of specific questions to be answered about a service like this but it looks interesting for very small businesses looking for an easy way to get an online system running.
Keep an eye on that upper left corner when you're logged into a business Office 365 service like your webmail. It's an interesting, confusing, constantly evolving collection of apps and services that might include something valuable for you.