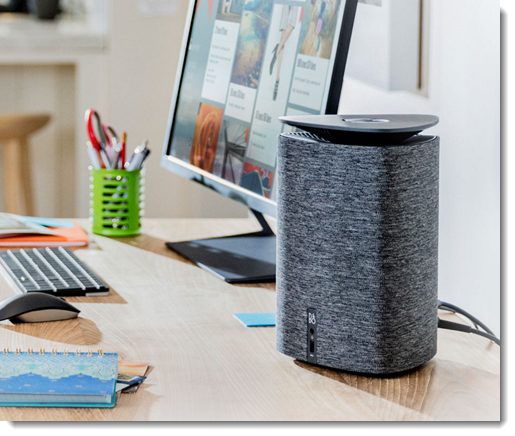 The gently curved triangular cylinder in the above picture looks like a particularly attractive speaker. Wrapped in thick-threaded fabric, a lid that looks like it's made for distributing sound evenly – obviously it must be a subwoofer or all-in-one speaker. And in a sense you're right, because that's a high-quality Bang & Olufsen speaker blasting out through that lid.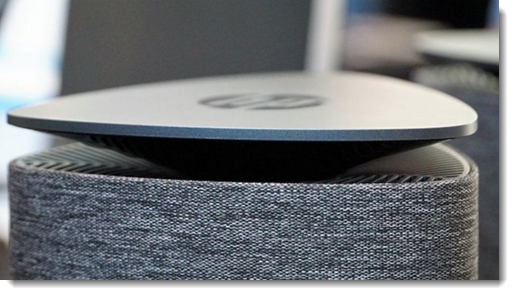 But it's an HP logo on the top, because that's the HP Pavilion Wave, a new desktop PC designed to be displayed instead of hidden under a desk. HP has been completely overhauling its lineup of desktop and laptop PCs and has introduced some stylish and innovative new designs. And it's not the only manufacturer trying to do something original – Lenovo and Dell have also got some new all-in-one designs that stand out.
It's not a new dawn for desktop PCs. Sales of desktop PCs are on a long-term decline; profit margins are low and there is little evidence of creativity. That's why we notice when something new and interesting appears. We have to be grateful for whatever we get.
Inside the HP Pavilion Wave is an Intel Core i5 processor and up to a 1Tb SSD. (A cheap version will be available with a Core i3 processor and traditional spinning hard drive, neither of which is recommended.) There are plenty of ports on the back for USB 3.0 and USB C devices and dual monitors.The opening at the top distributes the sound, of course, but HP also cleverly vents all the warm air out the top also.
The HP Pavilion Wave is expected to go on sale any day now; prices start at $549 but complete pricing isn't available so we won't know for a few days how much it will cost for the model with the right processor and SSD.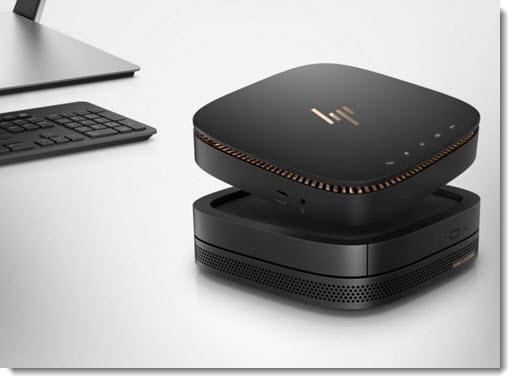 HP is also about to start selling the HP Elite Slice, shown in the above photo. It's a 6 1/2 inch square aimed at business users, configured with a full Core i7 processor and 256Gb SSD. The interesting part is that those are individual modules in the picture stacked on top of each other. One of them has the traditional computer components – the processor, memory, hard drive, and ports to connect things. Separately you can get a module with a DVD drive if you need one (you don't), or speakers and a microphone, or a module with built-in components to turn the stack into a Skype For Business phone and conference tool. Next year there will be another module that will charge devices dropped on top of it – if the phones support wireless charging, which not enough of them do today.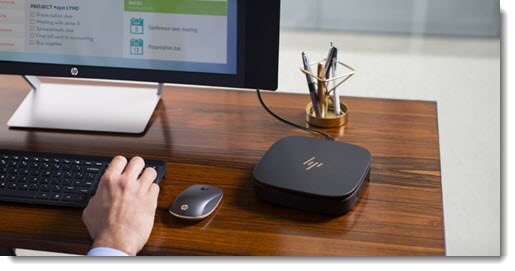 Intel has offered a similar device for a few years, the "Intel NUC," but it's more of an oddball hobbyist device, typically sold as a barebones kit into which you install your choice of memory, hard drive, and operating system. HP has polished the concept up to a businesslike sheen. Again, pricing for the HP Elite Slice is not yet available but expect it to be relatively pricey – all of the specs are high end and aimed at businesses (including Windows 10 Pro instead of Home). I'm a little suspicious of getting locked into a proprietary system that may not be supported for long (that's the nature of proprietary hardware), but there's no denying the appeal of the Elite Slice design.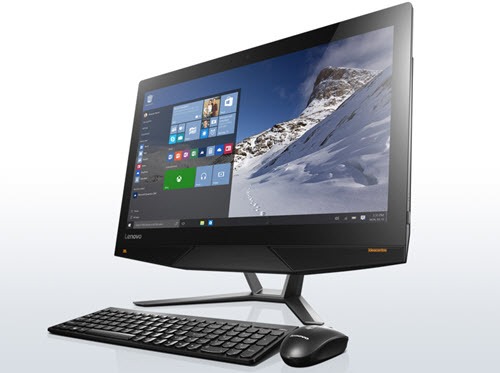 Meanwhile, Lenovo and Dell have revived the "all-in-one" computer and turned it into a tempting choice for homes and small businesses. The picture above shows the Lenovo Ideacentre AIO 700 24" (Intel). See the 24" touchscreen and keyboard and mouse? Well . . . that's it. That's all there is. The computer components are in the monitor. There's no tower, no desktop case. Here's a picture from the side: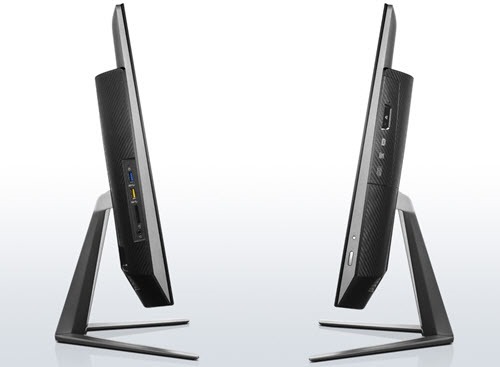 It seems a little strange until you think about it. Laptops fit all the components for a powerful computer into a thin, lightweight case. This is just another configuration of the same processor, memory, hard drive, even a DVD drive if you want one. (It pops vertically out of the right side of the monitor.)
All-in-ones have been around for years but have always struggled with heat problems and poorly chosen components. I recommended against them until recently. Now those problems seem to be resolved and the new all-in-ones work reliably with no compromises.
This Lenovo model can be configured with a Core i5 or Core i7 processor, 8Gb or 12Gb of memory, a beautiful screen (available in 1920×1080 resolution or ultra-high 3840×2160 resolution, which is not necessarily better for aging baby boomer eyes), built-in wireless, and a solid state drive or hybrid drive. It's even built with an Nvidia graphics processor for modest gaming. Prices start at $900 and the top of the line is only $1,200 tonight, quite a good price for what's included. Lenovo also has a lovely 27" Ideacentre AIO 900 but is sold out of the model with a solid state drive; a less expensive 22" model that compromises a bit too much on processor and hard drive; and a model built with an AMD processor and AMD graphics, which hits on my superstitious avoidance of AMD components.
Dell has several all-in-one models as well. Here's an example from the Microsoft store, the Dell Inspiron 24 7000 with a 24" touchscreen, Core i5 processor, 12Gb of memory, Nvidia graphics, and a slow 5400RPM 1Tb spinning hard drive for $999. It's similar in appearance to the Lenovo all-in-ones and not a bad deal, but the slow hard drive is unforgiveable. You'll find more all-in-ones at the Dell Home site.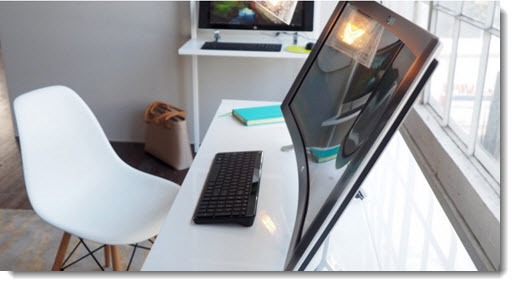 Heck, if you're buying something sleek for your home, why not go all the way? Get the HP Envy with its 34" curved screen. Absolutely massive, probably quite beautiful display, and capable of being set up with the right components for a large amount of money. No touchscreen but it comes with definite bragging rights.
It's worth mentioning that Microsoft is rumored to be readying its own all-in-one, probably branded as "Surface AIO." It's a little hard to foresee what Microsoft could bring to the market that isn't already covered by Lenovo, Dell and the rest, but Microsoft forges on and we may get an announcement as early as a Microsoft event this week.
The desktop computer industry is gasping but not dead. If you need a home PC, think about stepping away from the familiar tower on the floor.