Microsoft Access, an Office program for database management, will be included with the other Office programs in the Office 365 Business and Business Premium plans, starting next month. This is irrelevant for many businesses that have no reason to use Access. For the rest, this is classic Microsoft: it's good news, but it has some complicated bits.
Let's take a minute to review how the Office programs are licensed now.
• Businesses obtain licenses to install the Office programs on Windows PCs and Macs through Microsoft's business Office 365 services.
• Home users and individuals license the Office programs with subscriptions associated with Microsoft's personal accounts. The personal subscriptions are not changing. More info about Microsoft business and personal accounts here.
There are three Office 365 subscriptions for small businesses.
• Office 365 Business Essentials – an Exchange mailbox
• Office 365 Business – a license to install the Office programs (Outlook, Word, Excel, Powerpoint, OneNote, Publisher)
• Office 365 Business Premium – an Exchange mailbox AND a license for the Office programs
Microsoft has made it easier to mix and match subscriptions. A business can have any combination of plans and switch licenses around as necessary. (Microsoft bills for each plan separately, which is why businesses have multiple charges from Microsoft on their credit card statements each month.)
Now add one more plan: Office 365 ProPlus is a separate and oddly expensive subscription for the same Office programs plus Access.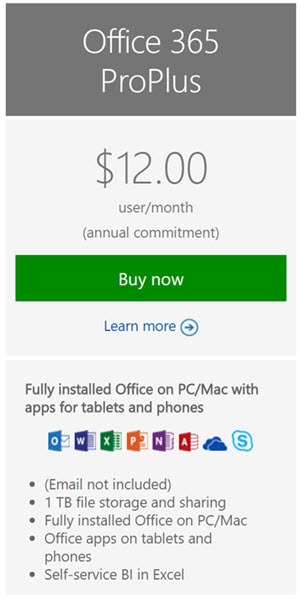 Until now that has meant that if an employee needed Access, the business would get (1) a Business Essentials subscription for the mailbox, plus (2) a subscription to Office 365 ProPlus.
If you're following this (and my god, who would?), that means a monthly charge of $12.50 for an employee with Business Premium versus a charge of $17 for an employee with Business Essentials and ProPlus – exactly the same setup except for Access. That's a healthy premium for running Access!
Starting in December, Access will be installed with the other Office programs when those are licensed with Business and Business Premium subscriptions. That has two consequences.
• Microsoft intends to install Access automatically in the background next month. Alert employees with Business and Business Premium subscriptions will suddenly find Access on their Start menu. Come to think of it, that has zero effect on any normal person. I don't think I've ever seen anyone study their Start menu hoping to discover something new. Maybe there will be an announcement like the unexpected popups Microsoft has started displaying when the Office programs are updated every month. "NEW! Display color-coded rabbit emojis on Excel pivot table formula macro validation!"
• Small businesses with ProPlus subscriptions can save some money by switching to cheaper Business Premium subscriptions. But there's a price that goes along with that: the Office programs have to be completely uninstalled from a computer tied to the ProPlus subscription, then reinstalled from the Business Premium subscription. Same employee, same programs, but Microsoft's license whims must be satisfied. Installing the Office programs is a much smoother process than it used to be so this is not wildly time-consuming, and frequently it goes smoothly. (Not always. I've repaired corrupted Outlook profiles too frequently to claim it goes smoothly all the time.) The annoying part is just the idea that it's necessary to pay me for half an hour of work to save $4.50/month.
If you're watching Microsoft's business evolve, the interesting thing is tucked at the end of the announcement about the changes in the plans. This is actually a continuation of Microsoft's shift to becoming an enterprise-focused company. Microsoft doesn't care if small businesses fuss with their subscriptions. Instead it's hoping to convince enterprises to increase their use of Access and buy the expensive ProPlus subscriptions. Microsoft is building connectors so Access can work on data from other enterprise sources – "OData Feed, Dynamics CRM, Salesforce and Amazon Redshift," according to Microsoft. "There are even more new data sources on the way."
Microsoft is an enterprise-focused cloud vendor. Look at all of its announcements through that lens.