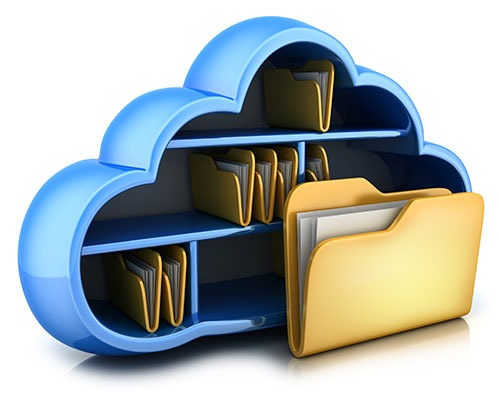 Today Box announced that Box Drive is generally available. We are beginning a profound shift in the way we think about our files. This deserves some attention even if you don't use Box – Dropbox and OneDrive will be following suit before long.
Box Drive is a new program that lets you use Windows File Explorer or Mac Finder to browse through all the files stored online in Box. When a file is selected, it opens with no fuss. There's no syncing going on. The files are only online, not on your local hard drive. It's done so smoothly that you won't notice, but many of you will have to conquer your fear and get used to the idea.
Let's look at how this changes the way you work with your files.
---
Background
If you work in a business with a server, then the company files are on the server in the closet. They're not on your computer at your desk. That's obvious. You don't give it a second thought.
When we think about storing files online, though, and not having a copy on the computer we're touching, suddenly we get squeamish. It feels wrong. The questions swirl in our minds: What if the Internet connection goes down? What if they get hacked? What about backups?
Exactly the same issues apply to the files on the server. The network can go down, hackers can raise havoc, backups have to be done.
So far, though, we haven't convinced ourselves. Everyone handles online files the same way: using a program that syncs a copy of the online files to our local hard drive. Regardless of whether it's Dropbox, OneDrive, or Box Sync, the result is the same: we look in the folder on our local hard drive and breathe easily because it feels like we have the files where we can touch them. It never occurs to us that we could view the files and work with them from the Dropbox or OneDrive or Box websites even if they aren't synced.
This is causing some tension already. When companies put all of the company files online, it makes no sense to have each workstation sync a copy of all those files to each local hard drive. They wouldn't all fit on the hard drives and that would cause the workstations to work constantly to keep hundreds of thousands of files in sync.
This has become an even more pressing issue as we move to laptops with solid state drives that typically have limited space. Choices have to be made to work with a 128Gb or 256Gb SSD.
The problem has been that opening files from the websites isn't quite right for many people. The interface is unfamiliar and change is hard. What we need is something that displays all the online files in File Explorer so we can browse through them exactly the same way we browse through folders on our hard drive – or folders on the company server.
That's where Box Drive comes in. If you are a Dropbox or OneDrive user, keep reading anyway and substitute "Dropbox Smart Sync" and "OneDrive Files On Demand," both coming soon. I'll say a few more words about those below.
---
Box Drive
Box Drive is a program that installs on your workstation. This is a beta release but Box has been engaged in aggressive testing and development for two years and feels it is stable enough for general use. It is missing one important feature (more about that below), but it is ready for any Box users who want to try it.
After installing Box Drive, Box appears in the left hand column of File Explorer, exactly as it does now for Box Sync users. You can browse through folders and file names and see file dates and sizes. You can create shortcuts to folders on your desktop or in Quick Access.
The files are not on your hard drive. You're browsing through all the files stored online. When you click on a file to open it, the file is downloaded in the background, completely invisibly. When you save it, it's saved directly back to the online files. It never stops on your hard drive and waits for a sync.
The Box folders act like any other folders. You can create folders, rename files, drag files in and out of them, save new files to them. The right-click menu still allows files to be shared easily, just as with Box Sync. The whole point is how normal it seems to be. This allows companies to move all their files online without disrupting anyone's workflow.
This is particularly important for companies because Box offers unlimited storage for business accounts and meets strict security and compliance requirements. Box Drive enforces the permissions set by the administrator. You only see folders you have permission to access. If you move a file to another folder, the permissions are updated to match that folder.
Employees can use Box Drive to access company files instead of connecting to a finicky VPN or using a remote desktop connection. Since files are not synced to a laptop hard drive, there is much lower risk if devices are lost or stolen.
---
Shortcomings of Box Drive
No offline sync Box Drive is called a beta because it is missing a key feature: at the moment, it is not possible to mark a file or folder to be synced to the local hard drive. If you're on a plane without an Internet connection, Box Drive goes silent and files are not available. That feature will be added to Box Drive, at which point Box Drive will be made generally available as a final release.
Search and preview Files stored in Box cannot be searched or previewed in Windows File Explorer or Mac Finder. Each of the services is going to have this problem and deal with it a different way. Box has integrated search in a reasonably clever way. Clicking on the Box Drive icon in the lower right, by the clock, brings up a search window. You can do full text searches quickly from there.
Although file previews are not integrated into File Explorer, a single click on the right-click menu brings up a preview of a file on the Box website.
---
Details for Box Sync users
Box Drive cannot be installed on a computer running Box Sync. If you want to try Box Drive:
• Uninstall Box Sync.
• Delete the Box Sync folder. (It's not deleted when you uninstall the sync program, and you don't want those copies hanging around. If you decide to go back to Box Sync, you'll have to download from scratch regardless.)
• Restart the computer.
• Install Box Drive.
After installing Box Drive, make sure you can see the icon in the lower right corner so you can do searches easily. On Windows 10, click on Settings / Personalization / Taskbar / Select which icons appear on the taskbar. Turn on the Box icon.
---
Dropbox and OneDrive
Dropbox Smart Sync is very similar to Box Drive. It is only available for Dropbox Business subscribers, and is currently available as an "early access" feature (a secret code that means "There Might Be Bugs"). Dropbox Smart Sync provides an easy way to toggle files to be online-only or synced to the local hard drive. Dropbox Smart Sync supports searching by file name within File Explorer but not full text searches. At some point Dropbox is likely to offer Smart Sync to individual Dropbox users with personal accounts but it has not made any promises about that yet.
OneDrive Files On-Demand is expected to be added to Windows 10 in the fall. The first version of it just became available to Windows Insiders yesterday. Apparently it works both with OneDrive and OneDrive for Business, and appears to have the same features. An earlier version of this concept in Windows 8 included full-text indexes and picture thumbnails on the local hard drive, which took a fair amount of drive space. It's not clear yet whether Microsoft will do something like that with this new version, or if it will be similar to Box Drive and Dropbox Smart Sync with limits on searches and previews.
Start to think about online file services as new versions of file servers. That's all they are, really, and these new tools are going to make them just as easy to use as the server in the corner. It's getting to be time to reduce the load on our crowded hard drives.