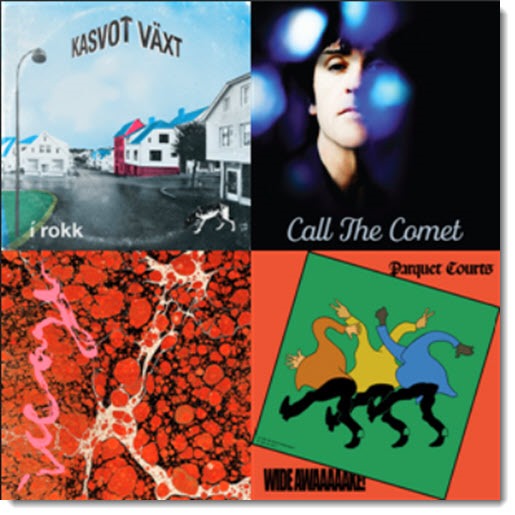 (This will be the last Bruceb News article for 2018. I'll return with more news next year, if anything interesting happens. Remember, a subscription to Bruceb News makes a lovely last-minute Xmas gift. Happy holidays!)
Spotify has launched its annual Spotify Wrapped website, where you can look back on your year of music listening, including your top artists and top songs, the number of minutes you listened to Spotify during 2018, and more. If you're a Spotify user, stop by – you might feel proud of your good taste, or you might be embarrassed by the time-wasting choices you hoped were safely forgotten. You'll also find a new playlist in the Spotify app with your most-played songs from 2018.
But enough about you. I know what you're really thinking – what did Bruce listen to this year?
Aw, that's sweet. I'm glad you asked.
I'm an aging baby boomer who prefers rock music played with guitars and drums, but I'm not ready to sink into constant nostalgic rotation of 70s classic rock. There are young rock bands out there, but it takes constant work to separate the wheat from the chaff. Remember that expression? The chaff is the worthless part. In the music world, there is oh my god a lot of chaff.
Here's my Top Ten for 2018. I'm pretty sure it's universally appealing and everyone will love everything on it because that's how music works, right?
There are bands today producing rock songs with melodies and harmonies to match anything from the 70s or 80s. Back then we only had three radio stations, all playing the same songs over and over, until songs wound up engraved on our brains and turned into calcified "classics." There are songs today that could stand the test of time, but today everything is more ephemeral and these will pass almost unnoticed – unless you listen to them before the world moves on.
Johnny Marr is at the top of my 2018 list. Many years ago he was the guitarist for The Smiths, writing songs and providing some balance for the erratic vocalist Morrissey. This year he released the latest in a string of first-rate solo albums that ought to appeal to every baby boomer – melodies that stick in the head, traditional rock instrumentation, solid vocals, and tremendous guitar chops. He's also reported to be an extremely likable person, which came across on stage when I saw him in San Francisco this year.
Parquet Courts wrote a perfect little power pop song, Mardi Gras Beads, on an album that doesn't otherwise sound anything like that.
The Coral is an English band whose album Move Through The Dawn is loaded with hooks and melodies that are filled with the spirit of Tom Petty and Traveling Wilburys.
Australian band Rolling Blackouts Coastal Fever have released two EPs and an album of jangly pop songs that I find irresistible.
Stephen Malkmus was the leader of influential 90s band Pavement, known for fractured songs and unexpected blasts of feedback. For the last 15 years, Malkmus has been playing more low-key songs as Stephen Malkmus & The Jicks, and this year's album Sparkle Hard is the most successful yet, with several standouts like the lovely, gentle song Solid Silk on my Top Ten list.
Steven Wilson called himself "the most successful British musician most people have never heard of" on posters for his sold-out shows at Royal Albert Hall in London this year. He earned a reputation as a leader of the progressive rock community with his band Porcupine Tree, but his solo work for the last few years does not fit the "prog rock" label; it's just artful, sophisticated pop-rock. His show at the Fillmore this year was generous and theatrical, drawing from all parts of his long career. The live recording from London released recently that the song on my list was drawn from would be a good starting place if you're not familiar with his work.
There are some other wonderful songs on my Top Ten – an upbeat electronic song from Hookworms, a song from an album by ShadowParty that perfectly captures the flavor of Devo and New Order, post-punk songs from Hot Snakes and IceAge for anyone with fond memories of Iggy Pop and the Clash, and more.
And there are two songs bracketing the top and bottom of the list from Phish. At the top is a song from the Halloween Kasvot Vaxt set that I wrote about here. At the bottom is a chance for you to find out whether you are susceptible to Phish's brand of improvisation. One of the most-loved songs in their repertoire, Chalk Dust Torture, turns into an endlessly inventive masterpiece that moves from one theme to another until it reaches the kind of peaks that leave fans dancing and weeping and satisfied. Don't want to spend 25 minutes to find out? Listen to the first few minutes to hear the song, then jump ahead to 17:30 and listen to the next few minutes as the band patiently builds and builds until guitarist Trey Anastasio launches into a melody at 20:00 that fills the heart with joy and celebration, and then carries on to peak after peak of blissful goodness. (If you want a visual, you can watch the performance here.) This is one of 13 songs chosen by the band from their record-breaking 13 performances in 2017 at Madison Square Garden, released last month in a collection titled The Baker's Dozen. The band members aren't youngsters any more (Phish has been performing for thirty years now), but they're at the top of their game – and how many bands can say that?
Go to Spotify Wrapped and get your stats. Enjoy my Top Ten. And have a lovely holiday! I'll see you next year.