Backups are hard. I have a story to tell you about why your backup program is not backing up OneDrive files – but don't panic! This is just a public service announcement that may help you someday if you understand what's going on behind the scenes.
If you have files in OneDrive or OneDrive for Business, it means Microsoft stores your files in the cloud. Microsoft backs up your files. They're safe. Microsoft is not going to lose your files if the stock market blue-screens.
OneDrive provides several ways to recover files that are accidentally deleted. If you sign in to OneDrive online and click on Recycle Bin in the left column, deleted files can be recovered for thirty days. If you are attacked by ransomware, you can restore your entire OneDrive to a previous time before the malware started.
If you're also running a separate backup program (like Bruceb Cloud Backup, Carbonite, Cloudberry Backup, or Windows File History), it may not be backing up the OneDrive files. I know, I know, it's shocking. Take a moment, breathe into a paper bag.
Local backup programs can only back up files that are on your hard drive. There's a good chance that your OneDrive files are only in the cloud and aren't on your hard drive at all.
Recently Microsoft added a new feature to OneDrive called "Files On Demand." It's turned on by default when you connect to OneDrive for the first time. Since it's Microsoft, it's a bit confusing – I tried to straighten it out in this article.
"Files On Demand" allows you to browse through your OneDrive files in File Explorer exactly like before. All the folder names and file names are displayed, you can open files by clicking on them, and you can rename files and display file properties and do anything else you would do with any other file.
It's a clever magic trick. The files aren't really on your hard drive. They look like files, and they act like files, but they're just placeholders, little stubs with some metadata. When you want to open the file, the stub reaches out to Microsoft and the file is downloaded from the online server.

Most non-technical users are not compulsive about the whole online/offline thing because it works fine without thinking about it. You can manually force your computer to keep local copies of files, if you like, by right-clicking and choosing to "always keep on this device." OneDrive then makes a copy of the files and stores them on your hard drive. Similarly, when you open a file, OneDrive keeps an offline copy of the file on your hard drive at least for a while. Microsoft has a complex set of status icons for OneDrive files that show up in File Explorer like inscrutable emoji.
To repeat: local backup programs can only back up files that are on your local hard drive. They cannot back up OneDrive files that are only online.
Examples of what this means for traditional backup programs:
• I am being bombarded with messages about "failed backups" for clients with Bruceb Cloud Backup. The backups are running perfectly, but the program gets confused by the OneDrive files-that-aren't-really-files, so it thinks it has failed. I'm changing the backup settings to ignore OneDrive folders.
• Carbonite does not back up OneDrive folders. "Microsoft released a Files On-Demand feature for OneDrive in 2017 that is not compatible with Carbonite."
• Other backup programs – Cloudberry, BackBlaze, Acronis, etc. – have the same limitation unless they are explicitly designed to connect to OneDrive online. Most of them can't do that.
• File History is the built-in Windows feature that automatically backs up your files to an external hard drive. It simply bypasses the OneDrive folders. From a tech article: "File History is a great tool to backup your personal files automatically. However, if you use OneDrive to sync your documents, pictures, and videos across devices, you probably noticed that the OneDrive folder isn't getting backed up when you run the tool. . . . Since the Files On-Demand feature was introduced to help you save space on your device, File History ignores the OneDrive folder because it assumes that all your files reside in the cloud."
(As an aside: if you rely on File History, be prepared for it to disappear at some point. Microsoft has been making noises about dropping it for a couple of years.)
We're getting used to this, whether you realize it or not. OneDrive is not the only service that stores files online that cannot be backed up by a local backup program.
• Google Photos holds all your pictures, and you probably don't have a separate backup of those files. Same thing if your iPhone backs up photos to iCloud.
• Your mailbox is online with Office 365 or Gmail or Outlook.com or your ISP. The mail program on your computer or phone has downloaded some of the messages, but it's not complete and it can't be backed up effectively. Most backup programs bypass mailboxes completely. We're going to talk more about this soon.
• Box works exactly like OneDrive: files are shown in File Explorer but they are not copied to the local hard drive unless marked manually.
• Most individual Dropbox users sync all files to their local hard drive where they can be backed up. Dropbox has recently introduced plans that support Smart Sync, which lets files be stored online and browsed in File Explorer without being copied to the local hard drive. For now, that's a small number of Dropbox users.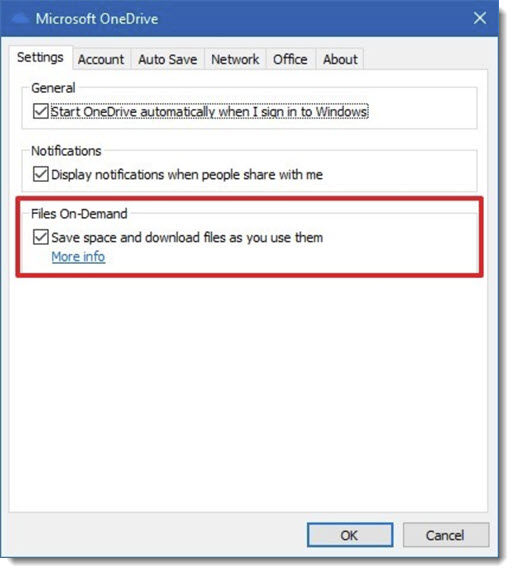 You can turn off OneDrive Files On Demand and sync all of your online files to your local hard drive. (Right-click the OneDrive icon / Settings / Settings tab / Uncheck "Save space and download files as you use them.") There are, however, two things to consider:
(1) Your local backup program still might not back them up. Some of the programs are being set up now to ignore any folder named "OneDrive."
(2) The advantage of OneDrive Files On Demand is that you can store more files online than fit on your hard drive. Syncing all the files uses your bandwidth, slows your computer, and fills up your hard drive. Files On Demand is the future. Having all your files on your hard drive is old-fashioned.
Running a backup program is still important but it's becoming less relevant as our life moves online. The rule of thumb has always been to have multiple copies of your data in different systems. Fortunately, OneDrive and the other cloud storage systems are stable and secure, making it less imperative to have another redundant backup. You can still lose files, though, if you accidentally delete them and you don't notice for a while, or if something happens to cut you off from the Microsoft account where they're stored.
Businesses will be forced to confront this first; enterprise backup vendors like Storagecraft and Veeam are starting to roll out enterprise backups that include Office 365 mailboxes, OneDrive folders, and Sharepoint libraries. They're expensive and going through growing pains. Consumer and small business backup services will adapt. For example, Acronis True Image 2019 Cyber Protection Advanced and Premium supports Office 365 for individuals. Watch the pricing and storage limits! Backups can get expensive in a hurry. I don't have any experience to know whether any of them work reliably yet.
For now, unless you're compulsive, well-off, and fairly technical, you're forced to trust Microsoft.