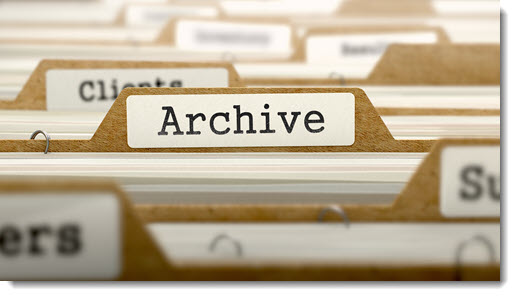 Outlook has an Archive button, right next to the Delete button. You haven't noticed it because we have trained ourselves for twenty years to let our eyes slide over anything in Outlook that we don't use. The Archive button appeared a couple of years ago without any fanfare and, I'll be damned, it's pretty useful. Some of you may decide it's your new best friend.
---
TL;DR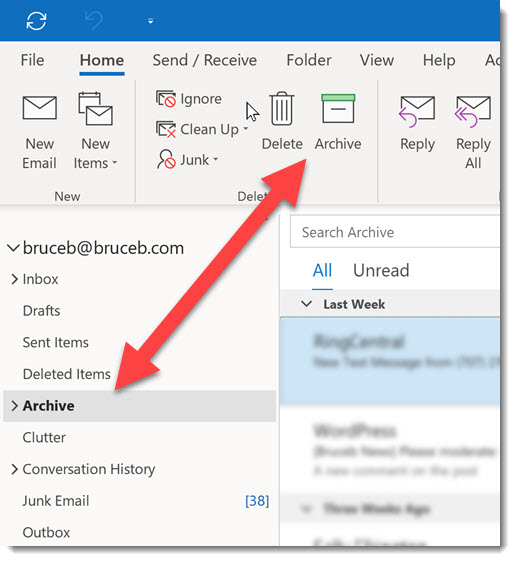 The Archive button moves an email message to a folder named "Archive." That's it. It's a one-click option to clear mail from the Inbox without deleting it.
Shortcut: Backspace key. Hit Backspace, a message is moved to the Archive folder.
It's just as easy as hitting Delete. That's the point. The Archive button creates a simple workflow:
Use the Backspace key to file a message.
Use the Delete key to delete junk.
Keep your Inbox clear. Don't leave 30,000 messages in your Inbox. It's sloppy housekeeping and I'll judge you.
---
All the different archives
Since this is Microsoft, the word "archive" is used for three completely different things.
Archive button (Outlook) The Archive button moves messages to a folder named "Archive." It's just a folder, like Inbox and Sent Items.
AutoArchive (Outlook) AutoArchive is an antiquated option in Outlook to move messages to a separate .PST file stored on the hard drive of your computer. It's still available (File / Info / Tools / Mailbox Cleanup / AutoArchive), but it's not recommended: PST files are notoriously tricky to work with, hard to back up, and prone to corruption.
Online archive (Office 365) Office 365 supports online archives for long-term mail storage, especially for oversized mailboxes. The online archive appears as a separate mailbox in the left column of Outlook. Once it's set up, older messages are moved automatically into the online archive to keep the size of the primary Outlook mailbox under control.
---
How to use the Archive button

The Archive button moves mail that you want to keep into the Archive folder, which is always accessible. It doesn't reduce the size of your mailbox.
Many people intend to sort their mail into dozens of organized subfolders, but then life happens and there's never time to do that. Change your mindset! Sweep everything into the Archive folder and keep your Inbox clear. You can find messages from the search box.

By default, when you search for messages by using the Search Current Mailbox feature at the top of your folder list, Outlook searches your entire mailbox.

If you want to limit the search to your Archive folder only, first select the Archive folder in the folder list. Your search box will now search only the Archive folder.
Microsoft has added the Archive button to the desktop versions of Outlook, Office 365 webmail, and Outlook.com. If you use the Outlook app on iPhone/Android, you can set it to archive a message with a swipe, or you can use the Archive button at the top next to the Trash button.
(Digression: the Outlook app on iPhone/Android is a separate app from Microsoft that you can use as an alternative to Google's Gmail app or Apple's Mail app. Microsoft has been steadily improving it and it's looking pretty good. I'm going to start using it full-time and see how it goes. Try it!)
If you've got a cluttered Inbox, think about using Archive right away.
On the other hand, if you spend too much valuable time filing messages into complex subfolders, consider using a single unstructured archive folder and searching for mail as needed. You'll gain time every day. The tradeoff might be worth it.