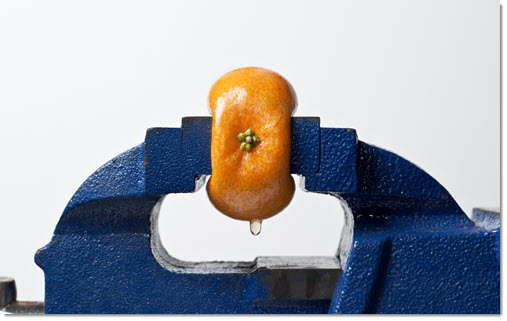 Have you noticed that scroll bars in Windows 10 get squeezed to a thread or disappear? It's one of those small annoyances that the authorities slip into our lives to keep us on edge so we can't concentrate but we're not sure why. Allegedly.
You're working in a program and you need to scroll down, so you scoot the mouse to the right side of the window, but the scroll bar is this thin line, barely visible, a thread. So you stab at it and click, except while you were moving the scroll bar expanded and your click goes somewhere completely different than you intended, so each day you start drinking earlier in the afternoon and before long you're pushing small children down when no one is looking. It's a sad story.
If auto-hide scroll bars don't bother you, fine, no problem, this is a bit of an OCD thing. Go back to reading about the pandemic, see if that makes you feel better.
How to make the scroll bar full-size all the time (except for the exceptions)
Go to Settings / Ease of Access / Display and turn off Automatically hide scroll bars in Windows. Scroll bars will then always be full-size in many (but not all) places.
In Windows system dialogs (e.g., the Start menu and Settings window), and in modern programs (called "Store Apps" by Microsoft, with its usual gift for catchy names), the scroll bar disappears completely when the program does not have the focus, and shrinks to a thread when you're working in the program but not scrolling. It only expands to full-size when your mouse hovers over it for a second.
This is what the Settings window looks like with a shrunken scroll bar.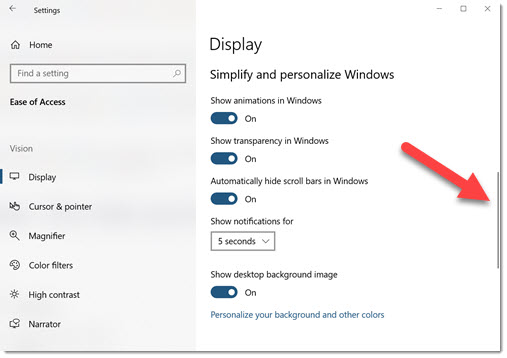 You have to squint to realize that the window scrolls at all. I frequently miss important options because I don't realize part of a window is out of sight. I'm glad there are no small children within six feet at those times.
The Settings window looks like this when the option is turned off.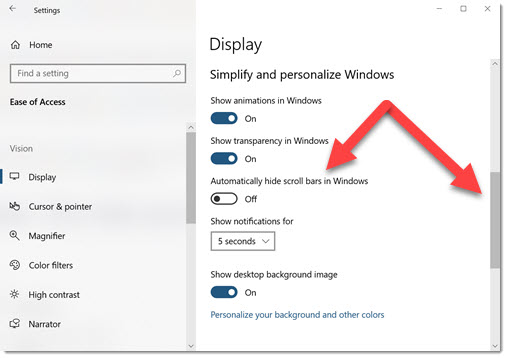 Ease of access! Sure! That's where you'd expect it, right?
What was that about exceptions?
The setting in Ease of Access / Display doesn't change the way scroll bars behave in Office programs. Microsoft keeps mucking around with those scroll bars in inconsistent ways. (Most other traditional programs – Chrome, say – display full-size scroll bars all the time.)
Word The scroll bar disappears in a document if the mouse is not moved for a few seconds, or if the mouse cursor is moved away from the open document. That can't be changed.
If the vertical scroll bar disappears completely in Word, check File / Options / Advanced. Make sure the box is checked to Show vertical scroll bar.
If you want to work around the disappearing Word scroll bar, click on View / Draft. The scroll bar will always be visible, but you won't be able to see headers and some page elements.
Meanwhile, the Outlook desktop program exists in its own special universe, not even consistent in itself, and more or less the exact opposite of Outlook.com and Office 365 webmail, which also don't match Windows. In other words, typical Microsoft.
Outlook The full-size scroll bar is always visible in the folder list (left column), and the message preview window. The scroll bar automatically disappears in the message list in the middle until you move the mouse cursor over the list. None of that can be changed.
Outlook.com and Office 365 webmail The scroll bar disappears in the folder list until your mouse cursor moves there. Meanwhile, the scroll bars are thin threads in the message list and preview window, and they never expand to full-size.
Consistency is not Microsoft's strongest point.
But . . . why?
I can't find an official Microsoft explanation of why scroll bars started shrinking and hiding a couple of years ago. To save a few pixels onscreen? A vision of sleekness that foundered on Microsoft inconsistency?
You can work around disappearing scroll bars with a small change of habit. If you're on a touch screen, scroll with your finger. If you have a mouse, use the wheel to scroll.
Happy scrolling!