Chrome is the web browser used by 7.9 billion people, more or less, plus it's starting to be adopted by schools on planets orbiting distant stars. Google does not make big changes to it because of the people who use Chrome, approximately all of them hate change.
But two new features are being added to Chrome and I'll be damned, I approve of both of them. Darned handy and well-implemented.
TAB SEARCH  If you open a lot of tabs, there is now a dropdown that shows the title of each tab, with a search box to help find an elusive open tab.
READING LIST  If you want to mark a page to read later – just a single interesting article, say – then Chrome has a new reading list that's easy to use on the fly.
If you don't see these yet, check back in a few days. Google is rolling them out right now – I see tab search and reading list on my laptop but not yet on my desktop PC even though both of them have the same Chrome version number. Which is a bit strange, come to think of it. They'll arrive soon.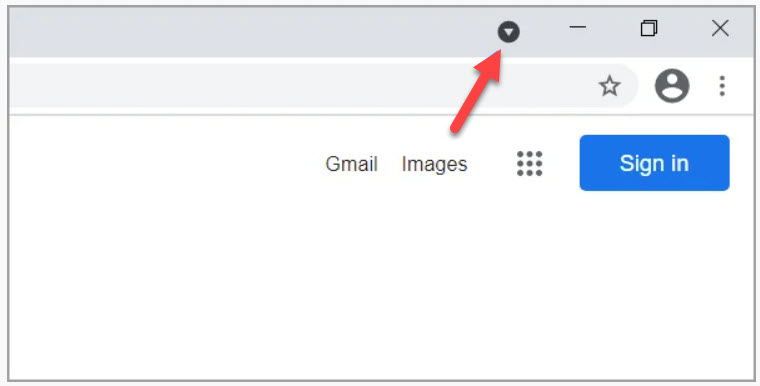 Some people only open a few tabs in Chrome at once. We are clear thinkers. Our taxes are filed on time and we wash our hands frequently.
But not everyone is like that. Some of you open dozens of tabs willy-nilly until each tab is just a few pixels wide at the top of the browser. A few of you might have a hundred tabs open in several Chrome windows. You know who you are. You believe you are a free thinker who can multitask. Who am I to judge you just because you're wrong? People who can't control their tabs also live in messy houses and have unstable personal relationships, I'm pretty sure, but that's totally your choice.
Chrome has added Tab Search for the Lots-Of-Tabs people.
The little down arrow in the upper right corner of Chrome is new. See it in the screen shot above?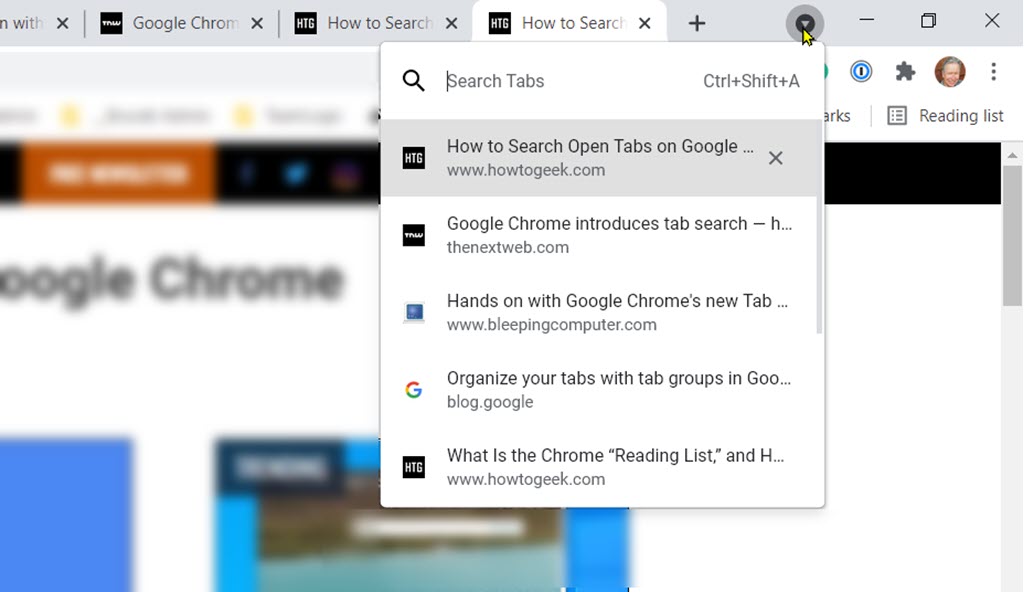 Click on the arrow and you'll see a scrolling list of all open tabs.
The search box searches the titles and URLs of all your open tabs. Note that it doesn't search the content of those pages, just the title and any words in the URL.
If you have multiple Chrome windows open, the search includes all tabs in all windows and brings the correct window to the front when you choose one of the tabs.
That's all there is to it. But that's awesome! You know that it's impossible to read the titles of tabs when there are more than a dozen or so open and they become so small that almost no text is visible. This is an instant time-saver.

Bookmarks are for sites that you want to visit more than once.
Now Chrome has a place to save articles that you want to read later without keeping them permanently.
It is not yet fully rolled out. When you have it, you'll see a Reading List button on the right of the bookmarks bar. (The bookmarks bar is quite handy! If you don't see it, turn it on by clicking the three dots in the upper right / Bookmarks / Show Bookmarks Bar.)
When you click on the Reading List button, you'll see all the pages you've marked to read later, plus an X to delete each one from the list when you're finished.
Adding an article to the Reading List takes two clicks. Click once on the star on the right side of the address bar. (See the arrow in the above screen shot.) You can choose between adding a bookmark and adding to the Reading List.
Like bookmarks, the Reading List is synced with your Google account to your devices. You can view your Reading List on another computer or on an iPhone or iPad. (Click on the three dots in the lower right of Chrome on iOS / click on More / Bookmarks.) As of today Reading List has not been added to Chrome on Android; I expect that to change any day now.
Again, this is a feature that will become part of the daily routine for some people. I know I'll be using it. Go and add some Bruceb News articles to your Reading List so you don't get behind!