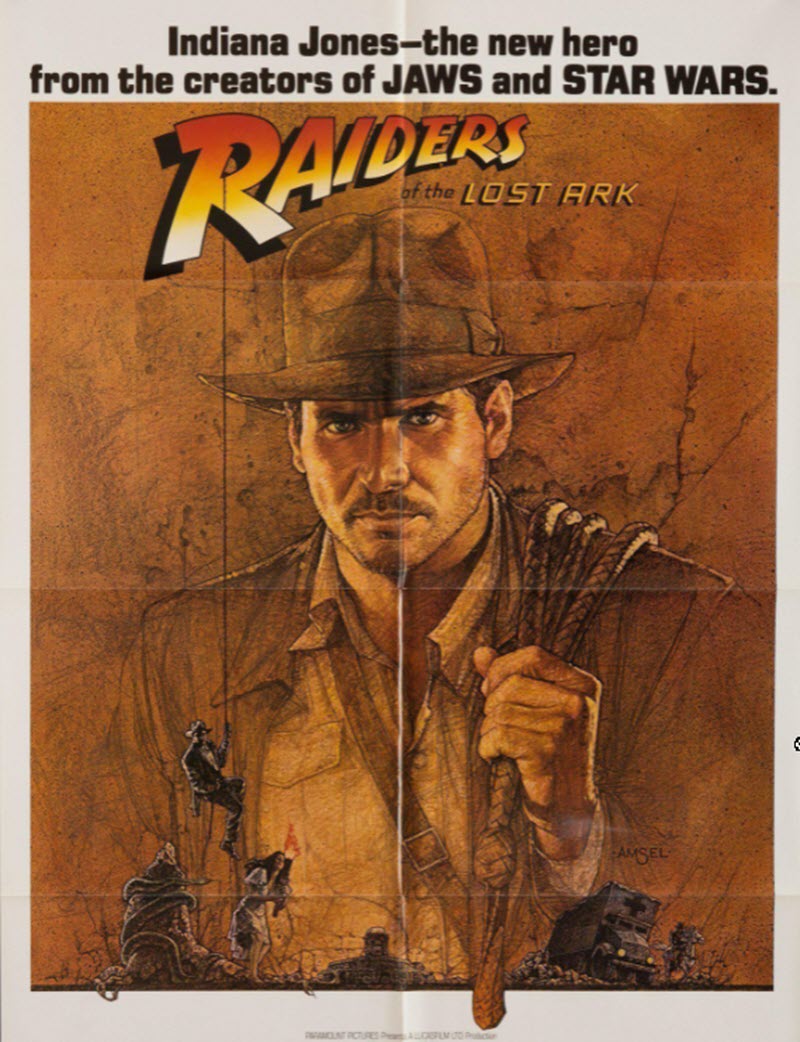 Forty years ago this week, I was eating popcorn in the middle of the tenth row at Grauman's Chinese Theater in Hollywood, and I was having one of the best nights of my life.
I can remember it like it was yesterday. Actually yesterday is a little hazy, but the memory from forty years ago is vivid of sitting in that legendary movie palace with the pillars and pagodas and palm trees, and watching something so unexpectedly wonderful that I could not stop grinning for days.
The movie was Raiders of the Lost Ark. The official premier date was June 12, 1981, but it played a week earlier in a few theaters. I was living in LA at the time and decided to go to Hollywood to check it out.
Today we live in a hyper-connected overly promoted world. It hasn't always been this way. When I saw Raiders of the Lost Ark in the first week of June 1981, nobody knew the first thing about it. There was no hype. The audiences who came to the preview screenings were completely unaware of what to expect – no idea what kind of story it was, not a clue whether it was funny or scary or sad.
It's hard to remember the world before the Internet. The only source of information about upcoming movies was the arts section of the Los Angeles Times, then in its heyday, reporting on movie industry news in addition to the usual press releases and reviews. The movie studios controlled their messaging tightly; there was little visibility for projects that were not being actively promoted.
William Goldman famously said that when it comes to predicting hits in Hollywood, "Nobody knows anything." I'm sure the studio wondered in hindsight why they hadn't done more to push Raiders. Because for whatever reason, Raiders of the Lost Ark was not promoted ahead of time.
It seems obvious today that everybody should have known that a project from George Lucas and Steven Spielberg would be a big deal. But nothing is obvious in the movie industry. Lucas and Spielberg were young rising stars but not sure things.
George Lucas wrote the story for Raiders; he was riding high at the time after writing and directing Star Wars in 1977 and writing the story for The Empire Strikes Back in 1980.
When Steven Spielberg directed Raiders, he was still young, clearly talented but finding his legs. He had become a household name with Jaws in 1975 and became even more of a Hollywood powerhouse when he wrote and directed Close Encounters of the Third Kind in 1977. But he stumbled badly in 1979 with the John Belushi misfire 1941, so his public profile was a bit of a muddle in the summer of 1981.
The final contributor was not yet well known. Lawrence Kasdan wrote the Raiders screenplay, only his second high-profile project after co-writing the screenplay for The Empire Strikes Back. He had a string of successes after Raiders – he wrote the screenplay for Return of the Jedi, and went on to write three of the more memorable films of the 1980s – The Big Chill, Body Heat, and Silverado. (If you haven't seen Silverado, seek it out – a rowdy Western that Roger Ebert said has the "reckless brilliance" of Raiders.)
On Memorial Day weekend in 1981, the New York Times rounded up audience polls and summarized the summer movie scene:
"Superman II" will be the overwhelming boxoffice hit of the summer, according to Hollywood expectations and at least one "mildly scientific" poll. Mel Brooks's new comedy, "History of the World, Part I," and "For Your Eyes Only," which Hollywood refers to simply as "the new James Bond," were runners-up to "Superman II" in interest. "Cheech and Chong's Nice Dreams" and the outer-space thriller "Outland" were also consistently above average. There was only average interest in another comedy, "Stripes," starring Bill Murray.
But there was this aside in the article, which stands out as we look back from forty years later:
There was almost no awareness of "Raiders of the Lost Ark," a George Lucas-Steven Spielberg World War II treasure-hunt movie, with Mr. Spielberg directing, which was something of a surprise.
I decided to see Raiders during the preview week on a whim. I had lined up on Hollywood Boulevard to see The Empire Strikes Back at the Egyptian Theater the year before, and Close Encounters had been super cool, so a Lucas/Spielberg project had the promise of being something special. All we knew was that it was a WWII movie, which wouldn't have been my first choice but hey, they're good story-tellers, let's give it a try.
So I sat in the theater and laughed out loud as Harrison Ford ran out of the cave just ahead of the giant boulder, thinking, "Whoa, I don't quite get what this story is about, but is it supposed to be this damn cool? Because that was awesome."
We only found out later that Lucas and Spielberg were trying (successfully) to capture the joy of watching black-and-white movie serials at Saturday morning matinees in the 1940s and 1950s. The opening of Raiders is intentionally presented without any context or connection to the rest of the movie because it is meant to feel like the conclusion of the previous story, as if we were ten years old and had been following it each week in the local movie house.
By the time Indy climbed onto the U-boat, I was filled with joy, reveling in the adventure and the jokes and the suspense, appreciating the craftmanship, the storytelling, the acting.
I've been a movie fan my whole life; I've loved a lot of movies for a lot of different reasons. But the wonder of being 26 years old and seeing a perfectly told story and feeling special because I was seeing it first and nobody else knew about it yet –  oh, that was magical indeed.
It's hard to experience anything in 2021 without knowing what to expect. Every movie is endlessly discussed during its gestation, there are three or four trailers to watch on YouTube, there are spoilers everywhere. You can still see a movie and be a bit surprised but it takes hard work and averting your eyes. Or you can hit the new Netflix shuffle button and hope for the best.
But I can only hope that your life gives you at least one memory of being part of something that is pure magic, especially if it makes you laugh as hard as I did when Indy fought the Arabian swordsman.
Tenth anniversary is diamonds, twentieth anniversary is emeralds. The fortieth anniversary stone is a giant boulder. Hope you're also celebrating.