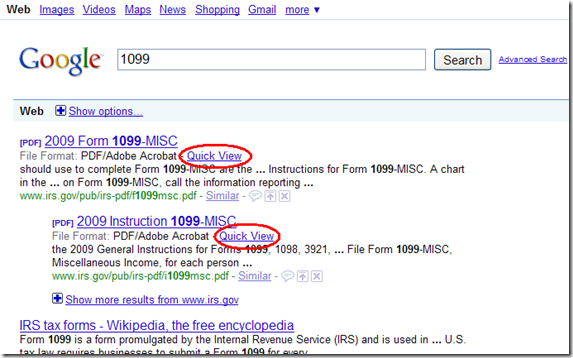 Google has been introducing new features and services at a rapid pace for the last couple of months, presumably to stave off any defections to Microsoft's search site Bing. There's a new link in some Google search results that might save you some time!
If your search results include PDF files, look for a "Quick View" link that will open the PDF in a viewing pane, courtesy of Google Docs, with a full page view, thumbnails, and links for downloading and printing. It's faster than downloading the document for Acrobat or Adobe Reader to display.
You won't see Quick View on all PDFs – Google apparently has to do some behind-the-scenes work for its viewer to work, so last week it claimed that "more than 50%" of indexed PDFs had a Quick View link.
Here's the blog post where Google introduced the new feature. Keep poking around the edges of the search pages for Google and Bing – you'll be surprised by what's there.