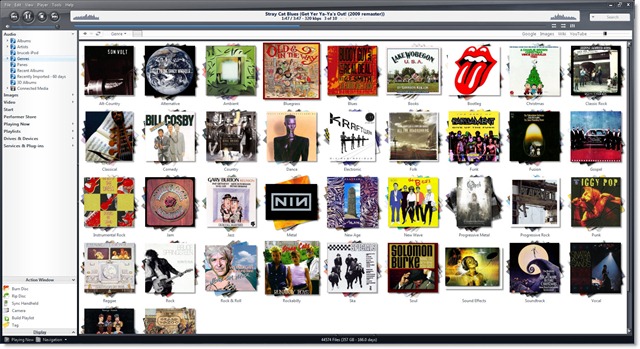 What software do you use to listen to music on a computer?
Most people use iTunes. A few lonely folks have gotten the new Zune HD and use its software. Still others use Windows Media Player. All of them are just fine. They're very attractive and they handle basic functions to help you buy and listen to music. If they make you happy, don't change!*
Some of you are outgrowing those programs.
If you've accumulated a large music library, you've probably realized that iTunes and the others are terrible at handling collections of more than a few hundred songs. Navigation is clumsy and it's nearly impossible to do a lot of handy operations on the files and tags.
Others are ripping DVDs or downloading movies and wishing that one application could handle both audio and video.
Maybe you're starting to work on getting audio and video into the living room, or trying to figure out how to set up zones that can be controlled from a single place without the expense of Sonos or other high-end equipment.
Take a look at J River Media Center 14, the new version of my longtime favorite software for managing music and video. It's simple enough that you can get started without being completely overwhelmed, but it keeps getting deeper as you become familiar with it. Here's the summary:
Media Center turns your PC into a complete digital entertainment center.

Media Center connects your PC to a stereo, TV, home theater, remote control devices, digital cameras, scanners, portable music players and UPnP player devices.
Use Media Center for ripping and playing music, burning cds, listening to Podcasts, copying music onto a portable device and organizing your music collection using a multitude of organization fields. If you can't find the field you need, create your own custom field.
Encode and play all popular media formats.
Play Web radio, TV, DVDs, Podcasts, video files and show digital images on your PC.
Powerful utilities include three different servers for streaming music and images to remote PCs and standalone networked players.

Media Center has more advanced features than any other application for superior customization and control of a media collection.
The company recently sent out a description of the improvements in new version 14. Here are just a few:
For audio users, we've added VST plug-in support, headphone cross-feed, and 5.1 surround sound output for receivers capable of Dolby Digital or DTS. If you run Vista or Windows 7, please try our WASAPI output for crystal clear sound.

Our Performer music store is now embedded in MC14. Enjoy subscriptions or high quality 320Kbps MP3 downloads for a modest price. Based on MediaNet's library of 5,000,000 tracks from most record labels. Also includes music videos. (Can be hidden in the plug-in manager if it's not your thing.)

For the laid back people who use a PC as a movie player or TV, we now offer a Media Center Remote for $35 plus shipping.
If you're tempted by the thought of a full-featured program to manage your music collection, here are a few things to consider.
J River Media Center works with many handheld devices (including almost all iPods), but it does not work with iPhones or Zunes. Those are proprietary and locked down tight.
In addition to its new built-in service for buying music and subscribing to unlimited streaming music, J River Media Center has a built-in connection to buy music from Amazon. Either J River's store or Amazon are far better places to buy music than iTunes – the prices are similar but Amazon delivers high-quality MP3 files instead of Apple's proprietary and restricted format.
J River Media Center is not free. A license for your computers is $49.98. That will cover all of your computers, but not your friends' and neighbors'.
There's a learning curve. It's easy to get started and anything is possible but it works best if you're willing to dig into the options a bit.
Video is complicated. J River Media Center can do more with more different kinds of video than any program I know, but it can't change that simple fact: video is complicated.
Be careful! This is not for everyone. It deserves consideration and planning by people with basic computer skills. If it would even occur to you to call me and say, "I installed the program because you told me to and now my music's gone," then you must not install this program.
* If you're using iTunes, Zune, or Windows Media Player, there is one important change that you should make in the program before you rip CDs, so you don't get stuck with a collection in a proprietary format. There are some brief notes here about the details of ripping CDs in MP3 format.