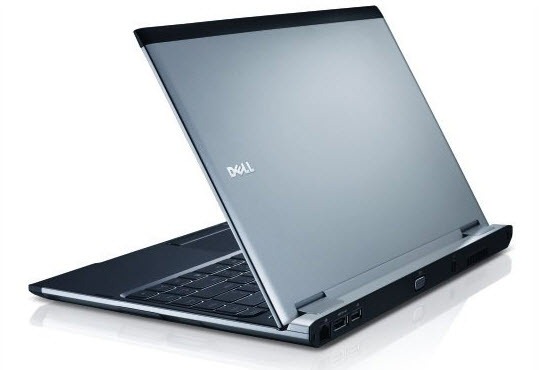 Dell has added the Latitude 13 to its business notebook lineup, with a design that is identical in virtually every respect to the Vostro V13 introduced in December. The "Latitude" brand name is used by Dell to indicate that the notebook includes features for management by large companies. Here's the description of the added features distinguishing the Latitude 13 from the Vostro V13:
The Latitude 13 adds features such as remote manageability and  desktop virtualization through certification from Citrix and VMware to deliver a full PC experience to users in non-standard computing environments such as call centers, regional offices and hotels; Comprehensive systems management with support for BroadcomTruManage technology and Dell ImageDirect service which lets IT create, update and deploy system images 24/7 from a secure online location; Flexible connectivity options from mobile broadband and Wi-Fi via 802.11 g/n; and customized security offerings including solid-state drives (SSD), full disk encryption (FDE), Trusted Platform Module (TPM) control and Computrace software.
The Latitude 13 includes a choice of built-in mobile broadband devices for Verizon, Sprint & AT&T which are not available for the Vostro, but the other features aren't important to small businesses or home users. The Latitude 13 is a couple of hundred dollars more expensive than a comparable Vostro V13, with no advantage for non-enterprise customers.
It's worth noting that the other manufacturers are not standing still. HP introduced six new laptops yesterday – "EliteBook" models and "ProBook s-series" models, whatever those might be. Toshiba is in the middle of a refresh of its business notebook line, Lenovo has introduced a new model of notebook every single day in 2010, and you have no idea how many notebooks and netbooks are being distributed by Acer, Asus, Sony, and others you've never heard of.
(Lenovo might have missed a day here and there but wow, they have a lot of laptops – something like 40-60 different models listed on their website tonight, depending on how you count.)
I only follow Dell products closely, for two equally important reasons:
Dell is good enough. Dell continues to deliver consistently solid products and decent support. Not every experience with Dell is perfect but the chances of a good experience are as high or higher than any other manufacturer.
I'm really tired. It's difficult to keep up with more than a tiny fraction of the press releases for new products, and literally impossible to develop any kind of working knowledge of what it means to order and support them. I can barely keep up with Dell's lineup.
Fortunately almost everything on the market is good enough. Don't obsess when you're shopping – follow my guidelines and enjoy your new computer!