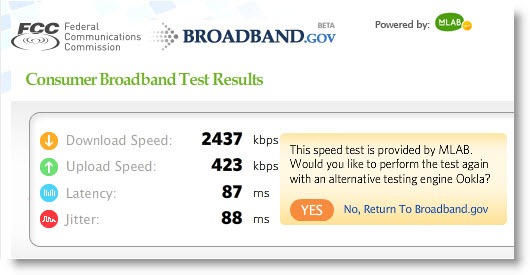 BROADBAND
While high-visibility battles are fought over health care and regulation of financial institutions, there are equally important things happening at a lower level, as federal agencies begin to reassert themselves under the leadership of people who believe in the mission of those agencies instead of seeking to undermine them.
The Obama administration recently called attention to its plan to extend broadband coverage and speeds, which (of course) includes a nicely-designed FCC web site filled with information and links. Even if you don't spend time reading about the broadband initiative, you might want to visit the site and test your Internet connection speed – certainly not the only place to test connection speed but it's convenient and easy. The FCC asks for your street address because it is analyzing the test results to identify dead zones and slow spots around the country. (It pledges to keep individual data confidential.)
Speed test results can vary wildly, so don't panic – it's interesting but never definitive. Plain vanilla DSL looks pretty poky these days, at 1.5kbps downstream speeds. The 2.4kbps download speed in the picture above came from my Verizon MiFi card in an area with a strong Verizon signal – pretty good! The speed test might be fooled by Comcast's "Powerboost" technology that boosts the first thirty seconds of download speed – my business Comcast connection was rated at 30Mbps, which strikes me as an overstatement, although that won't stop me boasting about it.
CREDIT REPORTS
Each of the three major credit reporting agencies is legally required to provide a free credit report to you once a year for free. The web site to obtain your credit report is https://www.annualcreditreport.com. You will still see inducements to sign up for extra cost services but you can get your credit report for free through that site, no strings attached, if you are careful.
The credit agencies and sleazy sites like "freecreditreport.com" make tidy sums of money selling the same credit reports, with an appalling variety of "services" to disguise the simple fact that they are selling something that they are legally obliged to provide for free. Typically the sites claim to be giving you the credit report for free, but the real goal is a recurring monthly credit card charge for a useless "service" to monitor your credit report for changes.
A few days ago a new Federal Trade Commission regulation went into effect requiring this disclosure:
THIS NOTICE IS REQUIRED BY LAW. Read more at FTC.GOV. You have the right to a free credit report from AnnualCreditReport.com or 877-322-8228, the ONLY authorized source under federal law.
Boing Boing noticed that one of the sleazy sites had changed its marketing scheme, most likely because the disclosure requirement only applies to sites claiming to offer "free" credit reports. The site now charges $1 for a credit report, "due to federally imposed restrictions," but promises the dollar will be given to charity. The lawyers must have decided that the site did not have to display the disclosure since the credit report isn't "free," and as a nice bonus the site gets to validate your credit card right away. Nice! Scumbags.
Remember: credit reports are free. Don't be fooled.
Be careful out there!